Electric scooter injuries almost doubled between 2017 and 2018, a recent study shows.
The study analyzed emergency room injury records across the United States from 2014 to 2018. In 2018, the number of electric scooter, or e-scooter injuries rose drastically.
So did the age group of people using them. Before, 2018, the age group mostly injured by e-scooter use was under 18. After 2018, that shifted to riders between 18 and 34 years old.
What didn't change was the types of injuries were most common. Head injuries top the list, mostly to riders who weren't wearing helmets. Broken bones in other areas of the body were a close second.
What's going on?
The Electric Scooter Craze
Electric scooters are similar to "docked" bicycle-sharing services: docked bikes have specific stations, or "docks," where users can pick up and return rental bikes. Dockless bikes and scooters don't have designated pick-up or drop-off spots, because they use GPS tracking. Riders download an app on their smartphone to locate a bike or scooter; when they're done using it, the can leave it anywhere for another rider or company representative to pick up.
Scooter companies like Bird, Jump (via Uber app), Lime, and Lyft have deployed their vehicles in Santa Monica, Long Beach, and Culver City.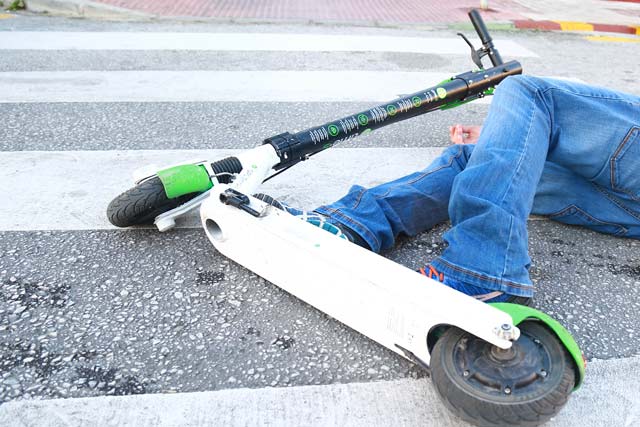 Micro-mobility Rules
If you live in a city with one or more scooter or bicycle-sharing services, there are some clear laws regarding their use. While these may differ slightly from city to city, in general, the laws for scooters and bikes are as follows:
Riding a motorized vehicle on sidewalks, beach paths, or in parks is prohibited (some areas may allow human-powered bikes/scooters on sidewalks when used safely)
Helmets are required
Speed limit is 15 mph
Stay off of streets that have a higher speed limit than 25 mph, unless there is a clearly marked bike lane
Yield to pedestrians
Must be at least 16 years old
Must have a valid driver's license for scooters (not bikes)
One person per vehicle: no tandem riding
Do not leave a scooter laying on its side or anywhere it blocks a pedestrian's path
When used appropriately, dockless electric scooters have many benefits: they are accessible, easy to use, and fun. They also decrease traffic congestion and reduce emissions.
But they are not without controversy.
The Dark Side of Dockless
The business model for many of these dockless e-scooter companies is similar to what Uber and Lyft did when they launched. Permits cost time and money, so they forego that process and deploy their vehicles unannounced. This way, they saturate the market and gain traction to establish a strong presence with residents. However, this method presents a real public safety risk, because it can leave city officials scrambling to implement appropriate regulations, and the systems and resources to enforce them.
Over the past year, the above companies, without warning, consent or permit, deployed their vehicles (or dumped them, depending on who you ask) in Newport Beach and Los Angeles-area cities.
Unprepared for this influx, cities were inundated with electric and motorized scooters and bicycles buzzing down sidewalks at 15 miles per hour, abandoned on residents' lawns or blocking driveways and store entrances.
After three days, Newport Beach sent cease and desist letters to the companies, while Beverly Hills has banned the vehicles altogether. In West Hollywood, dockless scooters can be driven in the city, but cannot be parked anywhere within its borders. Los Angeles is struggling to create new policies involving permits, speed limits and helmets.
The city of Santa Monica has placed a temporary cap on the number of dockless companies that can operate within the city, and is also heavily enforcing the rules for electric scooters and bikes by ticketing riders who break them.
Why There Are So Many Electric Scooter Injuries
This type of shared mobility also presents challenges from the standpoint of personal injury law, because when someone is injured by a rented scooter or bicycle, there is often no viable source of recovery.
Riders who are injured on a scooter due to a malfunctioning vehicle or dangerous road condition may potentially seek recovery from the rental company or the city. However, dockless companies require users of their apps to agree to a liability waiver absolving the company of responsibility from injuries arising from the riders' negligence, such as failing to wear a helmet.
When the rider is at fault in an accident, it becomes even more complex. Unlike drivers of traditional vehicles, scooter and bike riders are not required to carry insurance, which makes collecting damages from them unlikely.
Given the difficulty of enforcing safe behavior on shared scooters and bikes, this creates a risk of an innocent third party being injured – for instance, being struck by an electric scooter illegally traveling 15 mph on a sidewalk, or tripping over an illegally parked vehicle – without any means of reparation.
In fact, at the time of this publication, several lawsuits are pending against electric scooter companies for negligence due to injuries and unsafe conditions caused by rider misconduct.
Cities where dockless bikes and electric scooters operate are in the process of working out safety regulations and enforcement systems. In the meantime, if you use a bike or scooter-sharing service, please be mindful of your own safety and the safety of pedestrians and other vehicles. Obey all traffic laws and follow the rules listed above.
If you are injured in an accident involving a scooter or bicycle, and you were not at fault, contact an experienced accident attorney to find out if you can be compensated. Give us a call to see how we can help.