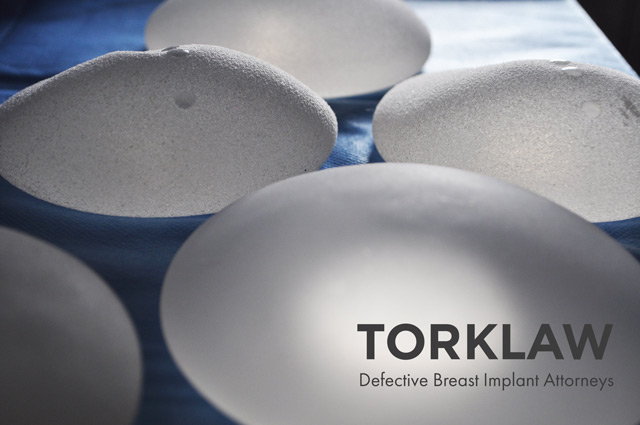 If You've Received a Textured Breast Implant
If you have received a textured breast implant, or you're not sure what type of implant you received, you should contact the plastic surgeon right away to find out what type of implant was used and whether the specific model has been recalled. Thousands of women who received breast implants – some of them breast cancer survivors – are now at risk of a new type of lymphatic cancer due to defects in textured breast implant types.
This cancer is called breast implant-associated anaplastic large cell lymphoma, or BIA-ALCL. Unfortunately, because BIA-ALCL is a newly-discovered disease, many doctors are not familiar with its symptoms, which can occur years after the placement of the implant.
Symptoms of BIA-ALCL include:
Persistent swelling in the implant area
Presence of a mass in the implant area
Pain in the implant area
If you have received a breast implant and are experiencing these symptoms, have your doctor order an ultrasound or MRI scan to look for fluid collection (seroma), or a mass. If any of these are detected, the doctor should perform an aspiration and a biopsy to test for markers of BIA-ALCL.
Sadly, some women have had difficulty persuading physicians to take their concerns seriously. Many of these women have already suffered one form of cancer, and find that part of their treatment to return to normalcy has placed them at risk for another form.
If your doctor isn't addressing your concerns, you should contact an attorney who can help you find out if your breast implant places you at risk.
If you have contracted BIA-ALCL or any illness or injury due to a defective breast implant, contact the attorneys at TorkLaw. You don't have to deal with massive corporations or an obstacle course of healthcare hurdles by yourself. We can help ensure you receive the treatment you need, and make the responsible parties pay for it.
Complete the form on this page or call us today at 888.845.9696.
Recall of Defective Breast Implants
On July 24, 2019, the United States Food and Drug Administration (FDA) called on the international pharmaceutical company Allergan to recall certain models of its textured breast implants because they may place recipients at risk of a cancer called "breast implant-associated anaplastic large cell lymphoma," or BIA-ALCL.
Allergan's Underwhelming Response
Allergan complied with the recall request and issued a global recall of their BIOCELL textured breast implant products from doctors' offices and suppliers. However, women who have still have these implants in their bodies are still at risk.
In their recall letter, Allergan offered to replace the textured implant with a non-textured one "at no cost" – for the product replacement, that is. However, it appears that anyone taking Allergan up on their offer would be required to sign a waiver to release the company from liability in order to receive the replacement.
Worse, Allergan is not offering to cover all surgical and associated costs of having these dangerously defective implants removed or replaced.
Lawsuits claim the company has offered to pay a small amount for diagnostics and surgical fees, but that amount does not begin to cover what these procedures will actually cost, even with insurance.
Allergan's "recall" is nothing more than a thinly veiled attempt to trick at-risk patients into releasing them from all liability, at the lowest cost to the company as possible.
Affected Allergan Breast Implants
According to the FDA, there is evidence indicating that these products appear to be directly linked to significant patient harm, including death.
Affected breast implants include both saline and silicone breast implants:
Natrelle Saline
Natrelle and McGhan 410
Natrelle and McGhan 410 Soft Touch
Natrelle 510 Dual-Gel
Natrelle INSPIRA
Natrelle and McGhan Round Gel
Natrelle Komuro
Natrelle Ritz Princess
Natrelle 150 Full Height and Short Height double lumen
Tissue expansion is often part of the breast implant process. Allergan tissue expanders have also been recalled, including:
Natrelle 133 tissue expanders with and without suture tabs
Natrelle 133 Plus tissue expanders
Click here to see the full list on the FDA site.
Allergan is an international pharmaceutical company based in Ireland. They manufacture many drugs and medical devices including Botox Cosmetic and Coolsculpting. Allergan has known about the problems of their textured breast implants for almost a decade, but continued selling them regardless.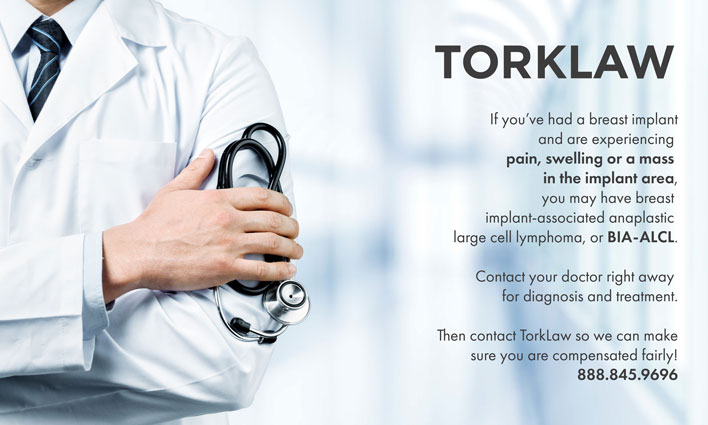 About BIA-ALCL
Breast implant-associated anaplastic large cell lymphoma, or BIA-ALCL, is a type of non-Hodgkin's lymphoma. It is sometimes called T-cell lymphoma. T-cells are a type of white blood cell that is part of the body's immune system, and are the first types of cells affected by BIA-ALCL.
The first case was reported in 1997. The FDA began collecting data in 2010. By January 2011, the FDA had identified 34 cases worldwide, and they acknowledged a possible association between BIA-ALCL and breast implants.
As of July 2019, the FDA has received 573 unique, confirmed cases of BIA-ALCL. 481 of these cases are linked to Allergan implants – this is a rate 6 times higher than other textured implants sold in the USA.
When detected in the early stages, it is usually treatable through surgery to remove the implant and scar tissue or capsule. Advanced stages may require chemotherapy and radiation therapy. If not treated, BIA-ALCL can spread to other parts of the body and cause death.
There have been at least 33 deaths worldwide from breast implant-associated anaplastic large cell lymphoma. Of those deaths, there are only 13 cases in which the brand of implant is known. 12 of these deaths have been directly linked to Allergan products.
TorkLaw Can Help
If you or someone you love has received a breast implant and is experiencing or has experienced the symptoms listed at the top of this page, the attorneys at TorkLaw can help you with treatment and a product liability claim to be fully compensated for all losses and damages.
Contact us today at 888.845.9696.