Dangerous Road Conditions Can Cause Accidents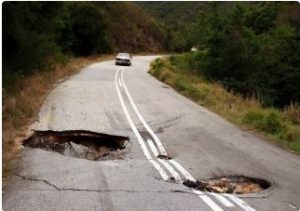 According to the Los Angeles Almanac, there are more than 20,000 miles of public roads in Los Angeles County. The longest street in Los Angeles is Sepulveda Boulevard, more than 26 miles long. The shortest street is 13-foot Powers Street in downtown L.A.
Various government agencies are responsible for maintaining these roads to ensure that they are safe for drivers, cyclists and pedestrians. It's the government's responsibility to provide proper signage, lighting, pavement markings, signals and traffic control devices. Hazardous road conditions can cause accidents, and the government has a duty to design, build and maintain safe roads.
Hazardous road conditions
Here are just a few of the unsafe road conditions that can lead to a car crash:
Cracks in potholes that can cause a driver to lose control.
Faded paint markings that are invisible from the driver's seat.
Signs that that can't be seen because of overgrown foliage.
Inadequate guardrails on curves and overpasses.
Lack of rumble strips on freeways.
Poor traffic control in construction zones.
Placing construction materials and utility poles in a way that obstructs a driver's vision.
Often, a driver who's been involved in a car accident isn't sure what caused the crash. Only after returning to the scene later does the driver discover a road hazard that may have caused the accident. Often, it takes a trained investigator to determine that a hazardous road condition was the cause of an accident.
The experienced professionals at TorkLaw can help you determine the cause of your car accident. If the government is at fault, we can help you establish liability and collect the damages you deserve.