If you are involved in a major car accident, there's a good chance your vehicle will be towed.
This guide will provide answers to some frequently asked questions about what happens when your car is towed, and to help you mitigate the costs and hazards of towing.
However, before you concern yourself with towing, it is critical that you prioritize your health and safety first. If you have just been involved in an accident, make sure that you get yourself out of harm's way and address in medical needs.
With your health prioritized, you want to be wise about who you contact next. We suggest you contact the TorkLaw car accident lawyers for guidance about your next steps, including how you should handle the matter of towing your car.
Find a Local Car Accident Lawyer
How Much Does Towing Cost?
Towing can be costly, and too often people don't have the opportunity to consent to the fees beforehand. If your vehicle cannot be moved and you are incapacitated, the police may tow it to a nearby salvage yard, and you will be responsible for paying the bill later.
If you do not specify a mechanic, your car will be taken to a salvage yard, which will assess you a daily storage fee until you pick it up. In some cases, there may be multiple tows, if your vehicle is towed to a salvage yard first, and then to a repair facility.
The final bill might be in the high hundreds; towing and storage bills over $1,000 are not uncommon.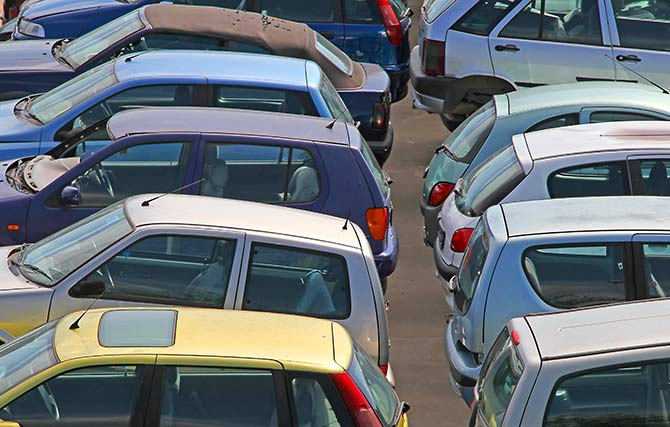 Who Pays for the Costs of Towing?
The insurance company responsible for towing costs depends on the final determination of fault, which may take several days. If you are at fault, you or your insurance company will pay. If the other driver was at fault, they will be liable. However, at the scene of the crime, it may be unknown
If you have been in an accident, your insurance company may pay for the tow, but it depends on what kind of insurance you have: If you purchased collision coverage, your towing costs are typically covered after an accident, regardless of fault. Of course, if you invoke collision coverage, you will have to first pay the deductible specified on your policy.
The towing cost will also be covered by insurance if you have additional towing and roadside assistance coverage on your policy. This is generally available for a small extra fee, and unlike collision insurance, it covers many situations in which you might need a tow truck, including a break-down or flat tire.
Some insurance companies will pay directly for towing, while others will make you pay and reimburse you later. Be sure to find out what your policy states.
BE AWARE: Your insurance company may only pay for towing and storage fees they deem reasonable. This means you must use a towing company of ordinary price, have your vehicle towed to a lot or repair shop close to the accident, and leave it there no longer than necessary.
If you are a member of American Automobile Association (AAA) or another auto club, you may have free roadside assistance from them. Towing costs may also be covered by your car's warranty, or even by your credit card company or wireless service provider.
Save all records of your accident, including any receipts or documents related to towing your vehicle. Without them, the insurance company cannot reimburse you.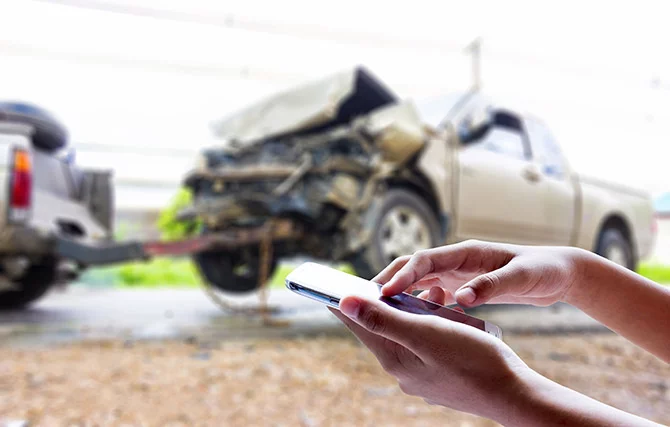 Where Will the Car Be Towed, and Who Will Tow It?
After the accident, the police may call a tow truck company. However, you don't have to go with the police officer's choice for towing. You have every right to call your own towing company. You may want to ask your insurance provider for a recommended towing company, especially if you have collision coverage or towing and roadside assistance coverage, so your towing fees will be covered.
Once your car is on the tow truck, you can request that it be taken to a location of your choice, rather than a salvage yard. This may save you on storage fees, the price of an additional tow, and allow for a faster assessment of damages.
We recommend taking your vehicle to someone you've worked with before and who knows your car. If you don't have a mechanic, try having it towed to one who specializes in your type of vehicle. If you want your car taken to a trusted mechanic, make this clear to the tow truck driver.
Be sure to talk to the tow truck driver to find out how much the tow will cost, and request their contact information: the company's name, address, and phone number, and the driver's name and the truck's license plates. If you can't obtain this info right away, try to track it down later through the police.
Beware of towing scams. Most towing companies are honest and fair, but occasionally, a tow truck will show up at an accident scene unsolicited, take your vehicle, and charge you exorbitant amounts of money. Use a towing company recommended by your insurance or one the police consider trustworthy.
Confirm the responding truck is in fact the one you called, and don't sign any papers you don't feel comfortable signing.
If you have been scammed by a tow truck driver, report this to any relevant authorities.
If My Car Is Towed to A Salvage Yard, When Should I Take It Out??
Because salvage yards asses storage fees daily, the short answer is as soon as possible — but you shouldn't take your car out of the lot too soon. The other driver's insurance company will want to assess the damage, and until they do, you must leave the car untouched. There are a couple of reasons for this:
Using the car after the accident casts doubt over whether the damages were a result of the accident or your subsequent use of the vehicle; this might be used to deny your claim.
If there was a defect with your car, your case might become a product liability claim against the car manufacturer, so, preserving your car as physical proof is especially important.
Notify the other party's insurance company that your car has been towed, and request that they go and collect evidence as soon as possible. Once they have done this, take your car out right away. If the insurance company drags their feet, contact your own insurance and ask them to work with the other company.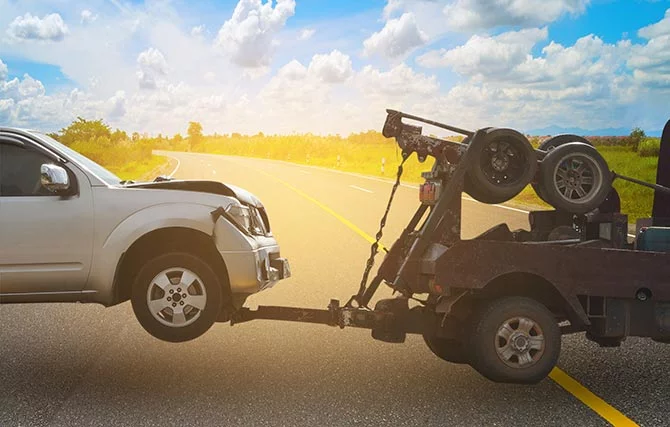 Having your vehicle towed is always stressful, especially when you've just experienced a serious car accident. You can mitigate both the stress and the financial cost by properly handling the towing process:
Buy collision or roadside assistance coverage from your insurer or another reliable source.
Only call a towing service you trust.
Request your car to be towed to a reputable mechanic instead of a salvage yard.
Take your vehicle out of storage as soon as the insurance adjuster examines it.