Children: The Most Vulnerable Passengers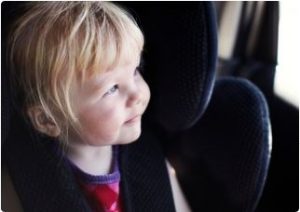 A traffic safety study recently released by the National Highway Traffic Safety Administration shows that children in the United States face a high risk of injury and death in traffic accidents. Car accidents were the leading cause of death in children ages 4, 11, 12, 13 and 14.
Child pedestrians
Traffic fatalities also claim the lives of child pedestrians. About 20 percent of traffic deaths of children 14 and younger were pedestrians. Most of these children – 61 percent of them – were boys.The risk of pedestrian accidents may be reduced by teaching children about roadside safety.
Restraint systems reduce risk
The most effective safety measure for child passengers may be to use safety belts and/or child car seats. According to the NHTSA study, children were unrestrained in 41 percent of the fatality accidents and 20 percent of the injury accidents in 2011. However, when safety restraints are used in cars, the risk of injury and death is significantly reduced – by 71 percent for infants younger than one year old and 54 percent for toddlers up to 4 years old, with similar results seen in accidents involving light trucks.
Safety tips
The NHTSA offers these safety tips for using child restraint devices:
Don't put children and rear-facing child seats in the front seat if your vehicle is equipped with passenger-side airbags.
Seat children 12 and under in rear seats. Be sure to buckle children into their seats if they are too big for child car seats.
Read and follow the manufacturer's instructions for children's safety seats and your vehicle's owner manuals instructions for properly installing them.
Of course, safety procedures can't prevent every accident.The experienced professionals at Torklaw would be happy to advise you about your legal rights if your child has been injured in a motor vehicle accident in Southern California.
Get Your Free Consultation Now