Trampoline Safety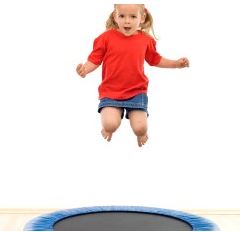 Children love to jump and bounce. Jumping up and down on a sofa or bed is a universal childhood experience, even though parents and babysitters discourage kids from jumping on furniture. Considering a child's natural enjoyment of jumping, it's not surprising that trampolines are so popular. However, children can be injured by unsafe trampoline use.
Trampoline injury statistics
According to the Consumer Product Safety Commission, 95,000 people in the United States were injured last year on trampolines. Some trampoline accidents are deadly: 22 trampoline-related deaths occurred between 2000 and 2009.
The most common causes of injuries related to trampoline use include:
More than one person bouncing on the trampoline at once, resulting in a collision.
Landing on the springs or frame of the trampoline instead of the center surface.
Falling or jumping off the trampoline instead of dismounting safely.
Doing somersaults on the trampoline, resulting in head and neck injuries.
Depending on the circumstances, a trampoline owner, trampoline manufacturer or property owner where a trampoline is located may be held liable for injuries.
Establishing ground rules for children who use a trampoline and providing adult supervision while children play can prevent many trampoline accidents and injuries. Protective equipment can be installed on the frame and springs of a trampoline to cushion bad bounces, and a trampoline enclosure can help prevent falls.
The lawyers at TorkLaw are experts at assessing liability for personal injuries. If you or a loved one has been injured while using a trampoline, we are available to advise you on your claim.
Get Your Free Consultation Now