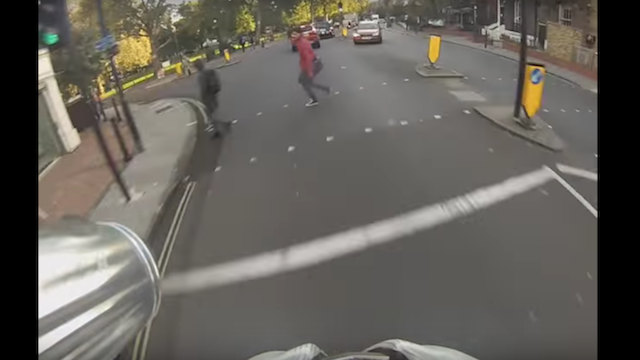 Quiz: Who Is At Fault In This Bicycle Accident?
In the case of a bicycle accident, it's not always as cut-and-dry as one would think.
We came across this video of a cycling accident that took place in London, just about a year ago. Since it's in the UK, the roads are backwards from what we're used to, so you'll have to correct for that.
Watch the video of the accident, and see if you can tell who is at fault. The answer is below the fold.
Were you able to catch it?
There are a few factors at play here. First, it's very true that the cyclist was traveling at a pretty high rate of speed. In fact, it makes us wonder what his training regimen consists of. However, that did not cause the accident.  Cyclists usually travel between 18-25 mph on city streets, and some can cruise close to 30 mph. This is not "speeding" and is still well below the average motorist's speed.  So, we cannot say his speed was a factor.
Many people have pointed out that he passed the pedestrians in the crosswalk very closely. While it was not exactly the preferred method of entering a crosswalk, this did not cause the accident. Pedestrians get the right-of-way at all times, however these particular pedestrians were entering a crosswalk while they saw the cyclist heading towards them.  Had he struck the pedestrians, that would be different — however that did not cause the crash.
The key to this happens right around 0:17.  Watch: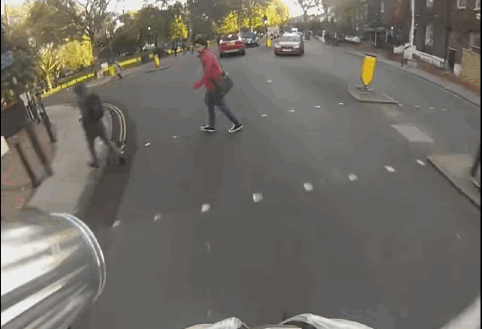 Notice how the car sees the cyclist and accelerates into the turn. This shows that the driver knew the cyclist was there and was trying to beat him into the turn.  Having seen the cyclist, the driver is clearly at fault.
When a cyclist approaches, always assume they are traveling faster than you believe they are.  25 mph on a bike does not often look like 25 mph.  It's important to err on the side of caution, and allow the cyclist to pass.  You'll still get to your destination on time.
If you have been injured or lost a loved one in a bicycle accident that was someone else's fault, you have rights.  Use our form below to speak with an attorney about your case.