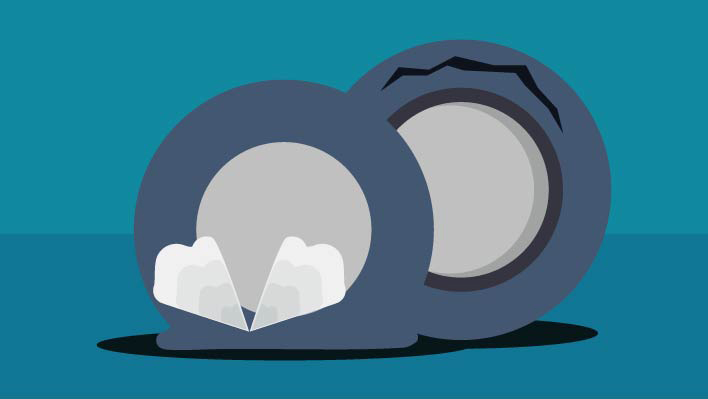 If you or a loved one have been involved in an accident caused by a tire blowout, it is important that you immediately speak with a lawyer or law firm about a potential tire blowout or dangerous tire case.  Throughout the years, evidence of dangerous tires sold by some of the largest manufacturers in the world have shown that tires are not suitable for use.  At highway speeds, the defective tires "blow out" caused by the tread separation causing serious accidents including rollovers, spin outs an other single vehicle accidents.
Types of Tire Defects
Tread Separation
Catastrophic Tire Failure
Tire Blowout
Tire or Rim Explosion
Tire Safety – Identifying Dangerous Tires
Underinflation of the tires can be a contributing factor in tread separation. Therefore, it is up to the car's owner to see that the air pressure in the tires meets the manufacturer's standards, which are normally found on the doorjamb of the driver's door. Underinflation can occur by air escaping through the rubber, or leaks at interfaces of the tire with the wheel and valve stem.
You can avoid some tire failures by simply visually inspecting your tires once a month. Things to look for include cracking or cuts in the sidewalls; uneven treat wear; excessively worn tread; bulges or blisters; and excessive vibration while driving. An inexpensive tire-gauge can be purchased at your local auto store, and used every month to ensure that your pressure is within the manufacturer's recommendation. Be sure to measure tire pressure when the tires are cold. Tires are considered cold if they have not been driven in the preceding three hours.
Also, under inflation of a tire means that the sidewall flexes more, making it more difficult to control the vehicle. A sidewall that flexes too much can also cause heat to build up excessively, which can shorten a tire's life and possibly lead to a tread separation or blowout. Another incentive to and advantage of keeping your tire pressure at the manufacturer's recommendations is that you will get optimal fuel mileage if you fill your tires to the manufacturer's specifications.

Understanding Tread Separation
When a tire is made, the base part of the tire is built first and then through various chemical and heating processes, steel belts are imbedded in the tire, and finally the tread is applied. Steel-belted radial tires are especially prone to tread separation. When the tread separates the driver may lose control of the vehicle, even when the tire does not lose pressure. Tread separation is usually due to some problem in the manufacturing process. The tire may be designed defectively or constructed carelessly. The manufacturer may use rubber that is too old and dry, miss warning signs during final inspection, use petroleum solvent before vulcanization, and cure moisture into the tire. Although tread separation usually occurs with a tire several years old being driven at a fairly fast speed, there have also been cases of brand new tires separating while being driven at slower speeds, such as 15 or 20 mph. Of course, the faster you are driving when you experience a tire failure due to tread separation or blowout, the more likely the chances that you will be seriously hurt or even killed.
A report from the National Highway Safety Administration revealed that tread separations reduced the ability of drivers to control their vehicles, especially when the tire failure occurs on a rear tire at a high speed. The report also found that there is a much higher likelihood for death, injury, and crashes when the tread separation occurs on a SUV than on a pickup truck.
What is Involved in a Tire Blowout?
When a radial tire loses its tread, the body ("carcass") of the tire usually quickly experiences a blowout. The sudden loss of pressure in the tire makes it difficult for the driver to maintain control over the vehicle, and the vehicle may turn sideways. The sideways motion of the vehicle causes the bead of the tire to separate from the rim, causing the metal rim to dig into the asphalt or concrete surface of the roadway and pitch the car into a roll.
Who Makes Defective Tires?
Since 2000, there are have been several major recalls of tires. In the early 2000s, there were massive recalls of more than 15 million tires of several types of Bridgestone and Firestone tires (Bridgestone owns Firestone), especially those put on the Ford Explorer SUV, which resulted in a number of crashes and rollover accidents, killing and seriously injuring hundreds of motorists. For example, Firestone's Wilderness AT tire lacked proper adhesion between the steel belts and the surrounding rubber. Firestone failed to use gum edge strips, nylon overlays or caps, or other safeguards to reduce the possibility of tread separation.
Domestic and foreign manufacturers alike have made and marketed defective tires that have resulted in crashes, personal injuries, and wrongful deaths. However, tires made overseas (such as in China) may not be as safe as those made in the United States. Tires are not designed to last forever, even though you may drive only a few thousand of miles each year. Rubber degrades over time, and mechanics recommend that you put on new tires every five or six years even though there may be plenty of tread left on the tire.
Recent Tire Recalls
The following tire manufacturers and tire brands have issued recalls for tread separation and dangerous tires:
Bridgestone Tires
Continental Tires
Cooper Tires
Firestone Tires
General Tires
Goodyear Tires
Kumho Tires
Michelin Tires
Product Liability Case for Defective Tires
Because a tire is a product, the law of strict products liability applies to cases involving injuries or deaths caused by a tire failure. It is not necessary to prove any specific act of carelessness ("negligence") on the part of the manufacturer, distributor, or retailer. You need prove only that the tire was defective and that defect caused or contributed to your injuries or your loved one's death.

Holding Tire Manufacturers Responsible
Because a tire is a product, it is not necessary to prove there was any carelessness ("negligence") in the manufacture of the tire. If the tire is defective because of a dangerous design or manufacture, the law of "strict liability" applies. If the defect is in the design of the tire, all you need prove is that the design is dangerous, the defective design caused the tire to fail, tread separation, or other problem that caused you to lose control of the vehicle, and that you were injured or suffered property damage as a result of the tire's defective design. When a tire is defective because of faulty manufacture that makes the tire dangerous, all you need to prove to recover damages for your injuries and damages is that the tire was made in a defective manner and that if it had been properly manufactured, it would not have failed or blown out. You do not have to prove that the person(s) who made the tire were in any way careless.
Preservation of Evidence (Tires & Auto)
If you have been injured or had a loved one killed because of a defective tire, it is vital that the tire be retained so it can be thoroughly examined by experts to determine the existence of a defect that caused the accident.  You should immediately speak with an experience law firm that would want to preserve the evidence and have it secured and examined by private experts.
PROTECTING YOUR RIGHTS
If you have been seriously injured or had a loved one killed due to a defective tire, you should contact an experience personal injury attorney as soon as possible to represent you in your efforts to receive maximum monetary recovery from the careless ("negligent") driver who caused the accident. We at The Torkzadeh Law Firm are experienced in handling serious cases due to vehicular defects and will aggressively pursue your case to ensure that you get maximum recovery for you and your passengers' injuries, medical expenses, lost wages, pain and suffering, loss of enjoyment of life, and other damages.  Call now (888) 845-9696.