For many in the Greater Los Angeles area, motorcycles are not just a mode of transportation, but a way of life. To these residents, motorcycling offers an attractive lifestyle, a fun hobby or just a quicker way to get around traffic on Los Angeles freeways. However, accidents involving motorcycles are extremely commonplace in Los Angeles and its suburbs. This is where our Los Angeles motorcycle accident lawyers come in. While negligent drivers of fast-moving and larger vehicles on the freeway certainly pose a significant threat to the safety of motorcyclists, not all accidents occur on the freeway. In fact, a number of serious motorcycle accidents also occur on city streets.
Motorcyclists, even when observing safe riding practices and wearing safety gear such as helmets, have minimal protection when they collide with a larger vehicle. Occupants of vehicles are typically protected by their enclosed cabin, airbags, seat belts, and other safety features that are not available to motorcyclists. Riders are exposed to the elements and have very little to safeguard them in the event of a crash. In addition to negligent motorists, motorcyclists must also deal with potholes, cracks, uneven pavement, and other roadway defects which are more dangerous for them than for automobile drivers.
Motorcycle accident injuries can be catastrophic or even fatal, and we at TorkLaw are keenly aware of the dangers motorcyclists face. If you have been injured in a motorcycle crash, our experienced team of Los Angeles motorcycle accident attorneys can guide you through the complex legal process and help you receive fair and full compensation for your losses.
What Causes Motorcycle Accidents?
Motorcycle accidents occur on Los Angeles roadways for a variety of reasons. Here are some of the main causes of motorcycle accidents in Los Angeles.
Driving under the influence: When automobile drivers or motorcyclists drive under the influence of alcohol and/or drugs, the risk of a crash significantly increases. Alcohol greatly impairs a driver's skill and ability to judge traffic movement. Drugs (including both recreational and prescription drugs) can also have a deleterious effect. DUI accidents usually involve excessive speed and tend to prove deadly for motorcyclists.
Unsafe turns: This is probably the most common cause of motorcycle accidents in the Los Angeles region. Our Los Angeles motorcycle accident lawyers see a number of collisions that take place when the driver of another vehicle strikes an oncoming motorcyclist while making a left turn or U-turn. Under California law, drivers have a responsibility to yield the right of way to oncoming vehicles, including motorcycles, before they make a left or U-turn. They are required to let the oncoming vehicle pass and then make the turn only when it is safe to do so.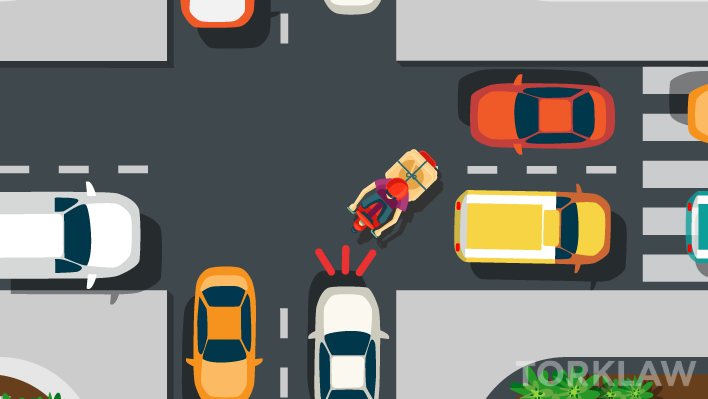 Dangerous lane changes: California recently became the first state to allow motorcycles to ride between two lanes. This practice is known as lane splitting, and motorcyclists are allowed to split lanes as long as they do so safely. However, even when they are not splitting lanes, motorcyclists are at risk of being struck by negligent motorists who make unsafe lane changes. A driver runs the risk of colliding with a motorcyclist when he or she fails to check blind spots or use the turn signal while changing lanes.
Excessive speed: Speeding is one of the leading causes of motor vehicle accidents. Higher vehicle speed makes it more difficult for drivers to see or react to motorcyclists in time to prevent a collision. The higher the speed in an automobile accident, the greater the impact and the more serious the injuries tend to be, particularly to the motorcyclist.
Distracted driving: Distracted drivers are increasingly causing a disproportionately higher number of auto accidents. Motorcyclists are particularly vulnerable to drivers who may be talking or texting on a cell phone. Distracted driving, however, includes all activities that might take a driver's hands off the wheel, eyes off the road, or attention away from the act of driving, including eating, drinking, grooming, applying makeup or even talking to a passenger.
Sudden stops: This is another common cause of major injury or fatal motorcycle accidents. When a driver stops suddenly, the motorcyclist following them may not be able to stop in time to avoid a collision. When the opposite occurs, and a driver follows a motorcyclist too closely, there is also the increased risk of a rear-end collision, which could likewise prove deadly for a motorcyclist.
Dangerous roadway conditions: On average, the city of Los Angeles fields more than 2,000 requests each month for pothole repairs. It is common to see large potholes, debris and uneven pavement in the Los Angeles area and these could prove lethal to motorcyclists who may lose control of the vehicle, especially if they lack familiarity with the roadway. In such cases, where a roadway defect causes a motorcycle accident, the city or governmental entity responsible for maintaining the roadway may be held accountable for the crash. When another vehicle drops debris on the roadway and causes a motorcycle crash, the driver and/or owner of that vehicle and the driver's employer (if he or she was on the job) may also be held liable.
Defective motorcycles: Each year, tens of thousands of motorcycles are recalled for serious safety defects that could result in a crash. Defective brakes, tires and handlebars are just some examples of faulty parts that could result in a motorcycle accident. The manufacturer of a poorly designed or manufactured motorcycle part can be held financially responsible for the injuries, damages and losses caused.
What to Do After a Motorcycle Accident
Here are some of the steps you would be well advised to take after a motorcycle accident:
Check for injuries. One of the most important things to do after a motorcycle accident is to check yourself and your passengers for injuries. Immediately call 911 if you or any other party was injured. This will help ensure that everyone who is injured receives prompt medical attention. If you are unable to move, call 911 and wait for help to arrive.
Take photos and videos of the accident scene. Make sure that the accident scene is safe. If possible, move your motorcycle off the roadway so it's not a safety hazard for other vehicles. When you are in a safe position, try to take photos and videos of the accident site on your cell phone. Take photos and videos from a variety of angles and capture details including the damage to your motorcycle, the position of the vehicles involved in the collision, the roadway conditions, and the surrounding environment. This may prove to be important evidence later!
Gather as much information as possible. There is a lot of information that may prove crucial if you plan to file an injury claim later. If police responded to the accident, they will file an official report detailing all the facts of the case and the identities of the parties involved. Make sure you contribute to this report and obtain a copy of it for your own records. This report should be available at the police department a few days after the incident.
It is also important that you obtain contact information including names, phone numbers and email addresses for all involved parties and potential witnesses. You need to get vehicle information for all vehicles involved in the crash. This information should include the make and model of the vehicles, vehicle identification number (VIN) and license plate numbers.
In addition, obtaining the other insurance company's name and contact information of the other driver will be extremely helpful when you file your claim (as well as being required by California's "hit and run" law). Finally, look for any store or businesses near the site that may have video of the incident recorded on their surveillance camera. This type of evidence may be deleted or lost quickly, so it's important that you act right away to obtain and preserve it.
Contact a Los Angeles motorcycle accident lawyer. A knowledgeable accident lawyer who has handled similar cases will be able to fight for your rights and help ensure that you receive maximum compensation for the injuries, damages and losses you have sustained.

5 Most Common Motorcycle Accident Injuries
When a vehicle collides with a motorcycle, it is most often the motorcyclist who suffers catastrophic injuries. Victims of motorcycle accidents typically go through a lengthy recovery process because of the severity of their injuries. Here are the five most common types of injuries motorcycle accident victims suffer.
Head trauma: The head, which houses the brain, is one of the most vulnerable body parts when it comes to a motorcycle accident. When a motorcyclist strikes his or her head against the pavement or against the windshield of a vehicle during a collision, he or she is very likely to suffer a brain injury. This is particularly true if the motorcyclist is not protected by a properly fitting, good quality helmet. A head injury could range anywhere from a concussion to skull fractures or bleeding on the brain. Traumatic brain injuries could lead to long-term disabilities which will affect the victims for the remainder of their lives.
Spinal cord trauma: Often, when a motorcycle strikes another vehicle, the rider may get thrown off the motorcycle and onto the pavement, which may impact their back and spinal cord. Spinal injuries might range from strains and sprains to a broken spinal cord or vertebra that could lead to partial or total paralysis. Victims may never recover from some of these injuries and may require lifelong treatment and care, the total cost of which could add up to millions of dollars.
Bone fractures: While broken bones are not typically viewed as catastrophic injuries, they could be extremely serious and take a significant amount of recovery time. Bone fractures cause parts of the body to become weakened, so that victims might need lengthy and extensive physical therapy to regain strength, mobility and function. Rehabilitation costs are not typically fully covered by health insurance plans and so victims find themselves paying for these treatments out of pocket.
Road rash: When a motorcyclist slides across the pavement after a crash, road rash is caused by the friction between the rider's body and the rough pavement. If the skin is exposed or the clothing is not thick enough, the pavement can cut into layers of skin causing burn-like injuries known as road rash. In severe road rash cases, the nerves may be damaged. Protective gear such as knee pads, gloves and jackets may help guard against these injuries in the event of a crash.
Facial injuries: Injuries to the face including the nose and eyes are extremely common in motorcycle accidents. Some eye injuries could even result in loss of vision. This is why it is important for motorcyclists to protect their eyes with goggles. Helmets with face shields can also help protect the face.

What Damages Can You Receive?
As with all personal injury cases, the value or worth of your case is heavily dependent on the nature and extent of your injuries and damages as well as the degree of negligence of the other parties. If you have suffered a relatively minor injury that required a simple treatment and a few days of work, the compensation you receive may be small compared to that of a motorcyclist who has suffered catastrophic brain damage or spinal cord trauma and has lost his or her livelihood. In general, here are some of the types of damages motorcycle accidents can expect to receive:
• Medical expenses
• Lost income
• Cost of rehabilitative therapy
• Loss of life's enjoyment
• Loss of earning capacity
• Loss of consortium (for victim's spouse or partner)
• Permanent injuries and disabilities
• Past and future pain and suffering
• Emotional distress
Why You Need Experienced Los Angeles Motorcycle Accident Lawyers
Proving liability in a motorcycle accident case can be a challenging and intimidating proposition. Although it is an unfair stereotype, motorcyclists are often perceived as irresponsible daredevils by the general public, and this perception may sometimes influence juries that decide personal injury cases, leading to motorcyclists receiving smaller judgments and settlements than they actually deserve. You need a knowledgeable and resourceful Los Angeles motorcycle attorney on your side – one who can present the facts and expert testimony and prove to juries that your accident was caused by negligence.
The experienced Los Angeles motorcycle accident attorneys at TorkLaw have a stellar track record when it comes to fighting for the rights of injured clients and helping them secure maximum compensation for their losses. Our lawyers are skilled negotiators and trial attorneys who are ready to do what it takes and go the extra mile to help clients. Please contact us today for a free and comprehensive consultation.