98 percent of the U.S. population has an accumulation of deadly, man-made chemicals in their bodies. These chemical formulations, known as "forever chemicals," or PFAS, do not occur in nature, but were invented by 3M scientists in 1947. DuPont has since introduced PFAS, or C8, into millions of household products we use daily. We now know that high levels of C8 in the body may cause serious chronic and deadly health conditions.
In 2016, the New York Times published an article called, "The Lawyer Who Became DuPont's Worst Nightmare." It became the movie Dark Waters, starring Mark Ruffalo as attorney Rob Billot. If you've seen the movie, you've seen evidence that Dupont and other C8 manufacturers knew the danger for years.
In honor of Earth Day (April 22), here's what you need to know about what forever chemicals are doing to our environment, and to your health.
What Are PFAS?
PFAS is short for perfluoroalky and polyfluoroalkyl substances, a family of potentially thousands of synthetic chemicals. PFAs contain an extremely strong chemical bonding of fluorine and carbon elements which is very effective at repelling oil and water.
Unfortunately, these harmful chemicals don't break down over time, but accumulate in both the environment and in human bodies, which is why they are called forever chemicals.
Forever chemicals can be found in thousands of products.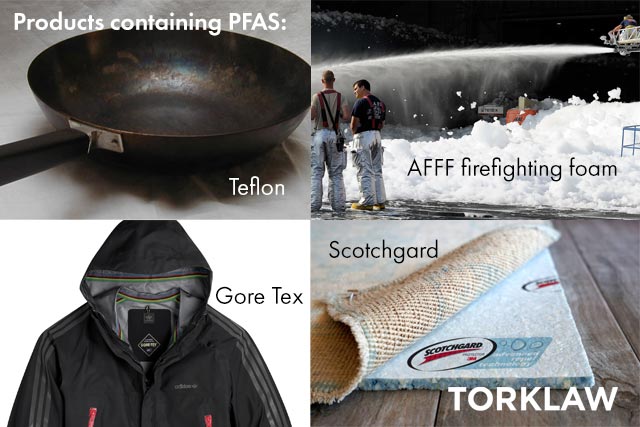 Here are just a few:
DuPont's Teflon and similar products used in non-stick frying pans and cookware, paints, and other household items
3M's Scotchgard, Stainmaster and similar stain and water repellent products
Food packaging, such as microwave popcorn bags and fast-food wrappers
Oral-B Glide dental floss
CoverGirl and Loreal cosmetics
Gore-Tex and similar outdoor gear with a "durable water repellent" coating
Spring Hill Farm Dairy bottled water
Firefighting foams such as 3M Lightwater and other brands of Aqueous Film-Forming Foam, or AFFF
Toko's Jetstream Powder Blue ski wax
Aerospace, medical, automotive and other industrial applications
Where Did These Forever Chemicals Come From?
PFAS do not occur in nature, but are synthetically manufactured. 3M began producing PFOA in 1947 for military uses.
In 1951, DuPont purchased PFOA to manufacture the nonstick coating Teflon, which DuPont internally called C8.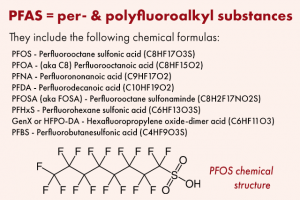 Since 2003, 3M has used PFBS as a replacement for PFOS in its Scotchgard stain repellents. PFBS has a much shorter half-life than PFOS, but the European Union has identified PFBS as having "probable serious effects to human health."
In 2015, DuPont spun off a firm named The Chemours Company to produce GenX, a technology to make non-stick coatings without PFOA. But GenX chemicals cause cancer and other diseases in lab animals. And they have been found in surface water, groundwater, rainwater, finished drinking water, and even in air emissions. This may have something to do with the fact that the Chemours North Carolina plant is receiving GenX waste from the Netherlands.
How Are People Exposed to PFAS, or Forever Chemicals?
PFAS can easily migrate into the air, soil and water, so millions of people are exposed to PFAS daily through:
Using household products containing PFAS, such as nonstick pans, stain repellents and other cleaning products.
Working in facilities that produce, manufacture or use products with PFAS (chrome plating, electronics manufacturing or oil recovery).
Eating food that is contaminated by the soil and water used to grow it, materials in which it is packaged, and equipment used during food processing.
Eating meat from animals that have accumulated PFAS in their systems.
Drinking water or breathing air that has been contaminated by an industrial facility producing or using PFAS, or a refinery, airfield or other facility where firefighting foam is used.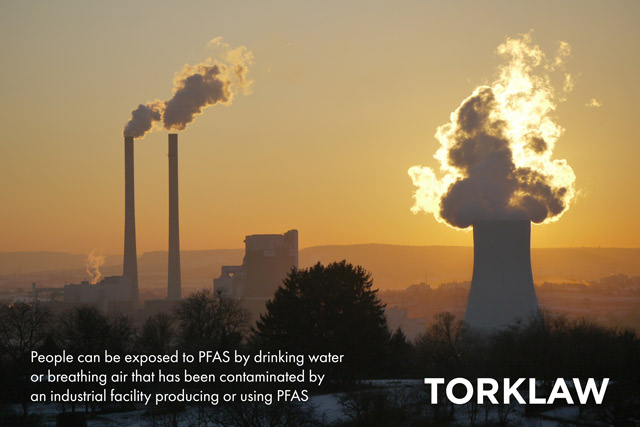 What Happens When People Are Exposed to PFAS?
In the body, PFAs primarily accumulate in the blood, kidney and liver. There is mounting evidence that people who are exposed to high levels of PFAS may suffer extremely serious adverse health effects, including:
Liver damage
Kidney damage
Many types of cancer
Immune system disorders
Lower red blood cell count/anemia
Thyroid hormone disruption
High cholesterol
Dental problems
Decreased fertility and low infant birth weights
Pregnancy-induced hypertension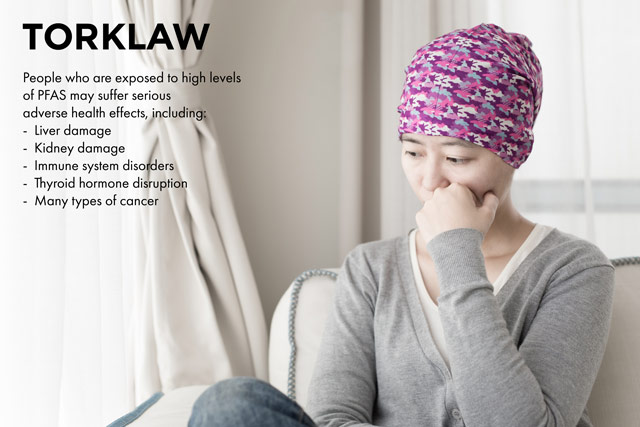 What Is Being Done to Stop the Use of Forever Chemicals?
Despite the lawsuits, and the clear evidence of their harmful properties, PFAS chemicals are still completely unregulated by the Environmental Protection Agency.
While leading chemical manufacturers are no longer making PFOA and PFOS in the U.S., they're still making similar "short chain" chemicals like PFBS and GenX chemicals, which are also a danger to public health.
PFOA and PFOS are still produced in other countries, and there are no regulations to keep them from coming into the United States. They are still present in carpet, textiles, clothing, rubber, plastics paper and packaging.
Many brands don't even know if their products contain PFAS. The chemicals may be added by overseas suppliers of raw materials. So U.S. manufacturers may still be exposing their workers to PFAS, and brands that claim they don't contain PFAS may be selling products that do.
In a landmark 2017 case, Rob Bilott obtained over $671 million settlement on behalf of more than 3,500 plaintiffs who said they had contracted chronic and deadly diseases from drinking water contaminated by the chemical company. DuPont's earnings before interest, taxes and amortization that year was $16.7 billion. DuPont denied any wrongdoing.
More cases are pending; however, DuPont has been systematically unloading PFAS manufacturing to smaller companies. This essentially passed related liability to smaller spin-offs – Chermours and Corteva Inc., formed in 2019 – which don't have the money to pay for these types of settlements.
Naturally, DuPont denies that they created these spin-offs to avoid accountability, but it's difficult to imagine a more compelling reason.
On February 26, 2020, the EPA disclosed there were multiple criminal investigations related to PFAS. Both 3M and Chemours have disclosed that they have received notice. It is not clear whether DuPont, the entity with the most egregious evidence of wrongdoing, has also received notice.
[bctt tweet="Despite clear evidence of the risk to human health, PFAS (C8 or 'forever chemicals') are still unregulated by the EPA." username="torklaw"]
Also in February 2020, the EPA put out a proposal to regulate PFOA and PFOS under the Safe Drinking Water Act, which is a good start.
An even better start would be to declare all PFAS as the hazardous chemicals they certainly are. Labeling PFAS as hazardous would:
Require the federal government to set common-sense standards for storage, transport and disposal, with a tracking system to prevent the U.S. from becoming an international dumping ground for PFAS waste products.
Make the responsible parties pay for the treatment and related damages to people who already have conditions related to PFAS exposure.
Secure federal funding for research on the safe disposal of PFAS, limiting exposure to the public and improving health outcomes for all Americans.

What Can I Do to Avoid Forever Chemicals?
Filter your drinking water. Water systems serving millions of Americans may be PFAS-contaminated. They can be effectively removed with reverse osmosis or an activated carbon filtration system.
Avoid the use of non-stick cookware. If you do use Teflon or other non-stick pots and pans, don't heat it above 450ºF, or use it on grills or in ovens. Discard non-stick products as soon as the coating becomes chipped, scratched, or worn.
Don't purchase "stain-resistant" items or use stain resistance treatments. Avoid purchasing carpets and upholstery marked as "stain-resistant," and don't use Stainmaster or similar products on carpet or fabrics. Other products to watch out for include coats, shoes, luggage, and camping and sporting equipment.
Take care with packaged foods. To the degree possible, avoid foods packaged in grease-repellent coatings, such as fast food wrappers and microwave popcorn bags.
Check your personal-care products. Avoid personal-care products made with ingredients that contain the term "fluoro," such as perfluorodecalin or perfluorononyl dimethicone. You can find these ingredients in nail polish, facial moisturizers, and eye make-up.
Contact your Senate and Congressional representatives and ask them to encourage the EPA to classify all PFAS and PFBS as hazardous.
[bctt tweet="Go to USA.gov/elected-officials to ask your senators and congressperson to urge the EPA to classify PFAS as hazardous. And go to TorkLaw.com if you've been harmed by PFAS exposure!" username="torklaw"]
What If I Have (or a Loved One Has) Serious Health Issues Directly Related to PFAS Exposure?
If you suspect a serious health condition or a loved one's death fromsuch a condition was caused by PFAS exposure, contact TorkLaw. We can help you find out if you have a case against one or more manufacturers. Call us today for a free, no-obligation consultation: 888.845.9696.
---
Did you find this post informative? You may also want to check out the below content:
Support the Fairness for Injured Patients Act – Medical malpractice victims are punished by dollar amount limits on compensation that were set in 1975 with no adjustment for inflation!
Uber is Hiding Accident Data – Even with its admission of an alarmingly high number of sexual assaults, Uber's US Safety Report doesn't tell the whole story about accidents in their vehicles.
Fisher-Price Sold Dangerous Baby Sleeper without Safety Testing, Causing Dozens of Infant Deaths – A TorkLaw client's infant died due to the Fisher-Price Rock 'n Play "Sleeper," which was developed without medical advice or safety testing!
Did Goodyear Orchestrate a 22-Year Cover-up of Defective RV Tires? – Goodyear G159 size 275/70R22.5 was designed for delivery vehicles and were proven to be unsafe for RVs – but Goodyear marketed them to RV users anyway.