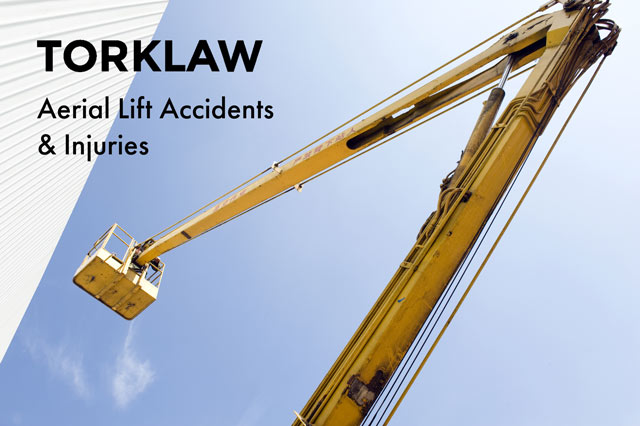 It is vital for construction workers who use aerial lifts to fully understand their responsibility under the American National Standards Institute (ANSI) A92 standards. You may be liable for damages related to workplace accidents that arise if users are not trained in using the lift. Supervisors may be liable for selecting the appropriate machine for site use, or performing proper inspections.
These new standards became effective in December 2019.
What Is an Aerial Lift?
Aerial lifts are machines that allow construction and other types of workers to work at great heights. Types of aerial lifts include scissor lifts, boom lifts, and vertical mast lifts.They are also called Aerial Work Platforms (AWP), or Mobile Elevating Work Platforms (MEWP).
They are safer and more efficient than scaffolds or ladders, when used appropriately.
Types of Aerial Lift Accident Injuries
Even when used safely, aerial lift accidents may still occur. These are most frequent types of these accidents that cause serious injuries:
A user falls from a MEWP at a great height
The aerial lift tips over while the operator is using it or there are occupants on the high platform
The aerial lift falls on a person when it tips over
An aerial lift runs over someone on the job site
An aerial lift collides with an object or another vehicle
A person is caught between a lift and other object/vehicle during a collision, or is crushed by a lift platform being operated incorrectly
A person is electrocuted while using a MEWP
Aerial Lift Liability
Under the ANSI standards, a person or business who rents an aerial lift becomes a "user" as soon as they take possession of the machine. MEWP users are responsible for the safe operation of the machine, and much more.
Until the most recent ANSI standards went into effect, aerial lift dealers had some responsibility for MEWP safety. They needed to deliver the equipment only to certified users, and to make sure the user was familiar with the machine. Now, dealers do not have any responsibility to review the controls, safety functions, or safe use techniques unless someone on the job site specifically asks them. They can deliver the equipment to anyone.

User Responsibilities
Aerial lift users and operators are responsible for:
Ensuring MEWP operators are properly trained and certified to use the equipment.
Reading the owner manual and familiarizing themselves with the controls before going to work.
Inspecting and understanding the limitations of the particular machinery.
Ensuring job site supervisors have aerial lift safety training.
Knowing what type of lift is safest for what type of work and work environment.
Performing a risk assessment of the work environment to prevent accidents.
Ensuring the lifts in their care are safely maintained.
Ensuring MEWP occupants (anyone on the lift platform who is not an operator) have fall protection training and can operate the lift in an emergency.
Making sure there is someone at ground level who can return the lift platform to a safe level if there is an emergency.
If there is an aerial lift accident because one of the above conditions is not met, the liability falls solely on the user.
Dealer Responsibilities
Aerial lift users should make sure that dealers fulfill the following responsibilities:
Dealers must provide training to MEWP users if requested.
Dealers must keep equipment in good repair, and perform regular maintenance and inspections to ensure lifts are safe.
Ensure all equipment has required safety features, such as active anti-entrapment technology.
If you or someone you care about has been injured on the job in an aerial lift accident, the aerial lift dealer or manufacturer may be partially liable for damages. You may want to consider a third party claim. This is separate from a workers compensation claim, and can help you obtain a much higher amount of compensation in a work-related injury.
Contact us at TorkLaw to find out if your case qualifies.
---
Did you enjoy this post? You may enjoy the below content:
Workplace Accidents & Injury Lawyers
Construction Site Worker Accidents