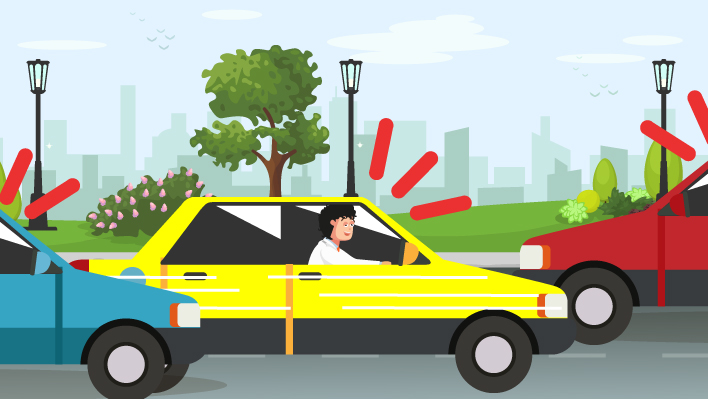 Drunk driving accidents are an unfortunate reality not just in Los Angeles but nationwide. According to the National Highway Traffic Safety Administration (NHTSA), each day, nearly 29 people in the United States die in car accidents that involve drunk drivers. In the year 2016, this amounted to one fatality every 50 minutes. While drunk driving accidents have decreased by around one third in the last 30 years, the cause for concern remains, and drunk driving accidents still claim more than 10,000 lives each year. In 2010, the total amount of damages caused by DUI accidents, including deaths, added up to $44 billion.
How Does Alcohol Affect Driving Ability?
When the level of alcohol in a person's system increases, so do the negative effects on the individual's central nervous system. Alcohol is directly absorbed through the stomach walls and the small intestine. From there, it passes to the bloodstream where it collects until it is processed by the liver.
Drunk driving is usually assessed by blood alcohol concentration (BAC), which is the weight of alcohol in one deciliter of blood. BAC may be measured by a device known as a Breathalyzer or with a blood test.
In all states including California, it is illegal to drive with a BAC of 0.08 percent. For drivers of commercial vehicles such as large trucks, buses and rideshare vehicles such as Uber and Lyft, the legal limit is 0.04 percent. In other words, commercial drivers could get a DUI or lose their driver's license if their blood alcohol level is at 0.04 percent or higher.
However, your blood alcohol concentration doesn't have to be 0.08 percent for it to affect your driving. Even a small amount of alcohol could impair a person's ability to drive. In 2016, there were 2,017 fatalities reported as a result of alcohol-related car accidents where drivers had a BAC between 0.01 percent and 0.07 percent.
There are several factors that affect a driver's level of intoxication. These include biological or genetic risk (people prone to developing alcoholism), ethnicity, and gender. Here are some of the factors that might have an impact on a motorist's level of intoxication or impairment:
Body size and composition: People who are smaller are more likely to become impaired more quickly. Also, the higher the percentage of body fat, the greater the concentration of alcohol that is present in the person's lean tissues.
Gender: Since women are smaller in size than men, they tend to become intoxicated more quickly.
Stomach content: Food in the stomach is likely to delay alcohol absorption into the bloodstream and slow down impairment. Larger meals can also help reduce blood alcohol concentration.
Level of hydration: If you don't drink enough water, the diuretic effect leads to a BAC increase.
Carbonated beverages: Alcohol that is mixed up with carbonated beverages such as Coca-Cola is likely to be more quickly absorbed into the bloodstream. This is also true in the case of champagne or wine coolers.
Other factors: Some of the other factors that could affect impairment include illnesses, moods, hormones, lack of sleep, and use of recreational, prescription or over-the-counter drugs.

Have You Been Injured in a Los Angeles DUI Accident?
If you have been injured in a Los Angeles DUI accident, there are a number of steps you must take in order to protect your legal rights and options. Here are some of those steps.
Call the police. Stop at the scene, or in a safe location nearby, and remain there until officials arrive. Police officers can help by providing assistance at the scene of the crash. They will investigate how the accident occurred. If you suspect that the other driver is under the influence or was driving erratically at the time of the collision, you should convey that information to the responding police officer. Any type of evidence gathered, or determinations made, during these investigations could be critical in the lawsuit which may later be filed by victims or the families of deceased DUI victims.
Seek prompt medical attention. If you have been injured, it is crucial that you get prompt medical attention, treatment and care. If emergency personnel arrive at the scene, do not decline treatment. If you are showing signs of injuries such as pain or bleeding, get to an emergency room right away. Even if you don't feel symptoms right away, see your doctor to make sure you haven't suffered internal trauma or other types of injuries such as whiplash, which may not lead to symptoms immediately after the accident.
Gather as much evidence as possible from the scene. A picture is worth a thousand words, and this is true in court, as well. Take photographs and video on your cell phone of the accident scene including the vehicles, damage to vehicles, skid marks on the roadway and if possible, of the suspected drunk driver. Write down as much information as possible about the drunk driver and occupants of the other vehicle. Under California law, motorists are required to exchange pertinent information including the driver's license, the name and address of the vehicle's owner, the vehicle registration number, and insurance information.
Some critical information you need to obtain includes name, home address, date of birth, cell phone number, e-mail address, description of the vehicle, name of the auto insurance company and policy number and name, address and phone number of the insurance agent. If you are injured and need to get to the emergency room or hospital right away, ask a friend or family member if they can gather this critical information for you.
Also, find out if the driver you suspect was drunk was on the job at the time of the accident. Under California law, an employer can be held accountable for any injuries or fatalities caused by an employee who is driving negligently. Look for whether the driver was operating a company truck or car at the time. It is also important to determine that the driver was actually on the job or on the clock when the accident occurred for the employer to be held liable.
Look for signs of driver intoxication. When you are at the scene of the crash, look for any signs that the at-fault driver is inebriated or has been drinking. Signs of intoxication include blood-shot eyes, hostile behavior, slurred speech, difficulty standing, and smell of alcohol. Pay attention to anything the driver may say about whether he or she has been drinking or where he or she might have been before the crash. Bring these observations to the attention of the investigating law enforcement officers. Write down everything you saw or heard, and why you think that the other driver was drunk at the time.

Criminal Versus Civil Action in DUI Cases
If a driver violates the law by driving under the influence of alcohol, he or she may face criminal charges. But, in addition to facing criminal charges, DUI drivers can also be held financially responsible for the injuries, damages and losses they cause. The civil justice system works very differently from criminal courts. In a criminal court, a drunk driver might plead guilty, or be found guilty by a jury, and be handed a sentence, depending on the nature and circumstances of the incident.
In a criminal trial, DUI victims and their families may not be able to seek compensation for the monetary losses they may have suffered. However, a personal injury lawsuit can help them seek and obtain fair compensation for the damages they have sustained. These cases are heard in civil courts.
Fortunately for the plaintiff in a personal injury case, thee cases can be easier to try than criminal cases. In criminal cases, the defendant's guilt must be proved beyond a reasonable doubt. In civil cases, the plaintiff must prove negligence on the part of the defendant.
In cases where a DUI victim died, his or her family members can bring a wrongful death lawsuit. These lawsuits help victims' families seek compensation for damages such as medical expenses, funeral and burial costs, pain and suffering, lost future income and loss of love, care and companionship.
Damages in DUI Accident Cases
If you have been injured in a Los Angeles drunk driving accident, you may be able to secure damages for the injuries, damages and losses you have sustained, including:
• Medical expenses: This includes the cost of any type of medical treatment you may have received as a result of the accident including hospitalization, surgery, cost of medication and medical equipment. It is important that you save all documents and receipts, so you can claim these expenses. Having this documentation intact also helps bolster your case because it clearly shows the types of injuries you suffered and the treatments that you received.
• Cost of rehabilitation: Car accidents often result in major injuries such as broken bones, which require extensive rehabilitative therapy. This is important for a full recovery and for victims to regain strength and function in the damaged parts of their bodies. However, physical therapy may not often be covered by medical insurance. Many DUI accident victims may have to pay these costs out of pocket. You can include these expenses as part of your claim as well. Once again, be sure to keep all receipts and invoices as well as records of physical therapist visits.
• Lost wages: When you are injured, you are often unable to work for an extended period of time. Some car accident victims are never able to work again because they may have suffered catastrophic injuries that leave them disabled for the rest of their lives. In cases where you are temporarily unable to work as you recover from your injuries, you may be able to seek lost income for those days. If you have had to quit your job or forsake your livelihood because of your injuries and disability, you may be able to seek additional compensation for loss of earning capacity.
• Pain and suffering: It is a well-established fact that car accident injuries, in addition to causing a great deal of physical pain and discomfort, may also result in emotional and psychological issues such as depression and post-traumatic stress disorder (PTSD). You have the right to claim compensation for physical pain and mental anguish as part of pain and suffering.
• Punitive damages: Punitive damages are awarded to punish the liable party for particularly egregious behavior.

Who Could Be Held Liable for a DUI Accident?
There are several parties who could be held financially responsible for DUI deaths and injuries. First and foremost, there is the at-fault driver who operated the vehicle under the influence.
If the driver was on the job or working at the time, his or her employer could also be held liable for the injuries and damages caused. For example, if you are struck by a commercial vehicle such as a big rig whose driver was under the influence, the driver's employer could be held liable for your injuries and damages.
California's laws are murky when it comes to social host liability. It is also rare in California for bars and restaurants to be held responsible for patrons who get drunk and get behind the wheel.
If the drunk driver who injured you is uninsured, you may still be able to seek compensation through the uninsured motorist clause of your own auto insurance policy. Sometimes, at-fault drivers may have too little insurance coverage to cover all your losses. In such cases, your underinsured motorist coverage might help as well.
Contacting Experienced Los Angeles DUI Lawyers
An experienced car accident lawyer who has had a successful track record of representing DUI victims can make a huge difference to the success of your case. A knowledgeable lawyer will be able to preserve and compile key evidence that could help bolster your claim. He or she will also be able to line up witnesses and experts who can be invaluable when it comes to corroborating the evidence and proving negligence on the part of the drunk driver. The experienced Los Angeles drunk driving lawyers at TorkLaw understand the severe physical, emotional and financial strain DUI accidents can put on victims and their families. We are here to help you during these challenging times. Please call us to schedule a no-cost consultation and case evaluation.