For National Truck Driver Appreciation Week, truckers across the country would feel very appreciated if more people would commit to driving safely around trucks!
National Truck Driver Appreciation Week is September 8-14, 2019. During this week we honor professional truck drivers for keeping the United States economy rolling by delivering virtually all the products and goods we use daily. We couldn't maintain our way of life without the men and women who deliver our food, clothing, medical supplies, and all our Amazon orders.
There are several types of trucks used for work, and several types of truck drivers: local pickup and delivery drivers, over-the-road drivers, freight drivers, tanker drivers, flat bed, and dry van drivers. This National Truck Driver Appreciation Week, we celebrate all of them. While this post focuses mostly on driving around big rig trucks, all professional truck drivers deserve our respect and courtesy on the road.
Trucking by the Numbers
Trucking is a huge industry, as the following numbers attest:
Over 80 percent of all communities in the U.S. rely on truck drivers exclusively to deliver their goods. Many U.S. territories can't be reached any other way.
About 70% of freight (by weight) is transported by trucks – that's 10.77 billion tons annually.
The American Trucking Association estimates there are about 3.5 million professional truck drivers in the U.S.
These drivers average 100,000 miles a year.
Collectively, professional truck drivers drive around 300 billion miles a year.
Truck Drivers Help Keep Us Safe
Professional truck drivers are on the road at all hours of the day and night, and most of the time, they have a higher vantage point than other drivers, so they can see farther. Truckers often spot trouble on the road before anyone else. They can call 911 to report reckless drivers and drivers who are under the influence before an accident happens.
Truck drivers often spot and help drivers in trouble, as this oil truck driver did in 2018.
In January 2018, our blog featured a post on Human Trafficking Prevention, highlighting the all-too-common problem of human trafficking in all 50 states of our country. There is a group called Truckers Against Trafficking (TAT) that exists to train those in the trucking and bus industries recognize and report suspected trafficking to the National Human Trafficking Hotline. So far, they have reported 557 cases of potential trafficking, with 1,035 potential victims. 319 of those were minors.
That certainly deserves appreciation.
Driving Safely Around Trucks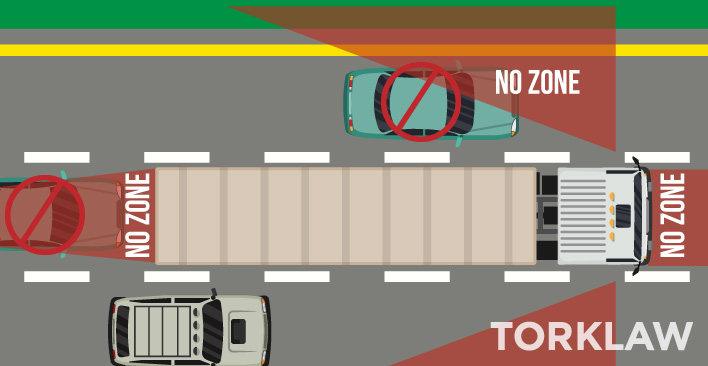 To show your appreciation to truck drivers, keep these facts in mind, and commit to driving safely around trucks when you encounter them on the road:
Don't tailgate other cars
Large trucks and buses take longer to slow to a stop, so they require long stopping distances. Also, because of their size, they have limited maneuverability that makes it vital for other drivers to focus on safety. That means you should leave room between you and the car in front of you, so that you don't have to stop short. This is not simply courteous for the truck driver. If your car is rear-ended by a vehicle 20 times its weight, you're going to be the one with the injuries. If you survive.
Don't tailgate trucks
Tailgating a truck or bus puts you in a blind spot. Some people believe that driving closely behind a big rig reduces air resistance and improves gas mileage – this is called "drafting." However, it could result in your vehicle sliding or being pushed under a truck in a crash. No amount of improved mileage is worth that.
Avoid blind spots
Large trucks and buses have large blind spots, or "no zones," on every side. Can you see the truck's driver in your side mirror? If not, the driver can't see you. Stay out of those blind spots. Either slow down or pull ahead to stay visible.
Pass safely
To pass a truck safely:
Make sure you can see the driver in the vehicle mirror. If you can't, you're not leaving enough room.
Never pass a truck from the right lane.
Once you can see the driver, turn on your turn signal.
Make sure you have room to accelerate once you're in front of the truck, to make sure the truck doesn't have to slow down. If you don't have room to accelerate, don't move over.
Then, move into the lane and accelerate.
Don't pass trucks going downhill, because the downward momentum makes it even harder for them to stop quickly.
Yield to large trucks when merging onto a freeway
Trucks and buses need more time to accelerate. When entering a highway or freeway, if there is a bus in your way, you need to be the one to hang back. Trying to zip in front of the truck is a dangerous move.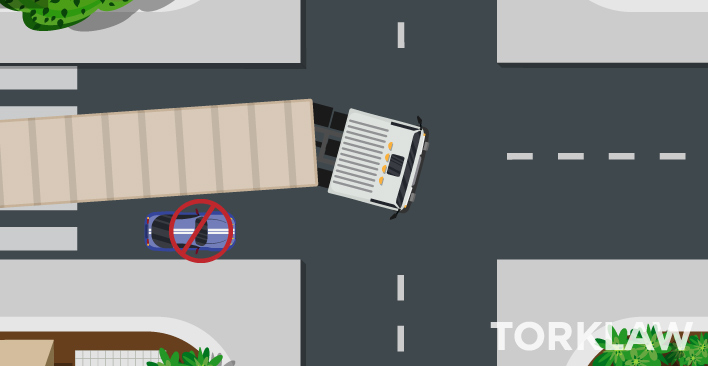 Anticipate wide turns
Trucks need additional room to maneuver a turn, so they may start from a middle lane. Just stay back. Don't try to squeeze into the gap between a turning vehicle and the curb. Again, if you're hit, you won't come out ahead.
If You're in a Truck Accident
Even when people are driving safely around trucks, buses, and all other vehicles, truck accidents still happen. If you've been involved in a truck accident that wasn't your fault – whether you were the truck driver, or the driver of the other vehicle – contact TorkLaw. Our truck accident attorneys can help sort through the details and help you receive the compensation you need to recover.