Do You Need Help Making a Business Interruption Claim? Or, Has Your Business Interruption Claim Been Denied
If you are a business owner that has suffered financial loss as a result of COVID-19, insurance compensation may be available to you. Insurance companies are unfairly making blanket denials of business interruption claims. We are here to help, whether you have yet to file a claim, or the insurance company has already denied you.
Complete this 30 second business interruption case evaluation form to see if we can assist you.
If you are a business owner or operator and your business was interrupted, you may be entitled to insurance coverage for your losses during the COVID-19 pandemic.  Don't guess about your legal rights and contact us today.
Because of the global pandemic of the highly contagious and deadly COVID-19 virus, many states and municipalities have restrictions to limit crowd size and halt businesses where people congregate, such as restaurants, bars, beauty salons, fitness centers, theaters, clothing and gift stores, and other "non-essential" businesses. The owners and operators of such businesses lose money every day the Coronavirus Disease 2019 remains a public health hazard. Owners and operators of many such businesses are looking to their business interruption insurance for relief.
Business interruption insurance covers losses to a business when its operations are disrupted by a fire, natural disaster or other event.
Insurance companies have been denying valid claims on business interruption policies.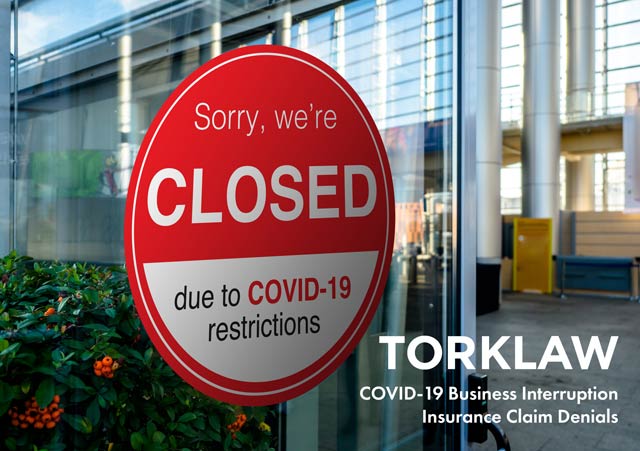 Does Your Insurance Cover Business Interruption?
Typically, "business interruption insurance" is separate from property insurance, which covers physical damage to the building from disasters like fires, floods, or earthquakes. However, COVID-19 losses may still be covered under your commercial property insurance, even if you have not purchased specific business interruption or disruption coverage.
To find out if yours does, look at your policy's declaration page, which summarizes your policy's terms and coverage. If you see the following terms listed under your coverage, you are currently facing business interruption losses due to COVID-19, you may be entitled to compensation, even if your insurance company denied your claim:
Business Interruption or Business Disruption coverage typically pays for your lost profits resulting from a disaster.
Contingent Business Interruption coverage pays for your losses from damage or lost access to suppliers of business-critical items or materials.
Extra Expense coverage pays costs for continuing usual business activities after losses, including salaries, rent, etc.
Civil Authority coverage pays for losses attributable to government- ordered closures.
Lost or Restricted Access (Loss of Ingress / Egress) covers losses from being unable to enter or leave your property, such as a government-mandated stay-at-home order.
All Risk, Open Perils, Special Perils coverage pays for losses arising from any non-purposeful cause except those that are specifically excluded.
If, after reading your insurance policy, you're still not sure if you're covered, don't panic. These policies were purposely written in legal terminology to make it difficult for non-lawyers to understand. TorkLaw offers a free consultation to help make sense of your policy and tell you whether your insurance company is being truthful about your coverage.
What Does Business Interruption Insurance Cover?
Exactly what your policy covers depends on the terms of your agreement with the insurance company. However, below are some categories of injuries this type of insurance often covers:
Loss of profits
Operating expenses and other costs still being incurred by the property
Temporary location expenses
Additional training costs
Extra expenses beyond the fixed costs to continue operation while the property is not accessible
If Your Insurance Provider Denies Your Claim
If your insurance company denied your claim for COVID-19 losses, don't give up hope. After many historic disasters, insurance providers who refused to pay on their policies have been ordered to pay by the courts. And, if this happens to you, you can further bring suit against your insurance company for bad faith.
However, insurance companies will go to great lengths to avoid paying on these claims. They have a phalanx of attorneys who specialize in finding loopholes in policy language that allow them to take advantage of you. Most business owners and operators simply don't have the time or the legal expertise to dispute this onslaught. But we do.
If your business is suffering due to COVID-19, or if insurance provider has denied a COVID-19 claim for your business, contact TorkLaw. We will review your policy and your claim and tell you if you have a claim. And if you do, we will help make sure you receive the full amount of compensation you deserve – for you, your employees, and your business.
Legal Help for Your Business
We know that this is a tough time for small businesses, especially when it comes to sorting through legal issues. One of our partners, BizCounsel, is the easiest and most affordable ways to get legal help for your business. Whether it's attorney advice, document reviews, or flat-rate contract drafting, they can help protect your business and guide you through this challenging time.
Check them out at here today and get 50% off for all new members.