This article is being updated with the latest information about the coronavirus pandemic as we receive it.
April 15, 2020
COVID-19 Face Mask Requirements
As of Sunday, April 5, Riverside County made leaving home without wearing a face mask punishable by a $1000 fine.
On Tuesday, April 7, San Bernardino County issued a similar order requiring face masks in public, with a $1000 fine for ignoring that mandate.
In the city of Los Angeles, as of Friday April 10,  residents must wear a mask or other covering over their mouths and noses when inside any essential business.
As of April 20, Sonoma County, California will require everyone to wear masks in public places, except for children under 2 years old. People who are outside and able to keep at least six feet away from others are also exempted.
Other towns in Los Angeles have similar requirements:

Beverly Hills and Carson require anyone leaving their home to cover their noses and mouths.
The following cities require face masks inside essential businesses: Burbank, Inglewood, Long Beach and Pasadena.

In Orange County, face masks are recommended but not required except in Seal Beach, where they are required for people who are outside of their house or vehicle and interacting with people who are working. Those who are walking, exercising are not required to wear face coverings.
In San Diego, workers in grocery stores and other essential businesses are required to wear a mask covering their mouths and noses at work.
Laredo, Texas became the first US city to require face masks on April 2. Other Texas locations requiring face coverings:

Bastrop County
Edinburg
Elsa
Fort Bliss
Hidalgo County
Mission
Palmview
Travis County

In Oakland County, Michigan, essential workers are required to wear face masks while working.
In Washington, D.C., people shopping for food must wear a covering over their noses and mouths.
In Illinois and Washington state, citizens are urged to wear masks in public, but as of yet, there is no legal mandate.
In Georgia, and in other states and areas, it is currently a misdemeanor to wear a mask in public, and the governor is being urged to suspend that law during the COVID-19 pandemic.
---
April 2, 2020
Slowing the Spread of Coronavirus
As of 3:40 pm Eastern Time on April 2, 2020, there have been one million people infected with the novel disease COVID-19.
On Wednesday, April 1, a committee with the National Academy of Sciences advised the White House of the latest research showing that coronavirus can be spread from person to person just by talking, or even breathing.
This new development supports recommendations for social distancing. The best way for people to help stop the spread is to STAY HOME.
Also on April 1, Los Angeles Mayor Anthony Garcetti recommended that all residents in that city wear non-surgical masks whenever they absolutely need leave home. Medical masks should be reserved for the healthcare workers who need them. Regular citizens can protect themselves with a cloth bandana, scarf or balaclava (ski mask), which can be washed after each use.
However, wearing masks is not a substitute for sheltering in place: people should stay home unless they absolutely have to go out.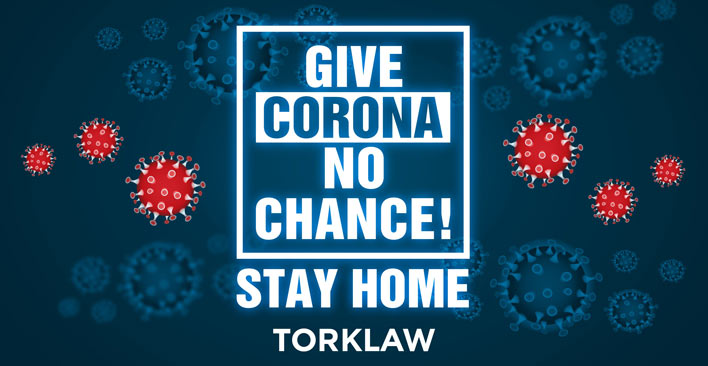 Sadly, some people aren't following experts' recommendations to stay at home. But we know it works.
Here's why epidemiologists, people who are experts in epidemic illnesses, say social distancing is needed to slow the spread of the pandemic.
When massive numbers of people are sick all at once, they will exceed the healthcare system's capacity to provide hospital beds or ventilators for all of them. This is what is already happening in Italy.
But, if we can delay the spread of the virus so that new cases occur over the course of weeks or months, our existing healthcare system can accommodate all of them. We're seeing that happen in the San Francisco Bay area and Washington state, where they issued stay-at-home orders weeks ago.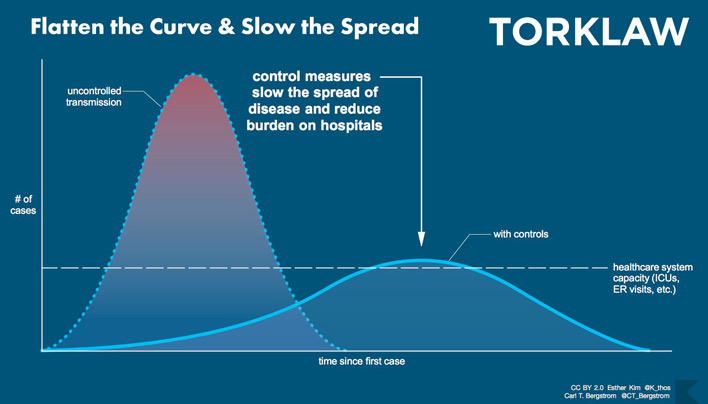 March 31, 2020
Coronavirus Updates
On March 23, 2020, the Judicial Council of the State of California has suspended all jury trials, both civil and criminal, for the next 60 days. (See the order here.)
However, TorkLaw is still 100% operational – click here to read the latest message from our founder, Reza Torkzadeh.
---
March 24, 2020
Vital tips to stay healthy and limit the spread of disease:
Stay home unless you are a provider of essential services (such as health care, pharmacies, food stores, gas stations, banks). On March 19, California Governor Gavin Newsom issued a statewide order for all residents to 'stay at home' until further notice. (Read about options for financial aid.)
Wash your hands frequently with soap and water, for at least 20 seconds each time. (Find out more.)
Clean and disinfect frequently-used surfaces and objects often. (Read tips.)
If you must go out in public, keep at least six feet of distance from other people. (Find out why this is important.)
You may want to wear a non-surgical mask whenever you absolutely need leave home. Use a cloth bandana, scarf or balaclava (ski mask), which can be washed after each use.
If you have symptoms, self-quarantine. (Read about coronavirus symptoms.) Stay in a room away from others in your house & use a separate bathroom if possible. (Read more here.)
Cover your coughs and sneezes with tissues or your arm.(Learn more.)
Call your doctor if you are at risk. (Click here to find out who's at risk.)
Don't panic; just do what you can to stay healthy and well.
Read and share these White House guidelines to slow the spread.
If you need to stay home either because you are sick or you need to care for a family member who is, look into disability and paid family leave options in your state. Here is some information from the California Employment Development Department (EDD):

Congress has signed a bill expanding paid sick leave to all employees on the federal level, as well as paid time off to care for sick relative. The president is expected to sign that in the coming days.

Read the article below to find out more about COVID-19:
---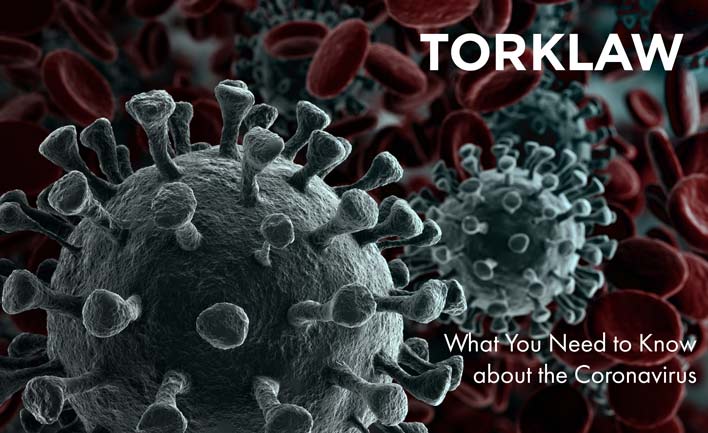 March 12, 2020
What You Need to Know About the Coronavirus
On March 11, for the first time, the World Health Organization declared the coronavirus disease a global pandemic. On March 16, President Donald Trump advised all U.S. citizens to take steps to prevent the spread of the disease: avoiding gatherings with 10 or more people, not going to bars and restaurants and cancelling any unnecessary travel. These guidelines are in effect for 15 days.
All over the world, people are wondering: Is it time to panic? What is my risk of getting this disease? How deadly is it?
Coronavirus Disease 2019 (COVID-19) quickly became an epidemic: a sudden increase of a new disease for which most people do not have immunity. Initially, it affected China, Italy, South Korea, and a few other countries. It has now spread throughout the world, affecting hundreds of thousands of people. This is what makes it a pandemic.
The Difference Between Coronavirus and COVID-19
Coronaviruses are a group of viruses that can cause a range of cold-like symptoms. These may include a runny nose, cough, sore throat and fever. Some coronavirus strains are mild, while others can lead to more dangerous conditions like pneumonia. The coronavirus family is so named because the crown-like spikes on its surface – corona is Latin for crown.
A coronavirus is spread through close proximity to an infected person. There are seven different types of this virus that can infect humans, including SARS and MERS. COVID-19 is a unique strain of those viruses.
How Coronavirus Spreads
Based on what we have seen and what scientists know about the spread of disease, coronavirus spreads mainly from contact or close proximity to people. When sick people talk, breathe, and especially when they cough or sneeze, they expel respiratory droplets, which can land in the mouths or noses of people who are within about 6 feet.
It may also be possible to catch COVID-19 by touching something that has virus droplets on it, and then transferring that virus by using your hand to touch your mouth or rub your nose or eyes.
Initial reports indicated that COVID-19 seems to be most contagious when people are showing symptoms (runny nose, a cough, shortness of breath, or fever). Now, there are reports that coronavirus may spread both during and before symptoms.
[bctt tweet="COVID-19 may spread before symptoms show – this is why it is vital to follow U.S. government guidelines to avoid crowds of 10 or more, not go to bars or restaurants, and avoid discretionary travel." username=""]
This is why it is vital to follow President Trump's guidelines to prevent the spread. In fact, on March 16, San Francisco became the first U.S. city to order all citizens to shelter in place. This means that people should only leave their homes to receive medical care or shop for groceries, although it's OK to walk your dog or go for a jog or walk for exercise. The shelter in place order does not apply to essential workers (medical practitioners, police, firefighters, garbage collectors, etc.).
How Deadly is Coronavirus Disease 2019?

According to WHO, about 3.4% of people with reported COVID-19 cases globally have died. COVID-19 is exponentially more deadly than the seasonal flu, which typically kills far fewer than 1% of those infected.
However, that does not mean everyone who contracts the virus has a 3.4 percent chance of dying. Certain people are more likely to develop more serious complications from COVID-19 illness. These include:
Adults over 60
People with chronic medical conditions, such as heart disease or cancer, that impact ability to fight illness.
People who have or are recovering from conditions that affect the respiratory system, such as asthma, COPD, or bronchitis.
People who have auto-immune diseases, such as lupus or interstitial lung disease.
If this describes you, please consult with your primary physician about what you can do to protect yourself.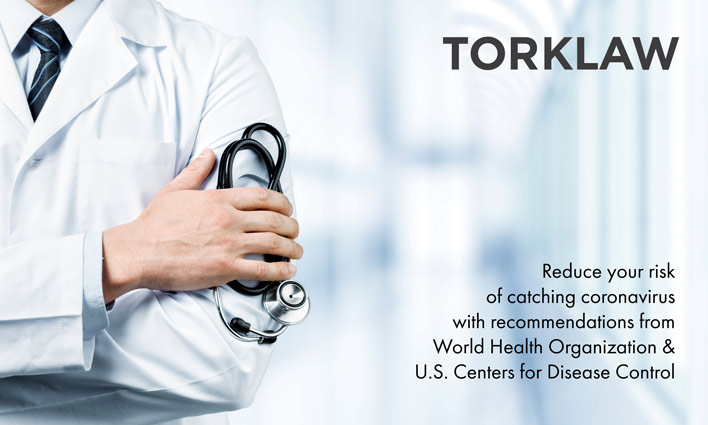 If you are otherwise healthy, and have access to quality healthcare, even if you do contract this strain of coronavirus, you have a very good chance of recovery.
In general, the severity of the virus increases with age. Initially we had heard that most children with COVID-19 have milder symptoms, and  the fatality rate is lower for young patients.  However, we are now hearing that may not be the case with infants and toddlers, who may be at a greater risk than previously thought. Certainly children who have chronic health conditions are at a greater risk, and all children can still carry and transmit the disease.
Whatever your age or health, it's important to know how to identify, prevent, and respond to COVID-19.
[bctt tweet="If you are healthy, even if you do catch coronavirus, you have a very good chance of recovery with proper health care. But it's important to stay informed and take precautions to keep from spreading it." username="torklaw"]
COVID-19 Symptoms
As noted above, symptoms of COVID-19 are similar to the flu, and usually typically include fever, cough, runny nose, or shortness of breath. If you or your child develops these symptoms, call your doctor immediately.
IMPORTANT: Don't simply show up at the doctor's office, health care clinic or emergency room! Be sure to call first and let them instruct you on where to go, so that you don't inadvertently spread the disease to others.
If you develop these emergency warning signs for COVID-19, call 911:
Difficulty breathing
Persistent chest pain or pressure
Sudden confusion or lethargy
Blue tinge to the lips or face
Please note that this list is not all inclusive; consult a medical provider for any symptom that is severe or concerning.
Guidelines for Prevention
Right now, scientists' best estimate is that it will be at least a year before a vaccine is ready for widespread use to prevent COVID-19.
The best way to prevent illness is to avoid exposure. Click here to read guidelines from the White House to slow the spread. Below are more recommendations from the Centers for Disease Control and Prevention (CDC) on how to protect yourself and your family at home, and your employees and coworkers at work.
At home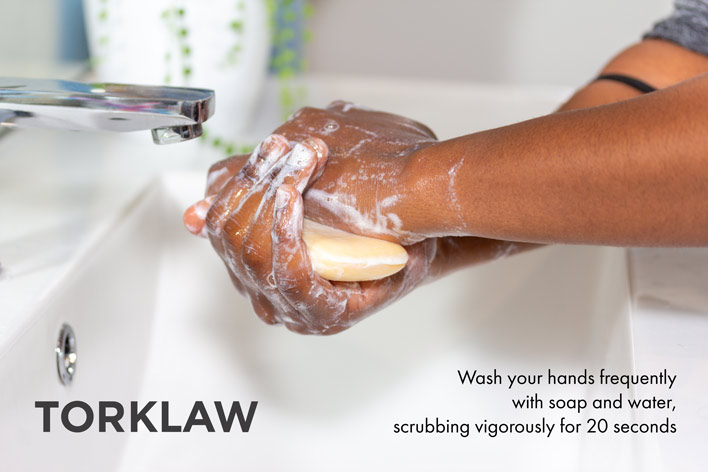 Protect yourself
Wash your hands thoroughly and frequently

You don't need special hand soap or hand sanitizer if you have soap and (preferably warm) water handy.
Using soap and water, rub your hands together vigorously to create a lather – do this on both sides of each hand.
Wash your hands for at least 20 seconds. The CDC recommends humming the "Happy Birthday" song to time it.
Wash your hands after you have been in a public place.
If there isn't soap and water available where you are, use a hand sanitizer with at least a 60% alcohol content. Use enough to spread the sanitizer over all surfaces of your hands. Rub the backs and fronts of your hands together vigorously until they feel dry.

Try to keep your hands away from your face – especially your mouth, nose or eyes.
Avoid close contact with people, especially those who are sick, or if COVID-19 is spreading in your community. This is especially important for those who are at high risk, including people over 60 or those who have auto-immune diseases.
[bctt tweet="Right now, scientists' best estimate is that it will be at least a year before a vaccine is ready for widespread use to prevent COVID-19. The best way to prevent illness is to avoid exposure." username="torklaw"]
Protect others
If you are sick, stay home! If you need medical care, and your symptoms are similar to those listed above, call your doctor for instructions on how to receive care.

Cover coughs and sneezes.

If you have to blow or wipe your nose, sneeze, or cough, use a clean tissue and throw it in the trash. Then wash your hands for 20 seconds.
If no tissue is available when you cough or sneeze, do the "vampire cough." Sneeze or cough into the inside of your elbow, like Count Dracula pulling his cape over his face.

Wear a facemask – but only if you are sick, or caring for someone who is.

If you are sick wear a facemask whenever you are around other people.
If you are NOT sick or at risk, you do not need to wear a facemask. Because facemasks may be in short supply, they should be saved for those who need to care for infected individuals.

Don't share dishes, cups, utensils, or towels with other people in your home.
Clean and disinfect all frequently touched surfaces: countertops, desktops, tables, doorknobs, light switches, keyboards, toilets and toilet handles, faucets, and sinks. Most common EPA-registered household disinfectants are fine.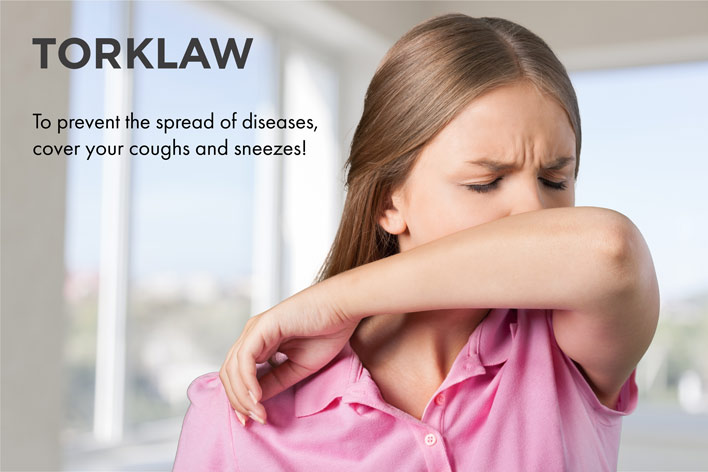 If You or Someone In Your Home Contracts COVID-19
Isolate at home

People who are even mildly ill with COVID-19 should stay home throughout their illness, except for receiving medical care. Otherwise, they risk exposing someone who is at a much higher risk of complications.
Avoid public areas such as work, school, public transportation, ride-sharing, or taxis.

Separate the sick person from other people in your home. A person with COVID-19 should stay in a specific room and away from other people and use a separate bathroom, if available.
Call ahead before going to a medical facility. Be sure the healthcare provider knows that you have or may have COVID-19, and follow their instructions to keep from exposing other people.
[bctt tweet="People who are even mildly ill with COVID-19 should stay home throughout their illness, except for receiving medical care. Otherwise, they risk exposing someone who is at a much higher risk of complications." username="torklaw"]
At work
Follow all state and local guidelines.
If possible, allow employees to work remotely.
If your business is an essential service, and workers cannot work from home, actively encourage all employees to stay home if they are sick:

Employees who have symptoms of respiratory illness should stay home! They should not return to work until these symptoms have been gone for at least 24 hours, without using fever reducer, antihistamines or cough suppressants.
Be flexible with your sick leave policies, and be sure all employees are aware of their options. On March 19, the president is signed a new law expanding paid sick and family leave for employees affected by COVID-19, including companies with fewer than 500 employees. In California, employees who have been diagnosed with COVID-19 can apply for disability if they do not have sick or vacation days to cover their time off. Those who must care for a sick family member can file for Paid Family Leave (PFL). Click here for more information on CA disability and PFL, and here for additional resources. Find out your firm's policies and the options in your community for both sick employees and caregivers.
If you have contract or temporary employees, make sure they also understand the importance of staying home when sick and any options available to them.
Don't require sick employees to validate their illness or to return to work. Many medical facilities may be unable to provide this documentation in a timely way.
[bctt tweet="Anyone who has symptoms of respiratory illness should stay home from work or school, and not return to until these symptoms are gone for 24 hours – without fever reducers, antihistamines or cough suppressants." username="torklaw"]
Send sick employees home:

If an employee arrives or becomes sick at work with respiratory illness symptoms, send them home immediately. Disinfect the person's work area.

Emphasize safe practices in the workplace by sending internal messages encouraging employees to stay home when sick, use respiratory etiquette, and wash their hands frequently.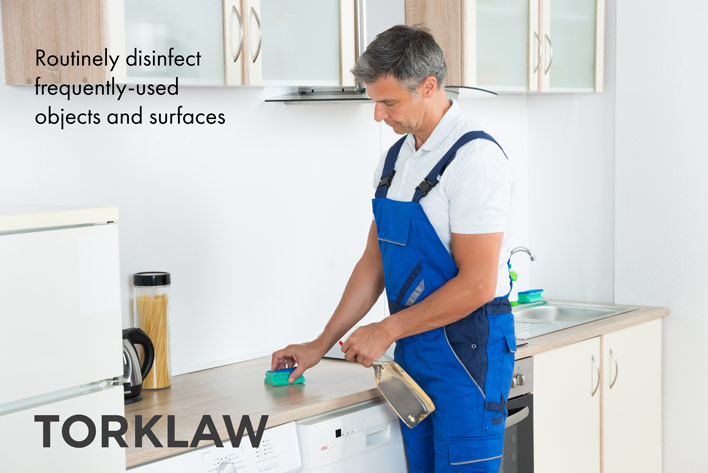 Clean and disinfect frequently:

Routinely clean and disinfect all frequently-used surfaces, such as workstations, countertops, and doorknobs.
Provide an adequate supply of tissues, disinfectant cleaners, soap and water, and/or alcohol-based hand sanitizer, and disposable wipes for employee use.

If your employees routinely travel for work, advise them to :

Check the CDC's Traveler's Health Notices for the latest recommendations for their destination.
Stay home and not travel if they have any symptoms of respiratory illness.
Notify their supervisor and call a healthcare provider for advice if they become sick while traveling.

Create a business continuity plan if a high number of employees become sick or need to care for family members who are. Some key considerations:

Be aware of the impact of COVID-19 on communities where your offices are located. Coordinate with state and local health officials to receive guidance on appropriate responses in each location.
Know which/how many employees are at higher risk due to age or health conditions. If possible, have HR reach out to offer help in keeping them safe.
Monitor absenteeism and have a plan to cover essential functions if key staff members are absent, such as cross-training personnel or establishing a plan with a temporary service.
In general, be prepared to change business practices as needed to maintain critical operations with fewer staff members.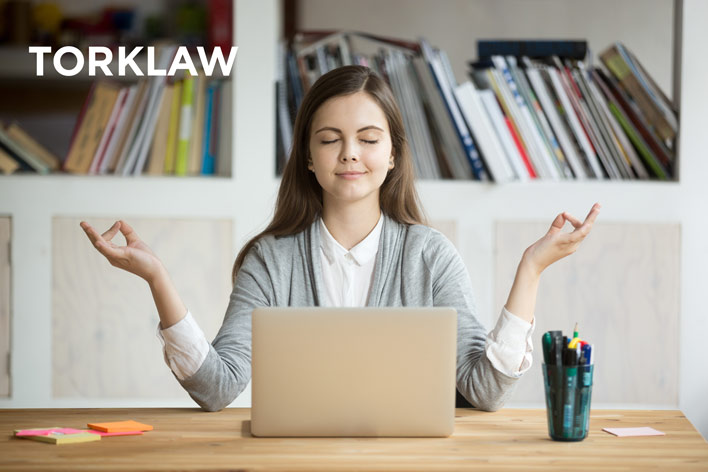 Keep Calm and Stay Informed
At TorkLaw, we want you to stay safe and well. COVID-19 is a very serious issue, and everyone should take precautions to avoid catching or spreading it.
If you're sick or at risk due to your age or health condition, call your doctor for advice.
If you're not sick, follow the above guidelines to keep from exposing yourself or others to COVID-19. But there's no need to panic – stress lowers your immunity!
Know the facts, stay calm  — and wash your hands!
[bctt tweet="COVID-19 is a serious issue, and everyone should take precautions to avoid catching or spreading it. But there's no need to panic. Know the facts, stay calm — and wash your hands!" username="torklaw"]
---
Did you find this post informative? You may also want to check out the below content:
Coronavirus Pandemic: We're All in This Together
Elder Abuse and Neglect in Nursing Homes
Cruise and Passenger Ship Accidents