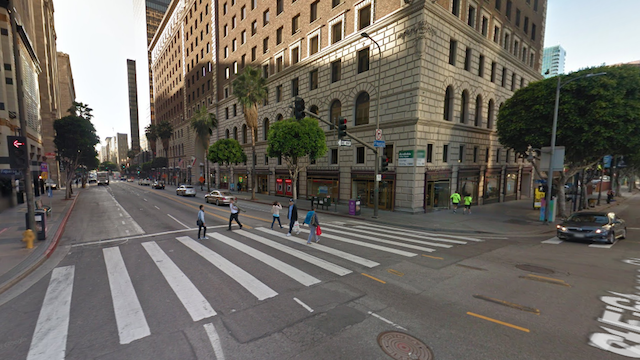 Downtown LA Pedestrians Are Getting Extra Seconds Of Safety In Crosswalks
Anyone with any kind of experience in urban pedestrianism knows how real the struggle can be when it comes to a Downtown crosswalk.  It's almost like being a pedestrian is a cloak of invisibility to cars making turns. No matter how brightly the little man in the sign blinks, telling you it's your turn — it's a game of Frogger.
Downtown Los Angeles pedestrians might be getting a bit of a break, now that the city has begun to calibrate the timing on the signal boxes just a tad differently. The walk signals will now light up a few seconds before the rest of the lights turn green, allowing pedestrians an extra few moments to begin crossing.
While this seems like a minor tweak, the math shows those extra couple of seconds will give pedestrians a huge advantage when it comes to visibility.  If they are already mid-crossing when the lights turn green, the odds are better that drivers will see them. Or so says the theory.
Initially, the 16 intersections on Broadway, surrounding Grand Central Market will be the first to use the new timing.  Future plans have the new set up extending across DTLA and to the rest of the city.
This new setup comes at almost the same time that the new scramble crosswalks are being installed in Santa Monica –allowing pedestrians to cross diagonally. This is part of the city-wide Vision Zero, focusing on more pedestrian and bicycle friendly solutions to traffic.
If these new intersections can reduce the insanely high number of pedestrian deaths in the city, by even a few people — this is a great thing. Los Angeles cannot afford any higher of a pedestrian death rate, and our intersections are dangerous enough as it is. Hopefully these new measures can have a positive affect, and soon.
If you have been injured in a pedestrian accident, or lost a loved one, it's important to speak to an attorney who can advise you on your rights.  Use our form below for your free consultation with one of our lawyers, who can help you navigate the process.
Get Your Free Consultation Now