Check out the latest issue of our Living Safer magazine, which covers the sad epidemic of teen suicide.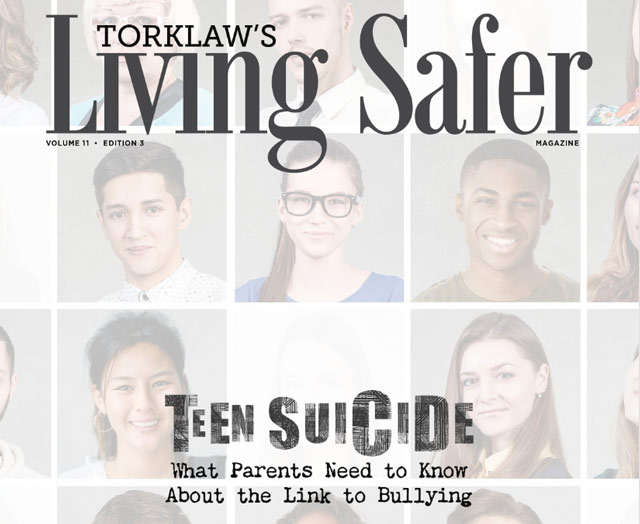 This magazine regularly contains an impressive variety of useful information and interesting articles to help keep you and your family safe, and this edition is no exception. The lead story is the sad epidemic of teen suicide in our society, and how you can recognize the signs to help at-risk teens in your life.
The Journal of the American Medical Association reported that in 2017, 6,241 individuals in the United States between the ages of 15 and 24 died by suicide. The same study noted that the youth suicide rate appears to be the highest it's ever been. And while an astounding 80 percent of 2017 suicide victims were young men, it's also a sad fact that suicide rates for girls and young women, have been rising steadily; in fact, they've doubled since 2000.
It's not a coincidence that there are also higher rates of depression and anxiety among young people than ever. That may be because people are more willing to talk about issues like mental health and suicide than in the past.
An additional factor may be young Americans' relationship with digital media, which brings them constant reports of the world's problems, without the life experience to put those issues into perspective. And as teens spend more time on digital devices, they are spending less time sleeping and interacting with friends and family, activities that would benefit their mental health.
Maintaining open, supportive communication with the teens in your life is the best way to identify potential issues, and offer help when needed. If teens or young adults seem isolated or withdrawn, are using opioids or other drugs/alcohol, don't get enough sleep, or seem stressed by the world's problems, don't be afraid to ask them if they're feeling depressed or suicidal. Asking won't make them more likely to feel that way, and may bring a problem to light.
If a teen you know is struggling with depression or suicidal ideation, support them by listening and offering unconditional love. Help them find a mental health professional to treat them. And always keep all medicines and guns locked away from children and teens.
Please share this issue with friends and family, so that they can also use the information to start Living Safer.