Three People Riding Motorcycles Injured In Apple Valley Car Accident With Pickup Truck By The Intersection of Apple Valley Road and Symeron Road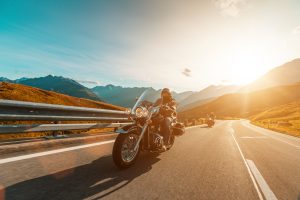 APPLE VALLEY, CALIFORNIA (February 15, 2023) – Three people riding motorcycles were injured in an Apple Valley car accident by Apple Valley Road and Symeron Road.
San Bernardino County officials are saying that the collision took place around 5:27 p.m. on Sunday. A motorcyclist carrying a passenger and a second motorcyclist were heading down the roadway when they were hit by a Ford F-150 pickup truck turning north.
All three people were ejected from the two motorcycles and sustained major injuries. Paramedics were called to the scene of the collision in order to help all of the victims.
All three people were taken to the hospital in order to receive treatment. A full investigation remains ongoing at this time.
Liability For Apple Valley Car Accidents
Far too many people are killed or seriously injured every year in motorcycle collisions. According to the NHTSA, "In 2020 there were 5,579 motorcyclists killed, 14 percent of all traffic fatalities. This is the highest number of motorcyclists killed since FARS started in 1975." The vast majority of motorcycle accidents are totally preventable. There are many common causes of motorcycle accidents.
Drivers may fail to check their blind spots and turn into the path of motorcyclists.
Drivers have to maintain a safe distance with motorcyclists.
Drivers may be distracted by their cell phones.
All drivers have a legal obligation to exercise due care in order to avoid collisions. Pursuant to California Vehicle Code 21801, the driver of any vehicle intending to turn left must first yield the right of way to any vehicle traveling from the opposite direction close enough so as to pose a hazard. When a driver turns abruptly into the path of a motorcyclist prior to a collision, this could form the basis of a negligence claim. There are many steps that accident victims should take if they are injured.
Eye witness testimony should be collected.
Surveillance footage should be sought.
A personal injury attorney should be consulted.
Any person that is injured in a car accident may have legal recourse through a bodily injury claim. Damages in a civil claim can help cover lost wages, medical bills and pain and suffering. Sadly, though, drivers will often do everything in their power to deny liability for any collision. A personal injury attorney can examine all of the unique facts of your case and let you know what your legal options are.
Investigating A San Bernardino County Car Accident
We at TorkLaw extend our best wishes to all of the victims of this Apple Valley car accident. It is our sincere hope that all of the victims will be able to make a full recovery. There needs to be some accountability for what happened.
Have you or someone that you care about been injured in an Apple Valley car accident? Our team of motorcycle accident attorneys are here to help in any way that we can. We care deeply that accident victims get the medical and financial support that they need in order to recover. Whether you just have legal questions or need any type of support after a collision we are here for you. You can reach out to us anytime at (888) 441-4991.