Motorcyclist Seriously Injured In San Bernardino Car Accident With Police Officer By The Intersection of Waterman Avenue and 5th Street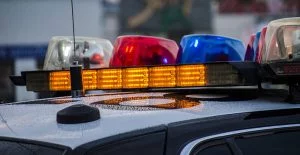 SAN BERNARDINO, CALIFORNIA (September 19, 2022) – A motorcyclist was injured in a San Bernardino Police Department accident by Waterman Avenue and 5th Street.
San Bernardino County officials are saying that the accident took place around 2:30 p.m. on Sunday. A motorcyclist was involved in a collision with a San Bernardino Police Department vehicle under unclear conditions.
Paramedics were called to the scene of the collision in order to help the victim. They were taken to the hospital with serious injuries but are expected to survive the crash.
A full investigation into the collision remains ongoing at this time.
Liability In San Bernardino Police Department Car Accidents
Many people die or are seriously injured every year in accidents with emergency vehicles. According to the National Safety Council, "In 2020, 180 people died in crashes involving emergency vehicles. The majority of these deaths were occupants of non-emergency vehicles (56%). Deaths among pedestrians accounted for another 25%, while emergency vehicle drivers represented 11% and emergency vehicle passengers accounted for about 5% of the deaths." There are many factors that could contribute to a car accident with an emergency vehicle.
The emergency driver may have been distracted.
The emergency driver may have been speeding to respond to an emergency.
Poor road conditions could have contributed to the collision.
Depending on the facts of any case, the police department that an officer worked for could be liable for a collision. Generally speaking, police departments have a great deal of immunity from civil suit for car accidents under California Vehicle Code 21055. However, the officer must have been responding to an actual emergency and must have been using their lights and sirens to warn the public about their presence. If a police officer failed to use their lights and sirens during an emergency trip, this could form the basis of a civil claim in the event of a collision.
If a police officer is not responding to an emergency, they must obey all of the rules of the road like any other driver. Many motorcyclists are injured by drivers that make dangerous left turns. Pursuant to California Vehicle Code 21801, any person intending to turn a vehicle left in the roadway must yield the right-of-way to all other drivers traveling from the opposite direction that are close enough so as to pose a hazard. Victims of motorcycle accidents tend to suffer very serious and costly injuries including:
Broken bones
Head injuries
Lacerations
Spinal cord injuries
Any person that is injured due to the negligent actions of a police officer may have legal recourse through a bodily injury claim. Damages in a civil claim can help cover many of the bills that can come with a serious crash. Unfortunately, police departments will often fight hard to deny liability for any collision involving their officers. A motorcycle accident attorney can examine all of the unique facts of your case and let you know what your legal options are.
Investigating A California Police Department Car Accident
We at TorkLaw extend our best wishes to the motorcyclist injured in this San Bernardino Police Department accident. Any person that may have more information about what happened should reach out to investigators. There needs to be a thorough investigation into what happened.
Have you or someone that you care about been injured in an accident involving a police officer? Our team of motorcycle safety advocates are here to answer any questions that you may have. We care deeply that accident victims get the medical and financials support that they need in order to recover.  Whether you just have legal questions or need any type of assistance after an accident, we are here for you. You can reach out to us anytime at (888) 441-4991.