Safety in the Stairwell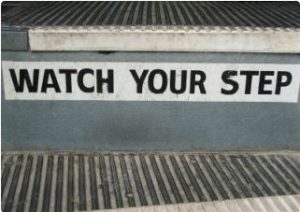 Stairs are everywhere. Restaurants, boutiques, healthcare providers, car dealerships, hotels, casinos and virtually every other type of public business you can imagine uses stairs to help customers navigate their facilities. Stairs are indoors and outdoors. Some staircases are only two steps high while others stretch, flight after flight, the height of an entire building.
Stairway Hazards
Stairs may be commonplace, but they are also hazardous. According to the National Safety Council, accidents involving stairs, steps and floors send 2 million people to the emergency room with injuries every year.
California law regulates stairways in public places in an attempt to provide safe stairways for California residents.
Stairs must meet a minimum width requirement based on the building's occupant load.
A stairway's rise and run – the surface your foot lands on and the distance you lift your foot to get to the next step – must comply with state specifications.
Surface treads must be slip resistant.
Stairs must have compliant handrails.
Stairways must be kept clean and maintained in good repair.
In spite of these regulations, injuries still occur every day on California stairways. The premises liability lawyers at TorkLaw have handled personal injury claims involving hazardous conditions in public places. They can advise you about whether you have a personal injury claim related to an accident on a stairway.
Get Your Free Consultation Now