UPDATE SEPTEMBER 2013 – Lawsuits against Medtronic for their defective INFUSE Spinal Fusion Bone Graft can move forward according to Judge.
————————————————
Have you been injured by a Medtronic Infuse Spinal Graft System?
DON'T GUESS ABOUT YOUR LEGAL RIGHTS – CALL NOW FOR FREE CONSULTATION 
Over 100,000 patients per year have undergone spinal surgery using the Medtronic
INFUSE Spinal Bone Graft.  Unfortunately, many have experienced serious and catastrophic life altering injuries because of complications arising out of the Medtronic INFUSE product.
If you have been injured by a Medtronic INFUSE Spinal System, get your free legal evaluation today (888) 845-9696
It is believed that Medtronic failed to disclose the proper uses of its INFUSE product and even went to far as to train doctors improperly on uses that were not approved by the FDA, resulting in life-altering injuries in patients.
U.S. District Judge G. Murray Snow, who is the presiding judge in Ramirez v. Medtronic, Inc. rejected Medtronic Inc.'s arguments that federal law preempted a lawsuit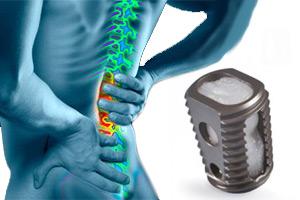 From his opinion:
"When a plaintiff is injured because her doctor used an FDA-approved device for an unapproved use, and she brings state law tort claims against the manufacturer claiming that it should have provided additional warnings or designed the product differently in light of this unapproved use, the plaintiff is asking the manufacturer to do something 'different from, or in addition to' federal law."
"When the device is not being used in the manner the FDA pre-approved and the manufacturer is actually promoting such use, there is no law or policy basis on which to preempt the application of state law designed to provide that protection… when Medtronic allegedly violated federal law by engaging in off-label promotion that damaged the Plaintiff and thereby misbranded the Infuse device, it departed the realm of federal regulation and returned to the area of traditional state law remedies," the Judge said.
The Spine Journal and DOJ Investigation
In 2011, Dr. Eugene J. Carragee published an editorial noting that a study sponsored by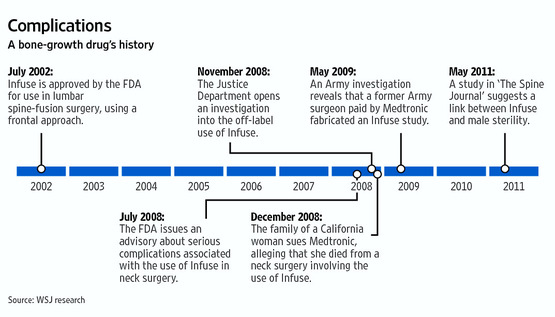 Medtronic did not disclose the side effects of a major component of the INFUSE Bone Graft product uses.  The greatest bombshell in the article was the millions of dollars researchers were receiving from Medtronic – anywhere from $1 million to $23 million per year in fees.
In 2011, the US Department of Justice began an investigation into Medtronic's practices of paying for influence from researchers, and positive  reviews.  A subsequent lawsuit was filed by the DOJ against Medtronic and resulted in a $40 million settlement.  Ultimately, it was made clear that Medtronic had paid millions of dollars in incentives to doctors to use the INFUSE spinal system.
If you or a loved one have been injured or harmed by the Medtronic INFUSE Spinal Bone Graft System, please call for a free consultation and evaluation today (888) 845-9696 – 24/7 Response, No Obligation.
Get Your Free Consultation Now