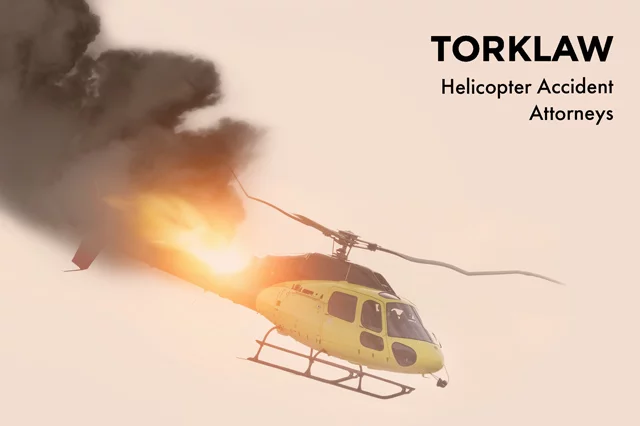 A helicopter accident, like other types of aviation accidents, is a rare occurrence. But when a helicopter accident happens, it can often result in catastrophic injuries or fatalities.
The potential for helicopter accidents is frequent, especially in major U.S. cities, where they are widely used by a variety of agencies: Law enforcement entities use them to monitor unlawful activity and pursue evading criminals. Media organizations use them to report on freeway traffic or police pursuits. Many tour operators use helicopters to provide recreational travel services. The growing popularity of helicopters for transportation has contributed to a higher rate of crashes, which are often fatal to victims, or result in major injuries.
If you or a loved one has been injured in a helicopter accident, our experienced helicopter accident lawyers can help you better understand your legal rights and receive just compensation for your losses.
Understanding a Helicopter Accident
According to the National Transportation Safety Board (NTSB), helicopters crash at a higher rate than airplanes. The crash rate for general aircraft is 7.28 crashes per 100,000 hours of flight time. For helicopters, that number is 9.84 per 100,000 hours. That means helicopters have a 35 percent higher risk of crashing compared to airplanes.
The Federal Aviation Administration (FAA) reported 121 helicopter accidents in the United States in 2015, of which 17 were fatal. In 2016, 106 helicopter accidents were reported nationwide, with 17 of them involving fatalities. Overall, the number of helicopter accidents has dropped over the years, which is good news. But, the rate of catastrophic and fatal injuries remains high.
Why are helicopters so dangerous? One reason is that they are often used in risky and unpredictable situations. While airplanes operate in a controlled environment with runways, air traffic controllers and flight paths, helicopters are often used to in places that are not accessible by plane. Because of this, they are extremely useful for extinguishing wildfires, participating in military operations or tricky search and rescue efforts, and conducting emergency medical evacuations.
There are a number of other factors that lead to helicopter accidents.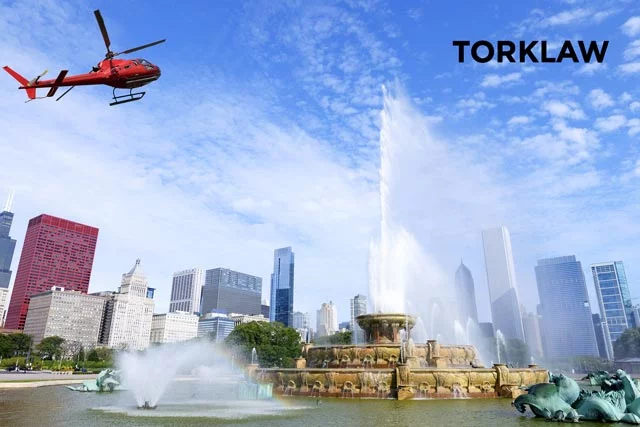 Common Causes of Helicopter Accidents
Pilot error is among the most frequently-cited causes in helicopter accident findings. Errors include failing to operate the helicopter in the manner that it was designed or flying the helicopter in unsafe environmental or weather conditions. It is crucial that pilots understand the aircraft and carefully plan their flight to avoid these risky situations as much as possible.
Faulty Parts
Helicopters have considerably more critical moving parts than fixed-wing aircraft, including a main rotor, tail rotor, gearbox, flight controllers, landing gear and a drive shaft that runs the entire length of the chopper. These parts experience almost constant wear and tear, which increases the potential for malfunction. A single defectively designed or manufactured part may also result in a malfunction. In such cases, it is difficult even for an experienced pilot to maintain or regain control of the chopper and avoid crashing.
Inadequate Maintenance
According to investigators from the NTSB, improper or inadequate helicopter maintenance is one of the main causes of deadly helicopter accidents in the U.S. Helicopter companies and operators are responsible for reducing the risk of malfunctions through routine inspections and proper maintenance and servicing of these aircraft.
Inclement Weather
Rain, strong winds, hail and snow are weather conditions that may cause helicopter crashes. Fog is extremely dangerous, because it hampers visibility. Pilots and helicopter operators have a responsibility to make sound decisions before taking the aircraft out in adverse weather.
Structural Hazards
Helicopters fly at lower elevations, so they are at a greater risk of striking structures such as control towers, buildings, trees and utility wires. Emergency helicopters are especially susceptible to such accidents.
Overloading
If operators exceed the helicopter's maximum weight capacity, the risk of a crash increases. Tour operators sometimes try to fit as many people as they can in the aircraft, with devastating consequences.
Inexperienced Pilots
Helicopter pilots need hundreds of hours of experience in order to be able to operate these complex aircraft safely. However, many companies hire pilots who don't have the necessary knowledge and experience, and therefore may also make serious errors, especially while landing in smaller and tighter spaces.
Air Traffic Controller Error
Air traffic controllers play an important part in making sure that aircraft land and take off safely from airports. When a negligent air traffic controller makes a mistake, all aircraft in that airspace, including helicopters, are at risk. In 2009, a fatal crash between a sightseeing helicopter and a small airplane in New York City was attributed to an air traffic controller who was distracted by a phone call.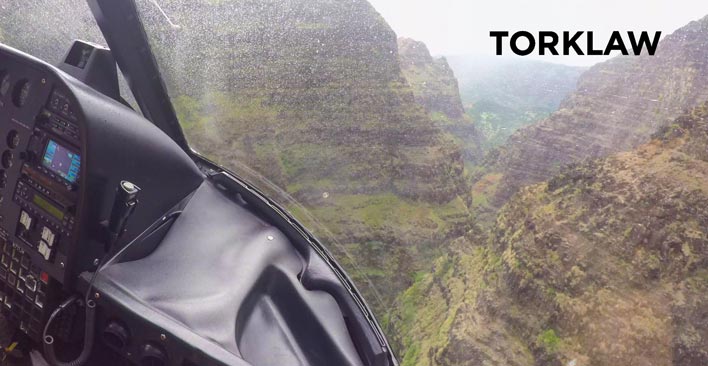 Helicopter Accident Injuries
Victims of helicopter accidents may suffer major injuries, including:
Traumatic Brain Injuries
Victims of serious head injuries ranging from concussions to skull fractures and brain hemorrhages may require surgery, rehabilitation, and long-term therapy. Brain injuries may result in permanent disabilities impacting the ability to function independently or perform everyday tasks such as eating, walking and dressing.
Spinal Cord Injury
Injuries to the spine may result in partial or total paralysis. Many of these victims are unable to return to work or earn a livelihood. A number of victims require 24-hour nursing care and/or special medical equipment.
Burn Injuries
Burns can be extremely painful and even lethal. Patients may require multiple skin-graft procedures, and suffer psychological setbacks due to scarring and disfigurement. Some may need cosmetic procedures that may not be covered by health insurance.
Loss of limbs is a common consequence of helicopter crashes. A helicopter has a number of moving parts, which may result in serious laceration and amputation injuries that are physically and psychologically devastating.
What Steps Can You Take After a Helicopter Accident?
If you or a loved one has been injured in a helicopter accident, there are a number of steps to take, as well as pitfalls to avoid, to protect your legal rights.
First, make sure you receive prompt medical attention. Follow the doctor's instructions with regard to treatment and care so you have a speedy and complete recovery.
Evidence from the scene is critical. The NTSB typically investigates helicopter accidents, but these investigations may take several months. To protect your rights, try to obtain contact information for eyewitnesses. Your helicopter accident lawyer can help ensure that all crucial pieces of evidence, including the damaged helicopter and logs, are preserved for examination by accident reconstruction experts.
Preserve all invoices and receipts relating to the accident and the injuries you suffered. Maintain a journal detailing your days and weeks in the aftermath of the crash, including the pain you feel and activities your injuries prohibit you from doing. Keep track of the number of workdays that you missed as a result of your injuries.
Stay away from Facebook, Twitter, Instagram or any type of social media activity. Insurance companies and defense counsel scour social media sites to find information to use against plaintiffs. It would be wise to suspend your social media activity until your case is resolved.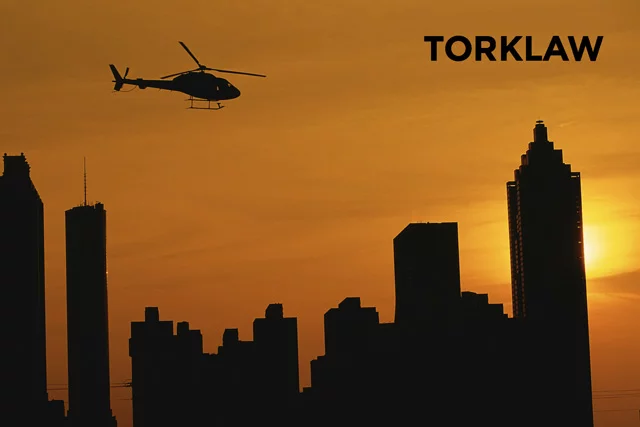 Who Can Be Held Liable in a Helicopter Accident?
There are a number of parties who may be held liable for injuries and fatalities that occur due to a helicopter accident:
Pilots
Helicopter pilots have a duty to safely transport passengers. Any type of negligence or error due to inexperience, incompetence or reckless behavior may result in major helicopter accidents.
The Helicopter Owner
Often helicopters aren't owned by pilots, but by a company or individual who employs the pilots. In cases of mechanical malfunction caused by improper maintenance, the helicopter owner may be held liable. Similarly, they may be held accountable for negligent hiring and retention if they employed an inexperienced pilot.
Parts Manufacturer
Manufacturers of faulty parts may be held financially liable when a helicopter accident was caused by a dangerous or defective component.
Maintenance Companies
If the helicopter's owner contracted maintenance to a separate company that failed to properly maintain the helicopter, that company may also be liable for an accident that occurs from the negligence or lack of diligence.
Helicopter Tour Operators
It is the responsibility of these companies to ensure helicopters do not take off in heavy fog, high-velocity winds or other risky conditions.
Why You Need an Experienced Helicopter Accident Lawyer
Helicopter accident cases are extremely complex and involve a number of different parties. It is important to obtain the counsel of an experienced helicopter accident lawyer to help with collecting, compiling and analyzing the evidence, retaining experts, interviewing witnesses and preserving evidence, among many other vital tasks. Your lawyer will ensure that deadlines for filing you personal injury or wrongful death lawsuit are met, to ensure you receive compensation for your losses.
At TorkLaw, we handle all injury cases on a contingency fee basis. This means you don't pay fees or costs until we recover compensation for you. We understand the physical, emotional and financial consequences of major accidents and we are here to help you get your life back. Please call us at 888.845.9696 today for a free, comprehensive and confidential consultation.