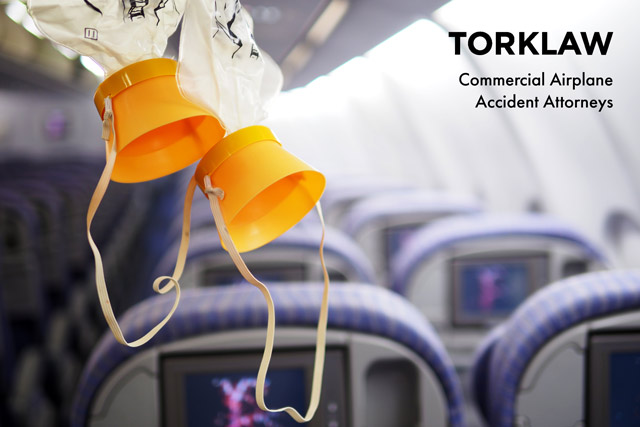 Commercial airplane accidents are extremely uncommon, making commercial airplane flights, statistically, the safest mode of transportation going.
Research shows that there are only .07 passenger deaths per billion miles traveled. If you took a 500-mile flight on a commercial airline every day for a year, your fatality risk would still be only 1 in 85,000. You are more than 100 times more likely to die in an automobile accident on your way to the airport than are to be killed in a commercial aircraft.
Unfortunately, most aviation accidents are tragic, and commercial airplane accidents often result in hundreds of deaths.
Who Is Liable for Commercial Airplane Accidents, Injuries or Fatalities?
When a commercial aircraft is involved in an accident that results in loss of life or serious personal injuries, several parties may be legally responsible ("liable") for the damages, depending on what is determined to be the cause of the crash.
The major causes of a commercial aircraft accident are:
Pilot error
Dangerous weather
Improper maintenance or repair of the aircraft or its component parts
Federal Aviation Administration (FAA) regulation violations
Other causes, such as improper baggage loading or fuel contamination
Mechanical failure due to faulty equipment
Problems with the aircraft's structure or design

Air traffic controller error

Sabotage (hijacking, bombs, etc.)
Commercial airlines are considered by law to be "common carriers." They make a common offer to anyone in the general public who pays the "price of carriage" to travel on their planes. As a common carrier, an airline is required to use the utmost due care and diligence for the safe passage of its passengers, and can be held financially responsible for injuries resulting from their error or negligence. (To other planes and people who are not passengers, the airliner owes an ordinary standard of care.)
The airline is liable for the negligence of its employees in operating, maintaining, inspecting, and loading the aircraft. Examples of employee negligence include making a rash decision to fly in dangerous weather, improper aircraft maintenance, improperly loading the aircraft or failure to detect a structural issue due to a rushed inspection procedure.
The manufacturer of the aircraft or supplier of a component part may be held liable under the doctrine of strict products liability for any and all defects in the manufacture or design of the plane or its component parts if they caused or contributed to the accident.
The United States government may be liable where the accident is due to the negligence of air traffic controllers, who are government employees. Runway incursions, which happen when an unauthorized vehicle or person on a runway impedes safe takeoff, or causes a collision, often result from an air traffic controller's negligence in managing the flow of air traffic on the ground.
Airplane Safety Statistics
Research has shown that 80 percent of airplane accidents take place within a flight's first three minutes (takeoff), or the final eight minutes (landing). This is known as the "plus three/minus eight" rule.
A fire safety engineering expert from the University of Greenwich in England analyzed seating charts from hundreds of plane crashes and interviewed thousands of survivors. He discovered that survivors move an average of five rows before escaping a burning aircraft, and that the chances of surviving are reduced when seated beyond a five-row cutoff from an exit.
Investigations into 
Commercial Airplane Accidents
In the United Stated, the National Traffic Safety Board (NTSB) is the governmental agency that investigates all civilian aircraft accidents, from major airline disasters to small, single-engine plane crashes. Since its creation in 1967, the NTSB has investigated over 115,000 civilian aircraft accidents.
In major air disasters, the NTSB reconstructs the plane to find the cause of the accident. They also gather data from the plane's cockpit voice recorder and flight data recorder if the aircraft was equipped with them. The FAA also provides the NTSB with technical advice about the aircraft and flight conditions.
After it has made a thorough investigation of the accident, the NTSB releases its report identifying the cause(s) of the crash—if a cause can be found—and issues safety recommendations designed to prevent future accidents from the same cause.
Click here to read about International Aircraft Accidents.
Commercial Airplane Accident lawsuits
When a passenger on a domestic commercial flight is killed in a crash, it may be possible for his or her next of kin to bring a wrongful death suit against the liable parties. This may be combined with a "survival action" to recover monetary damages for the pain and suffering and mental anguish he or she experienced from the time he or she realized that something was seriously wrong with the flight until the time of his or her death.
When a commercial aircraft crashes causing a loss of life or serious injuries, the airliner and its insurance company will usually contact the next of kin immediately and provide immediate grief support. The airliner will often pay for their travel costs and help with funeral arrangements.
The insurance company may also offer what appears to be a fair settlement. Do not accept any offer without the advice of a skilled aviation accident lawyer.
An experienced personal injury law firm can also help you obtain appropriate and thorough medical care for your physical, emotional, and psychological injuries suffered because of the accident.
We understand the physical, financial, emotional, and psychological toll a serious injury or death from a commercial aircraft accident can take on the injured victim and his or her family, or on the loved ones of a person who was killed in a commercial aircraft accident. Call now for a free legal consultation of your case – 888.845.9696.