As consumer product liability attorneys, we have seen so many types of defective products, we are seldom surprised. However, even the most cautious consumer might not expect a glass jar candle to be dangerously defective.
When you buy a candle, if you're worried about anything at all, it's usually the risk of accidentally starting a fire.
Over the past few years, there have been two major recalls on different brands of glass jar candles. The danger? Cuts and lacerations caused by breaking glass.
Here's what you should know about these recalled candles.
What Kinds of Dangerous Candles Are Out There?
A 2015 recall by MVP Group was prompted by 16 reported laceration injuries that occurred by the candles' glass lids breaking when users tried to open the jar. The recall included the following brands sold at these stores:
Big Lots: Everyday Reflections and Living Colors Candles
Dollar General: True Living
Family Dollar: Everyday Home
The candles in question come in glass jars with glass lids, and weigh around 18 ounces. A variety of different colors and scents of candles were affected by the potential defect. You can read the full list of colors and scents, along with more information about the recall, on this U.S. Consumer Product Safety Commission (CPSC) website.
In 2016, Yankee Candle recalled their Luminous Collection candles, which had three wicks and came in square glass jars. This recall occurred due to 16 reports of the glass jar cracking when the candle was lit, but according to the CPSC, there were no reported injuries.
What Kinds of Injuries Can Occur from Dangerous Candles?
A broken jar doesn't sound like a big deal, but lacerations can be serious. An acute wound to your hand could impair your ability to perform many everyday tasks. If the cut becomes infected, then the situation could become much worse (and, in worst case scenarios, even fatal). Shards of glass from a breaking jar lid could hit your eyes.
Given the prevalence of safer candle options, it's best to not take any risks.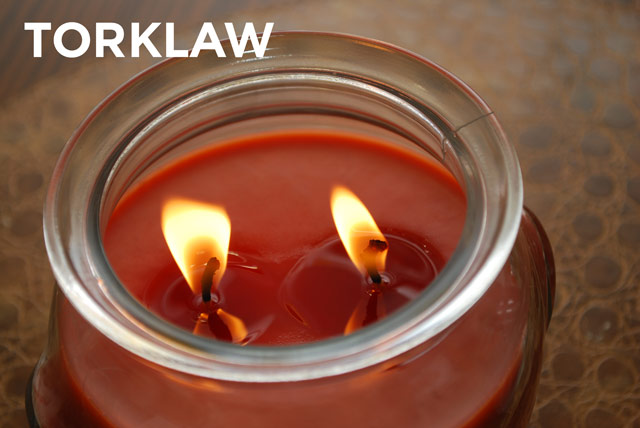 What Should I Do If I Have a Defective Candle?
It is estimated that there are over 720,000 MVP Group candles and 31,000 Yankee Luminous Candles on the market, so it's possible that you or someone you know could own one. If so, contact the company at the information noted on the appropriate CPSC website link shown above. You will be eligible to receive a full refund.
If the candle caused an injury, however, you may not want to send it back: see below.
What Should I Do If I Was Injured by a Dangerous Candle?
If you were injured by one of these candles, there are a few steps you should take:
First, should seek medical attention for your injuries. Perform first aid by cleaning and bandaging any cuts, and see a doctor as soon as you can.
Second, preserve the evidence: take photographs of the candle and of your injuries, and if anyone else saw what happened, make sure have their contact information; you may need them to provide a witness statement later.
Third, Keep the candle. The candle and its jar will also be useful evidence if you do end up filing a personal injury case.
Fourth, file a report with the Consumer Product Safety Commission, including the details of what occurred and which product injured you.
Fifth, speak to a product liability attorney about your case. You may be able to recover damages; companies have a legal duty to manufacture products which are reasonably safe, and if they fail to do this, then you have every right to seek damages in the legal system for any injuries you incurred.
If you have been injured by one of these candles, we would like to hear about it. Call TorkLaw today at 888.845.9696 for a FREE consultation!