October is National Fire Prevention Month, and if you're staying at an Airbnb property, you should study our Fire Accidents page. We've created it, including information about the causes of fire, and how to prevent them in residences and workplaces. According to a study, the existence of fire safety equipment is highly unreliable at Airbnb homes, so the info may come in handy.
Hotel Fires and Injuries Declining
Today, hotels and motels are required to have smoke alarms, clearly displayed emergency escape routes, fire-resistant doors, and automatic fire suppression systems. According to the U.S. Fire Administration (USFA), hotel and motel fires were much more common before 1990. Between 1980-1986, hotel fires caused over 1000 injuries and 190 deaths. In 1980 alone, there were over 12,000 fires in hotels and motels.
Investigations into the causes and aggravating factors resulted in code changes to make guests safer. Because of this, there has been a sharp decline in hotel and motel fires. Between 2014-2016, the USFA estimates that there was an annual average of 3,900 hotel and motel fires and 15 related deaths.
Peer-to-Peer Lodging Largely Unregulated
Airbnb is one of the most popular peer-to-peer (P2P) lodging options, with more than three million global listings. Despite its size, the code changes that have made U.S. hotels and motels safer, for the most part, do not apply to Airbnb. A 2018 study found that among 96,000 U.S. Airbnb locations, only:
80% had smoke detectors
58% had carbon monoxide detectors
42% had fire extinguishers
36% had first aid kits
Because most Airbnb properties fall under local requirements for private homes, they are not regulated like hotels. Unfortunately, most fire deaths and carbon monoxide poisonings occur in residential housing.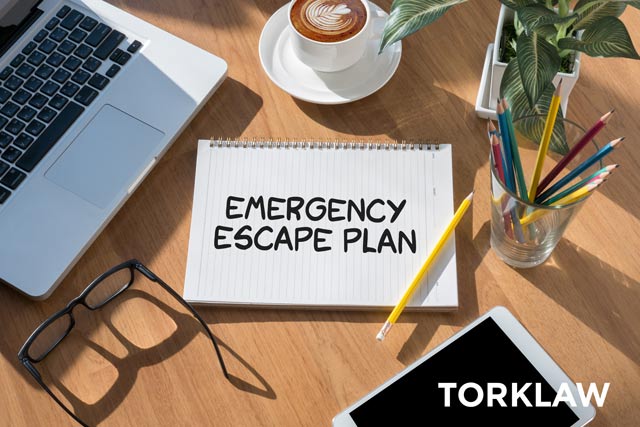 How to Stay Safe in P2P Properties
When traveling, you should be aware of the safety features wherever you stay. In a hotel, always take a moment to familiarize yourself with the evacuation plan posted on the back of the door. Find the closest exits, and count how many doors are between these exits and your room. Know where the fire alarms are on your floor.
When staying at a standard Airbnb or other P2P rental, always check the listing for the specific safety amenities. Because Airbnb has been giving away free smoke and CO detectors to active hosts all year, and will continue through December 31, 2018, there is no reason your Airbnb host shouldn't at least have that. Or, consider Airbnb Plus. This new program, launched in February 2018, only includes properties with smoke and CO detectors.
If you have suffered injury or property damage due to a fire at an Airbnb lodging, TorkLaw can help you receive the compensation you need. Call us for a FREE consultation.