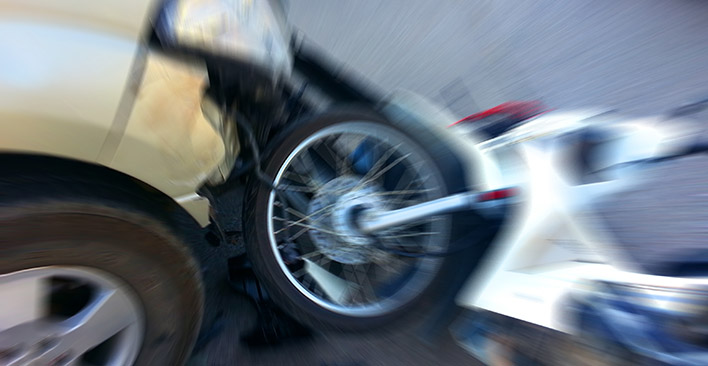 A question personal injury lawyers frequently hear is, "Why should I hire a personal injury attorney? The person who hit me had insurance. If I deal with it myself, I don't have to pay anyone else, and can keep my whole settlement." We typically tell them that we can get you more – even after you pay us. The following case in which a client won a $2.1 million verdict is a prime example.
The Accident
Many of our clients are motorcycle riders who have suffered injuries in traffic accidents. One such client came to us after suffering catastrophic injuries after an all-too familiar scenario. A vehicle violated his right-of-way by making an unsafe left turn in front of him, as he was going straight through a green light. This happens more often than people may think – in fact, the National Highway Traffic Safety Administration reported that 41 percent of fatal motorcycle accidents in 2016 were caused by drivers making unsafe left turns in front of motorcycles that had the right-of-way.
When our client tried to file a claim with the at-fault driver's auto insurance company, the adjuster told him that the driver was excluded from the insurance policy, and that not only would they not accept the claim, they would not pay anything for our client's injuries.
That's when the client contacted us.
Personal Injury Case
Most of our clients have either been injured due to the actions of another, or have lost a loved one in a wrongful death at the hands of someone else's negligence or recklessness. And most of our clients have filed claims with insurance companies, thinking it's a simple matter. They were injured, the insured individual was at fault, so the insurance company will pay on the contracted policy. Then they find that often, insurance companies have ways of obfuscating what should be a straightforward transaction.
However, it was possible that was not was happening in our client's case, so we gave the insurance company the benefit of the doubt, and sent them a letter requesting proof that the driver who hit our client was excluded from the policy.
The company refused.
We sent a follow-up letter, reminding them or their legal obligation to provide proof of their reason for non-payment. This time, they did provide documents, but what they provided offered no proof that the at-fault driver was excluded from the policy.
We sent them a final letter demanding payment, which they ignored. So, we took the insurance company to court.
Going to Trial
Most personal injury cases don't go to trial. Typically, once a lawyer becomes involved, insurance adjusters realize that they are dealing with someone who knows the client's rights, and have absolutely no reason to settle for less than the full amount the client is owed. At this point, we enter negotiations with the insurance company.
Taking the case to trial is not in an insurance company's best interests. They lose money when they must pay lawyers (who make more than insurance adjusters), court costs and other legal fees. They also don't like bad publicity. If they know our case is solid, we know they will settle; our job is to make sure we don't settle for less than the most we can get. Most of our cases settle for much higher amounts than the insurance company initially offers, meaning our clients receive much more money than they would have received on their own – even after we deduct our fees.
But some cases do go to trial, and that's when we have the potential to receive even more than the policy limits dictate.
When our client's case went to court, it was a bench trial in front of a judge to determine whether the defendant driver was in fact an excluded driver as the insurance company claim. After two weeks of testimony, we won our case when the judge determined that the defendant driver was NOT excluded from the insurance policy, and the insurance company was required to provide coverage and pay our client.
[bctt tweet="Why hire a personal injury attorney? Because you'll get more money than you would by dealing with insurance companies on your own – even after attorney fees." username="torklaw"]
Bad Faith
After the trial, the insurance company offered our client the policy limit of $100,000.00.
We rejected that amount.
Why? Because the trial had proven that the company had made a false claim when they said the driver was excluded from the policy. That false claim constituted "bad faith." Under the laws of bad faith in the state of California, the policy is now "open" – meaning we could collect far more than the policy limit.
So, back to court we went.
Reports abound of insurance companies using less than ethical tactics to withhold payment for valid claims: making ridiculously low settlement offers, or refusing to pay the full policy amount; ignoring or denying claims for no reason; misstating policy information; or even threatening claimants.
$2.1 Million Verdict
Our second trial with the insurance company was before a jury, and it lasted three weeks. The jury determined that the driver was covered by the policy and was at fault. They awarded our client $2.1 million for his injuries.
While not all clients receive a $2.1 million verdict in damages for their injuries, they do typically receive far more than what insurance companies offer. Often, like this client, insurance adjusters tell our clients they won't pay anything, because they rightfully assume that the injured parties aren't aware of all their rights under the law, and don't the wherewithal to battle a major corporation. That's why, when you've received an injury at the hands of another, you need someone on your side. That's why you need a personal injury attorney.
If you find yourself in that situation, contact TorkLaw. Your consultation is free, whether or not you decide to let us handle your case. Call us at 888.845.9696.