Wayne Henderson Injured, Two Women Killed In SoMa, San Francisco Car Accident Involving Taxi By The Intersection of 3rd Street and Mission Street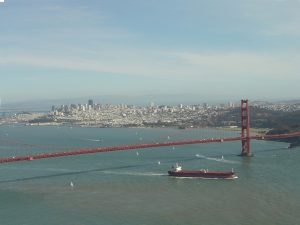 SAN FRANCISCO, CALIFORNIA (May 25, 2022) – Wayne Henderson, of Vero Beach, Florida, was injured and two women were killed in a San Francisco taxi accident by the intersection of 3rd Street and Mission Street.
San Francisco police officials are saying that the collision took place around 4:40 p.m. on Sunday. Wayne Henderson was walking with his wife and 31-year-old daughter on a sidewalk near the Yerba Buena Center for the Arts.
The family were in town to attend a wedding according to the San Francisco Chronicle. A Mercedes was making a right turn when they were nearly involved in a collision with a Taxi.
The driver of the Taxi attempted to avoid the collision by driving onto the sidewalk. But the taxi driver ended up hitting Wayne Henderson, his wife and his daughter.
Firefighters and paramedics were called to the scene of the collision in order to help all of the victims. Wayne Henderson sustained multiple fractures and a severe head injury. He was rushed to the Zuckerberg San Francisco General Hospital in order to received treatment.
Sadly, his wife and daughter both died due to the severity of their injuries. The driver of the Mercedes and yellow taxi both remained at the scene and cooperated with police officials.
A full investigation into the collision remains ongoing at this time.
Liability In San Francisco Taxi Accidents
Downtown San Francisco is a hotspot for pedestrian collisions. A map of all pedestrian collisions in San Francisco shows that most accidents take place in the Tenderloin, Union Square, Jackson Square and Chinatown neighborhoods. The Mission District also has a high rate of pedestrian collisions. These are all areas with a high volume of traffic and pedestrians that must navigate that traffic. In an effort to increase pedestrian safety, San Francisco's mayor said the city would implement a "Vision Zero" policy.  The policy has several key components.
Education: City officials hope to reduce accidents by engaging in education and public outreach to help people move safely around the city.
Engineering: Over 70% of SF accidents happen on just 12% of the city's streets. City officials are trying to engineer streets that are safer.
Enforcement: City officials hope to reduce accidents by heavily enforcing traffic violations likely to lead to accidents.
Evaluation: City officials hope to reduce accidents by understanding why collisions occur at certain locations.
Depending on the specific facts of any case, there could be numerous liable parties for a San Francisco taxi accident. Taxi companies are considered "common carriers" in California and must therefore exercise a great deal of care in preventing collisions. According to the Judicial Council of California Civil Jury Instructions, "Common carriers must carry passengers [or property] safely. Common carriers must use the highest care and the vigilance of a very cautious person. They must do all that human care, vigilance, and foresight reasonably can do under the circumstances to avoid harm to passengers[or property]." When a common carrier fails to live up to this heightened standard, they could be held at fault through a civil claim.
It is possible that more than one driver could be at fault for any collision. California is a pure comparative negligence state. The driver of any vehicle intending to turn right onto a different roadway must first yield the right of way to traffic traveling from the opposite direction close enough to pose a hazard. Pursuant to California Vehicle Code 22100, the driver of any vehicle in a middle lane may turn right into any lane lawfully available to traffic moving in the direction upon the roadway that was entered. In order to determine liability for any collision, it is important to understand the specific traffic rules in place for the intersection where an accident happened.
Regardless of the circumstances leading up to a crash, it is virtually never ok for a driver to enter a sidewalk. This is true even if they are maneuvering to avoid a crash. When the driver of a taxi cab is negligent and contributes to an accident, their employer could be held at fault. In California, employers are typically vicariously liable for the negligent actions of their employees – insofar as those employees were working within the course and scope of their job duties. There are a number of steps that should be taken after a San Francisco taxi accident.
Photos of the accident site and intersection should be sought.
Surveillance footage should be sought.
Most taxis are equipped with cameras. Any footage from the taxi should be examined.
Medical records should be preserved.
A thorough, independent investigation should be conducted.
Any person that is injured in a San Francisco car accident may have legal recourse through a bodily injury claim. Family members of any person that is killed in such a collision may be able to seek some measure of justice through California Code of Civil Procedure 377.60. Damages in a civil claim can help with lost wages, medical bills and funeral expenses. Sadly, though, taxi companies will often fight extremely hard to deny responsibility for any accident involving their driver. This is why it is so important that evidence is properly preserved.
Investigating A SoMa, San Francisco Taxi Accident
We at TorkLaw extend our deepest condolences to Wayne Henderson and his family as they are going through such a difficult time. It is our sincere hope that he is able to make a full recovery. There needs to be a thorough investigation into what happened for the sake of all who have lost so much.
Do you need more information about a San Francisco car accident? Our team of pedestrian safety advocates are here to answer any questions that you may have. We are committed to helping accident victims understand their rights and working to make our communities safer for pedestrians. Whether you just have legal questions or need a free, independent investigation into an accident we are here for you. You can reach out to us anytime at (888) 441-4991.