Most of us have grown up with urban legends about razor blades and poison being hidden in Halloween candy. In truth, the greatest danger on Halloween may surprise you: pedestrian accidents. According to data from State Farm insurance and Sperling's Best Places, U.S. children are twice as likely to be killed by a car on Halloween than on any other day of the year.
The Top Causes of Halloween Injuries
Pedestrian Collisions With Vehicles
More than 70% of the accidents happened away from intersections or crosswalks – in other words, when children would run across the street in the middle of a block. Most accidents occurred between 5:00 and 9:00p.m. While one cause is poor visibility because of low lighting or children wearing dark clothing, statistics from the National Highway Traffic Safety Administration show that drunk drivers caused 14% of all Halloween pedestrian deaths.
Eye Injuries From Sharp Objects
One cause of Halloween eye injuries involves props that kids use to make their costumes more authentic, such as pirate swords or canes.
Another cause is decorative contact lenses that adults use to make their costumes more authentic. Any type of decorative contact lenses that don't require a doctor's prescription are known to cause serious eye injuries and infections, which can lead to partial or full blindness.
Trips and Falls
Costumes that are too long or bulky, and masks causing limited vision both increase the risk of children suffering a slip and fall injury. Combine that risk with unfamiliar obstacles caused by outdoor Halloween decorations, and the danger of an injury is multiplied.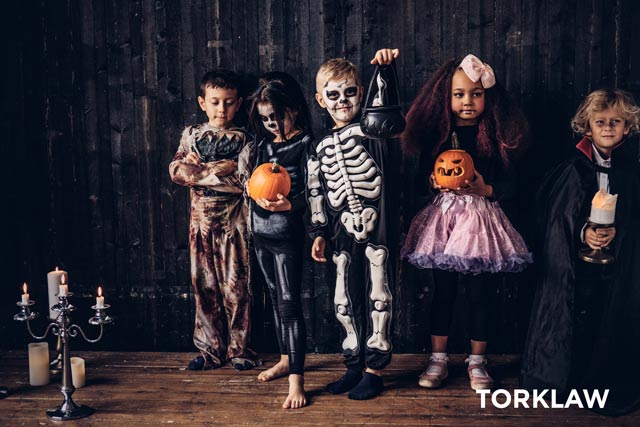 Burns From Flammable Costumes
This risk is exacerbated by using candles in jack-o-lanterns and decorations.
Finger or Hand Injuries
Carving pumpkins often results in cuts or puncture wounds. See our pumpkin-carving tips below.
Food/Toxic Substance Poisoning or Choking
While it is still a good practice to examine food items given to your children by complete strangers, you probably don't need to lose any sleep over the fear of razor blades. According to one emergency room doctor, instances of poisoning are more likely to happen due to ingesting toxic face paint or liquid from broken glow sticks.
Candy-related injuries on Halloween are rare, and more likely to be caused by choking – or a child eating a treat that contains an ingredient he or she is allergic to, such as peanuts.
Many types of candy, such as chocolate, can also be toxic to pets, so once you've examined your child's candy, keep it stored in an airtight container, out of reach of pets and young children.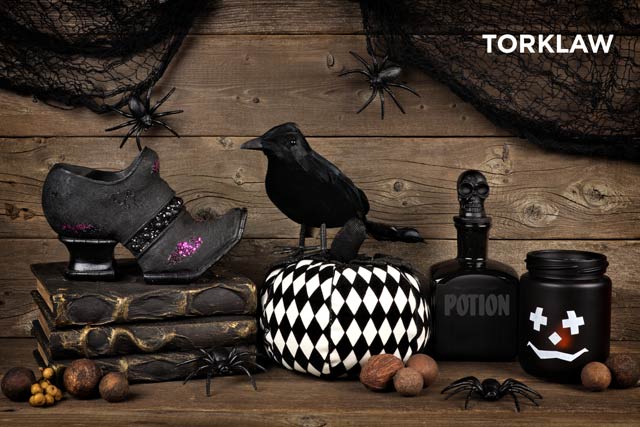 Halloween Safety Tips
We at TorkLaw want you to have a safe and happy Halloween. Below is a comprehensive guide to keep you and others injury-free:
Parents
Accompany young children (under 12).
If older children are going alone, plan and review their route.
Agree on a specific return time.
Teach your children to never enter a stranger's home or car.
Review trick-or-treating safety precautions, including pedestrian and traffic safety rules.
Review with children how to call 9-1-1 if they ever have an emergency or become lost.
Trick-or-treaters
Use flashlights to be more visible and identify potential obstacles.
Stay in a group.
Only go to homes with a porch light on and never enter a home or car for a treat.
Stay on well-lit, familiar streets and avoid cutting across yards or using alleys.
Stay on the sidewalk and cross at corners. If no sidewalk exists, walk on the far edge of the roadway, facing traffic.
Cross the street as a group, in crosswalks – not in the middle of a block, or between parked cars.
Don't assume that cars will stop for you, as they may have trouble seeing you.
Carry a cellphone for quick communication. Call 911 if you're lost, have an emergency, or see any suspicious or unlawful activity.
Motorists
Drive at least 5 mph below the posted speed limit in residential neighborhoods, especially between 5:00 p.m. to 9:00 p.m.
Watch for children walking on roadways, medians and curbs. Keep in mind they may be in dark costumes and difficult to see.
Look for children crossing the street from yards or porches. They may not be paying attention to traffic and cross the street mid-block or between parked cars.
Be careful when entering and exiting driveways and alleys.
Turn on your headlights to make yourself more visible – even in the daylight.
Discourage new, inexperienced drivers from driving on Halloween.
Costumes
Wear brightly-colored costumes or use reflective tape.
Select well-fitting shoes, and costumes that are short enough to prevent tripping or contact with flame.
Avoid masks, which can block vision. Use non-toxic makeup instead.
Choose soft, flexible props with no sharp points.
Make sure costumes, wigs and accessories are flame resistant.
Do not use decorative contact lenses without a prescription.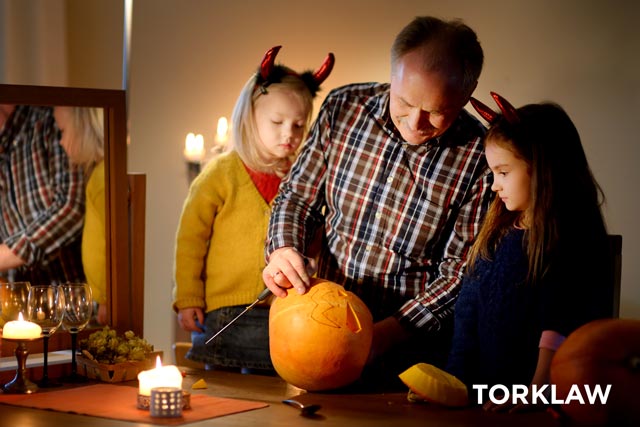 Pumpkin Carving
Only adults should carve pumpkins with knives.
Use a pumpkin-carving kit with specialty carving tools instead of kitchen knives, which become stuck too easily and cause injuries in the struggle to pull them back out.
Carve in a clean, dry area; keep tools, hands and cutting surface dry, to avoid slippage.
Use short, controlled knife strokes away from yourself on a sturdy surface.
Decorating
Clear your porch and front yard of obstacles, such as garden hoses, toys, and bikes.
Make sure outdoor decorations don't obstruct steps or walkways.
Use a glow stick instead of a candle in jack o'lanterns.
If you do use candles, keep them away from curtains and other flammable objects. Never leave them unattended.
If you or a loved one suffers an injury on Halloween, TorkLaw's attorneys can help you. If the injury occurred due to a dangerous/defective product – such as costume contact lenses – or to someone else's negligence, such as a trip and fall caused by an dangerously-placed Halloween decoration, or a vehicle or pedestrian accident, call us for a free consultation on how to ensure you're fully compensated for your loss.