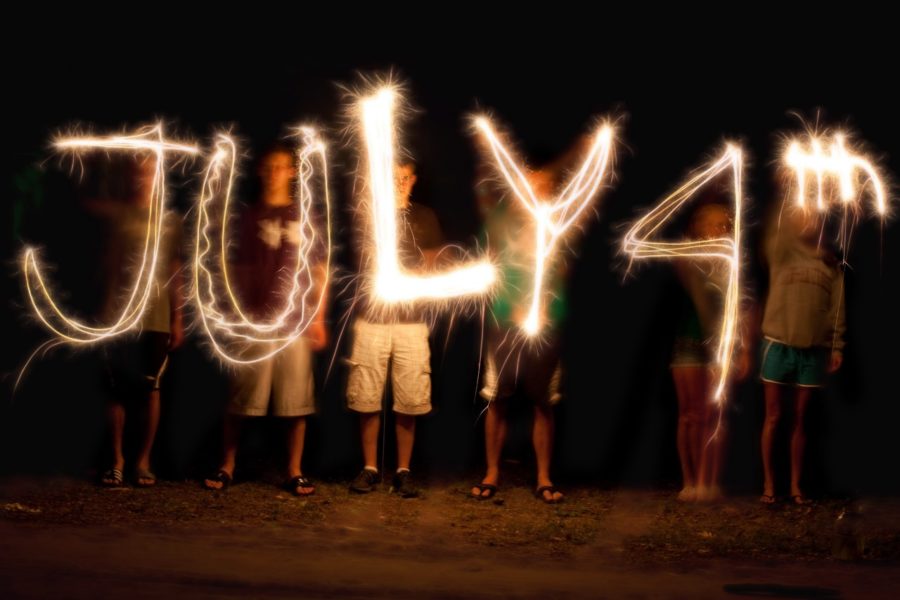 As the Fourth of July holiday rolls around again, we can expect many Americans to partake in the age-old tradition of setting off fireworks. Fourth of July fireworks date back over 200 years, to the very first Independence Day celebrations in 1777. However, like many American traditions, fireworks can trace their roots back to a country far, far away from the United States.
The very first crude pyrotechnics were invented in Asia around 2,000 years ago. They were capable of making loud bangs, and were used to frighten off evil spirits (or so the first users believed). By the tenth century A.D., the Chinese had invented gunpowder, and used it to create the first modern fireworks. Although these fireworks were at first a mere novelty, it wasn't long before they were being used in war… revealing, even at the time, the dual nature of this beautiful but dangerous technology.
As gunpowder made its way to Europe over the next several centuries, so did fireworks, and they soon became a privilege of the wealthy and powerful. When Europeans crossed the Atlantic and colonized the Americas, they brought fireworks with them as well, although these original Fourth of July fireworks were crude and unremarkably colored. It wasn't until the nineteenth century that scientists were able to add color to fireworks, and the extravagant multi-colored firework shows that we know today became commonplace.
Fireworks Today
So much for the history of fireworks. What about fireworks today? If you plan to enjoy the fireworks this Fourth of July, you have a couple of options. You can go watch a fireworks show put on by trained professionals. These types of fireworks are known as display fireworks. Or you can buy your own consumer fireworks and put on a show of your own.
There are advantages and disadvantages to both these options. Consumer fireworks are more hands-on than display fireworks, and this can make them more fun. You get to set off the firework yourself, instead of just watching. But consumer fireworks are less safe, and every Fourth of July, hundreds of people end up in emergency rooms with injuries caused by poorly handled consumer fireworks. Consumer fireworks are also typically more expensive and less flashy than display fireworks, and are banned or heavily regulated in many states and local jurisdictions.
The Dangers of Fireworks
The first and most obvious danger associated with fireworks is the risk of injury. According to the federal Consumer Products Safety Commission, more than 11,000 Americans are injured by fireworks each year, and most injuries occur in the period around the Fourth of July. Careless use of fireworks can injure not only the user, but also others in the vicinity, including children.
Burns are the most common injury caused by fireworks, and the hands and fingers are the most commonly injured part of the body (although other parts, including the face and even the eyes, are also frequently injured in firework accidents). Deaths from fireworks are fortunately much rarer, but they do occur.
Nor is injury the only risk. Every year, thousands of fires are started by the careless use of fireworks. These fires burn down houses and cars, and cause millions of dollars' worth of property damage, not to mention a whole other slew of deaths and injuries.
The risk of fire is particularly dangerous here in Southern California during the dry summer months, when our state is already at risk of devastating wildfires (as we've been seeing down in San Clemente these past few days). The heavy rainfall this winter only makes things worse: it means that there's extra foliage on the ground, ripe for catching.
Although many of these dangers are associated with consumer fireworks, which are typically set off by amateurs with no real training, display fireworks can go badly wrong, too. Just ask all the San Diegans who came out to watch the Big Bay Boom in 2012. Originally meant to be a 20-minute-long masterpiece of a firework show, the Big Bay Boom instead ended up living up to its name when every single firework went off at once due to a technical error.
Fortunately, no one was injured in the 2012 Big Bay Bust, but incidents like this just go to show that even under the most controlled of circumstances, fireworks are tricky to master and can easily go very badly wrong.
The Law in California
Each state has broad power to regulate what sorts of fireworks may be sold within the state. In California, fireworks are regulated by the State Fireworks Law of 1973, in addition to relevant federal laws on the subject.
Basically, certain types of "dangerous" fireworks are banned, and Californians are only allowed to buy certain types of fireworks which have been deemed "safe and sane" by the state government. These fireworks may only be sold during a short window period each year, from June 28 through July 6, and only by licensed retailers.
But that's not all: local governments have the power to regulate fireworks as well. In Orange County, fireworks may only be sold and used in Anaheim, Buena Park, Costa Mesa, Fullerton, Garden Grove, Huntington Beach, Santa Ana, Stanton, Villa Park, and Westminster. If you live in any other city in Orange County, you'll have to go elsewhere if you want to set off your own fireworks! Outside of Orange County, a few other cities and even counties ban fireworks as well, often because of the fire hazard.
Alternative Ideas for a Fun and Safe Fourth of July
Fortunately, here in Orange County, you don't have to buy your own personal fireworks to have a good time – or see big explosions – on the Fourth of July. There are a number of large community events going on all throughout the area which you can attend and have a fun, safe, all-American time this Independence Day.
We at Torklaw are Fourth of July connoisseurs as well, and, depending on your personal preferences, we recommend:
Independence Day Firework Celebrations in Orange County – 2017
Irvine Concert on the Green and Fireworks
Our choice for young families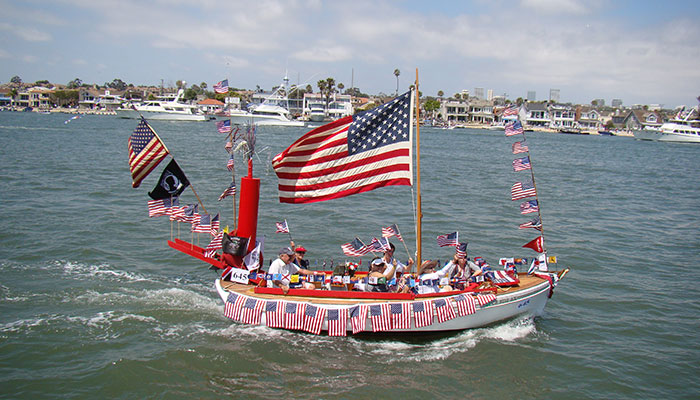 And finally, for a family-friendly series of events, head over to the Concert on the Green and Fireworks in Irvine. The event takes place at Irvine High School Stadium at 4321 Walnut Avenue, with the event itself beginning at 3 p.m. and fireworks beginning at 9. In between, there are a number of attractions, including live music and entertainment, food, bounce houses, and a raffle.
Tickets may be bought at Irvine City Hall at any time between now and the event, including the day of the event itself, although family passes are presale only. Individual tickets range between $10 and $15, and family passes are $50.
In addition, the Concert on the Green is being sponsored by a number of local businesses, including yours truly! Torklaw is proud to help sponsor to this event, and we hope that it will be a great time for people of all ages. Attendees should be aware that pets, personal fireworks, and barbecues will not be allowed at the event.
Huntington Beach
Our choice for those looking for excitement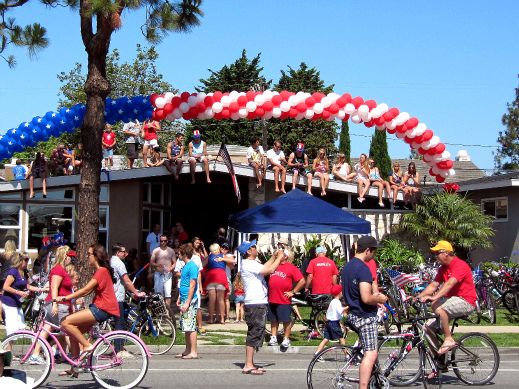 The Huntington Beach Fourth of July Parade and Pier Festival is the place to go for the party goer. To call this one heck of a party would be an understatement; Huntington Beach's Fourth of July parade, which dates back over a century and regularly attracts onlookers numbering into the tens of thousands, bills itself as the largest Fourth of July parade west of the Mississippi.
The parade itself, which has over 300 entries, begins at 10 a.m. on Pacific Coast Highway and 9th Street, and goes for two hours before terminating at Main Street and Yorktown. However, the parade is just one small part of a day packed with events. There are a variety of races earlier in the morning, beginning with the Surf City 5k and Kids Run starting at Worthy Park at 6 a.m., and three entire days of celebrations at Pier Plaza, beginning on Sunday, July 2, and lasting until the big fireworks show on Tuesday night.
In short, if you want a fun, wild, action-packed Fourth of July in Orange County, Huntington Beach is the place to go. Of course, crowds can be dangerous, especially if you're bringing small children along with you, and if you plan to view the parade, you should probably get there early, or else you may find yourself standing on your tiptoes to see it.
For more information and a full schedule of events, check out the Huntington Beach Fourth of July celebration website here.
Newport Harbor Beach
Our choice for a laid back Fourth of July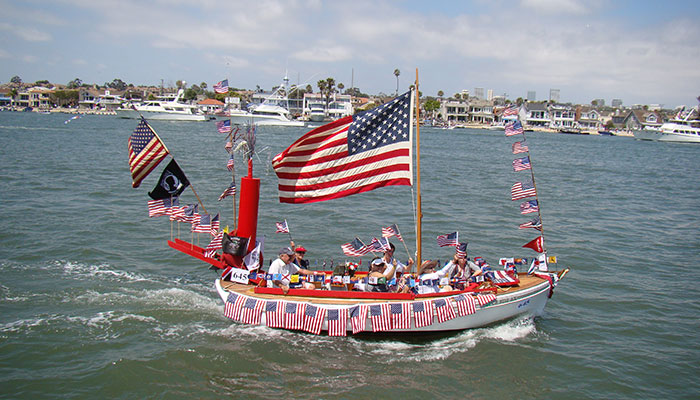 For a more laid back Fourth of July, swing by the Old Glory Boat Parade in Newport Harbor. The parade will go from 1-3 p.m. in the vicinity of Balboa Island, and will feature over 100 boats. The theme of the parade this year is "America – Where Freedom Sails." The parade is sponsored by the American Legion Yacht Club, and is completely free to watch.
After the parade, stick around for Fireworks at the Dunes, Newport Beach's only legal fireworks event. The fireworks start at dark and go until 9 p.m., and can be viewed from the North Bayfront on Balboa Island. (You could also buy a cruise to watch the fireworks from the deck of a boat, but this can get costly.)
As with the Huntington Beach parade, crowds can be a problem, and in the compacted Balboa Bay area, parking in particular is a unique challenge. If you plan on attending the celebrations here, come early and bring change for parking. Also, while the beach can be a beautiful place to watch fireworks, visibility can be poor: in many cases, the fireworks are shot off far into the distance, and the marine layer can get in the way.
Tips for Fourth of July
Play it safe with fireworks. This should go without saying, but it is still important to familiarize yourself with the basics of firework safety. Only buy fireworks from reputable sellers, and follow all instructions on the package. After you have lit a firework, step back a good distance away, and if the firework doesn't go off, don't attempt to relight it – it might go off in your face. Make sure that there are no flammable materials in the area, and make sure that the firework is not pointing at anything. Also, keep children and pets away from fireworks,even the seemingly safe types such as sparklers. Finally, keep a bucket of water nearby, in case things get out of control.
Be careful around large bodies of water, such as pools and the ocean.. If you go swimming with small children, keep an eye on them, and make sure they do not drown (which can happen quickly and quietly). Be especially careful at the beach, where unexpected currents can cause all sorts of problems. If you become caught in a rip current, swim parallel to shore until you escape the current – do not waste energy fighting against the current. Whether you are at a beach or a pool, you should swim sober, and this is especially true if you are operating a boat. Boating drunk is just as foolish as driving drunk.
Protect yourself from the elements. The Fourth of July is always hot, and with the kind of weather we've been getting in Orange County lately, this year should be no exception. Wear sunscreen, especially during the middle of the day when the sun is directly overhead. Heat stroke can also be a problem, so try to avoid this by drinking lots of water throughout the day if you are outside, even if you do not feel thirsty.
Take precautions while grilling. At this point, you're (hopefully) aware of the fire hazards presented by fireworks, but defective and carelessly used grills also cause a lot of problems during the summer months. As with fireworks, be sure to grill outdoors in the open air, and several feet away from flammable material. Before using the grill, clean it thoroughly and check it carefully for gas leaks, which can cause explosions later on if left unfixed. Keep your eye on the grill, and don't let small children get too close.
And finally, have fun! The Fourth of July can seem like a minefield of safety disasters waiting to happen. But it's also a day to celebrate freedom, and so don't forget to lighten up and enjoy the music, the food, and of course, the beautiful fireworks!