On September 27, 2018, the California Highway Patrol (CHP) issued its official guidelines on lane-splitting. The safety tips include messages for other vehicle drivers, which state clearly, for the first time, that it is illegal for other drivers to block or interfere with lane-splitting.
"This is great news for those of us that ride and our clients who ride motorcycles," said Reza Torkzadeh, founder of TorkLaw. "We know that lane-splitting actually prevents motorcycle accident injuries, because it decreases the risk of a biker being struck from behind. These new guidelines provide important information to help keep everyone on the road safer."
What is Lane-Splitting?
Lane-splitting, as defined by California Vehicle Code Section 21658.1 is "driving a motorcycle, as defined in Section 400, that has two wheels in contact with the ground, between rows of stopped or moving vehicles in the same lane" – in other words, between traffic lanes, often at a higher rate of speed than surrounding traffic.
While lane-splitting is legal and widely accepted in many countries, including much of Europe and Asia (where there are more motorcycles and scooters on the road), the practice is illegal in every U.S. state except California. California Assembly Bill 51 came into effect in January 2017, formally legalizing lane-splitting in California, but a consistent set of guidelines had not been issued until now. Below are the guidelines, which were developed in partnership with the DMV, the California Department of Transportation, the Office of Traffic Safety and motorcycle safety organizations.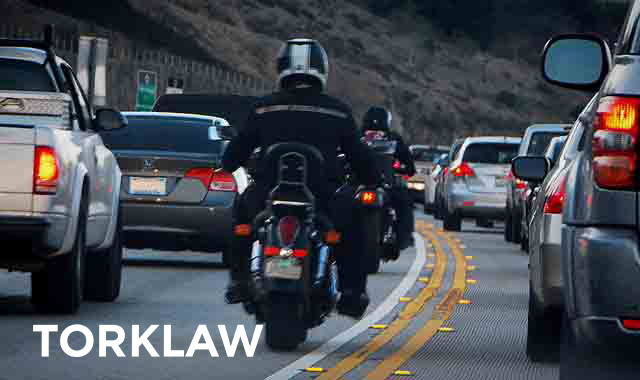 CHP Lane-splitting Safety Tips for Motorcyclists
Consider the total environment when you are lane-splitting (this includes the width of lanes, the size of surrounding vehicles, as well as current roadway, weather, and lighting conditions).
Danger increases at higher speed differentials. A speed differential is the difference between the speed of the motorcyclist and that of nearby vehicles.
Danger increases as overall speed increases.
It is typically safer to split between the far left lanes than between the other lanes of traffic.
Avoid lane-splitting next to large vehicles (big rigs, buses, motor homes, etc.).
Riding on the shoulder is illegal; it is not considered lane-splitting.
Be visible — avoid remaining in the blind spots of other vehicles or lingering between vehicles.
Help drivers see you by wearing brightly colored/reflective protective gear and using high beams during daylight.
CHP Messages for Other Vehicle Drivers
Lane-splitting by motorcyclists is legal in California.
Intentionally blocking or impeding a motorcyclist in a way that could cause harm to the rider is illegal.
Opening a vehicle door to impede a motorcyclist is illegal.
Drivers in the far left lane should move to the left of their lane to give motorcyclists ample room to pass.
CHP Safety Tips For All Motorists
You can help keep yourself and all road users safe by:
Checking mirrors and blind spots, especially before changing lanes or turning.
Signaling your intentions before changing lanes or merging with traffic.
Being alert and anticipating possible movements by other motorists.
Never riding/driving while impaired by drugs, alcohol, or fatigue.
Being courteous and sharing the road.
Is Lane-Splitting Dangerous?
To the non-motorcyclist, this may seem like an unnecessarily dangerous practice. The fear of lane-splitting stems from, and perhaps feeds into, public perception of bikers as "daredevils." Most motorcyclists are, in fact, very concerned with their safety while riding, which is why many want to see lane-splitting legalized.
Many motorcyclists and motorcyclist groups argue that lane-splitting is safer than the alternative. The American Motorcyclist Association has expressed support for the practice, citing strong data. A report entitled Motorcycle Lane-splitting and Safety in California, authored by researchers at the Safe Transportation Research and Education Center at UC Berkeley, found that motorcyclists who split lanes "were much less often injured in their collisions" than motorcyclists who did not. Just as importantly, the study also found that lane-splitting motorcyclists were "considerably less likely to suffer head injury, torso injury, extremity injury, and fatal injury than riders who were not lane-splitting."
According to a landmark 1981 study known as the "Hurt Report," commissioned by the federal Department of Transportation and authored by University of Southern California Professor Harry Hurt, nearly 60% of motorcycle accidents occur in moderate to heavy traffic, which is the type of traffic in which motorcyclists would be most likely to engage in this practice.
CHP Motorcycle Lane-splitting Safety Tips
The CHP's Safety Tips include this disclaimer: "Lane-splitting can be dangerous and extreme caution should be exercised. It should not be performed by inexperienced riders. The risk of death or serious injury during a lane-splitting collision increases as speed and speed differential increases. These general safety tips are provided to assist you in the practice; however, they are not guaranteed to keep you safe. Every rider has the ultimate responsibility for their own decision-making and safety."
If you or a loved one has been injured in a motorcycle accident that was someone else's fault, our team of experienced motorcycle accident attorneys are available to 24/7 to provide you with a free case consultation where we will inform you of your rights, the options available to you, and how we can be of assistance to you in this matter. To request a free case consultation, simply complete the form on this page, or call us at 888.845.9696.