If you haven't heard, there has been a great deal of legislative noise over the past year regarding California's policy on loud motor vehicle fines. According to the state's "Loud Exhaust Law," which is currently in effect, excessive exhaust noise is no longer a correctable violation.
In California, drivers of excessively loud motorcycles, cars, vans, trucks, ATVs, etc. will be fined, with no option to have the charge waived by correcting the problem.
Timeline of the Law
Since 2003, California vehicle code has dictated that motor vehicles weighing less than 6,000 pounds maintain a sound level of 95 decibels or less. Motorcycles manufactured after 1985 are required to emit no more than 80 decibels.
Prior to January 1, 2019, drivers of vehicles violating the above decibel levels would be issued a "fix it ticket" by a California officer. That citation would comprise a promise by the driver to correct the issue. Those who show proof of correction to the issuing agency, and pay a small dismissal fee would have the larger fine waived.
However, on June 27, 2019, California governor Jerry Brown signed into law Assembly Bill 1824. This law made exceeding legal noise limits a "disqualifying condition" for a fix-it ticket. That meant drivers still needed to fix the problem, but still had to pay the fine, regardless.
This law went into effect on January 1, 2019.
And panic ensued. Hot rod and motorcycle enthusiasts accused California's government of tyranny, extortion, and blackmail, claiming the bill mandated $1000 fines (which it didn't).
On February 5, 2019, California Assembly members Tim Grayson and Jim Frazier introduced Assembly Bill 390. This initiative would amend A.B. 1824 and re-institute the discretion of law enforcement officers to issue "fix-it" tickets.
Currently, that bill is pending. It was passed through the California Assembly Committee on Transportation, but now must pass through the Committee on Appropriations, before being voted on separately by California State Assembly and Senate.
As of now, if you are cited for an exhaust noise violation, you are required to pay a fine, even if you correct the issue.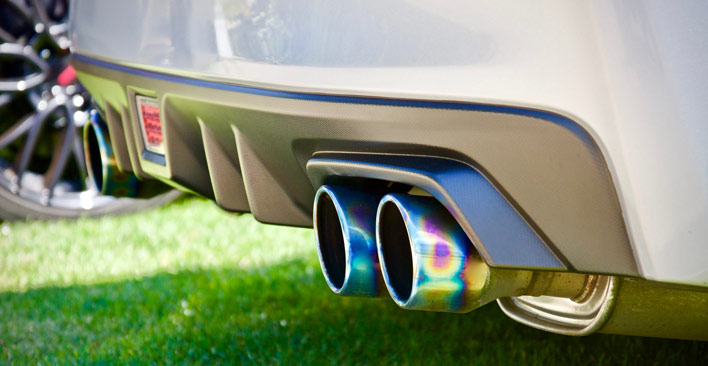 What The Law Dictating Loudness of Vehicle Exhaust Means
To be clear, the law dictating how loud a motor vehicle's exhaust system may legally be has not changed. Vehicles under 6000 pounds that are not motorcycles must be quieter than 95 decibels, and motorcycles must not exceed 85 decibels.
For comparison, 95 decibel sounds are about as loud as a power lawnmower or jackhammer. Regular exposure to 95-decibel noise for longer than 2 hours at a time may cause permanent hearing loss.
80 decibel noise is about as loud as a garbage disposal or alarm clock at close range, or a freight train from 50 feet away.
While some motorcyclists say, "loud pipes save lives," the truth is that exhaust pipe noise is only loud after the motorcycle has passed, due to the Doppler effect. Most motorcycle collisions occur from the front of the bike. Excessively noisy exhaust pipes may be giving you little besides hearing loss, which slows down your reaction time.
In terms of the actual fine, the Judicial Council of California suggests a first-time conviction base fee of $25, with a total bail/fee of $193. And you will not receive any points on your driver license, so a violation will not contribute to a license suspension. However, repeated offenses or egregious violations may result in $1000 fines.
Also, this law does not make it illegal to install an aftermarket exhaust system in California, if it complies with all exhaust and safety laws.
If you do receive a traffic ticket for excessive noise, you also still have the option to dispute it. You can contact the California Bureau of Automotive Repair (BAR) for a certificate of compliance demonstrating that your exhaust is within the legal limit. It's worth noting that BAR will not issue a preemptive certificate — you can only submit for one after a citation has been issued. But doing so may persuade the court to dismiss your fine.
However, for the time being, if your exhaust is, in fact, louder than the legal limit, you may have no recourse to keep from paying loud motor vehicle fines.
If You Are Injured in a Motor Vehicle Accident
If you are injured in an automobile or motorcycle accident that was not your fault, you do have a recourse: contact the personal injury attorneys at TorkLaw.
Call us, toll free, at 888.845.9696. If your case qualifies, an experienced motor vehicle accident lawyer will offer you a free consultation on your case. You may deserve significant compensation, and we can help ensure you receive the maximum amount allowed.