21 People Injured In Tulare County Greyhound Bus Accident Along Highway 90 by Avenue 260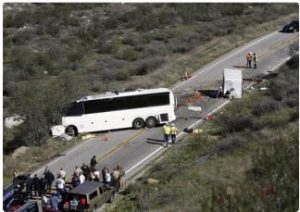 TULARE COUNTY, CALIFORNIA (August 4, 2022) – At least 21 people were injured in Tulare County after a Greyhound bus rolled over on Highway 99 by Avenue 260.
Tulare County officials are saying that the collision took place around 3:00 a.m. on Wednesday. A Greyhound bus carrying 34 passengers drifted off the roadway and crashed after going through a chain link fence and overturning.
Firefighters and paramedics were called to the scene of the collision in order to help all of the victims. A total of 21 people were injured and several were taken to the hospital.
In the last two years, there were 33 reported accidents involving Greyhound buses in the United States. A full investigation into the collision remains ongoing at this time.
Liability In Tulare County Bus Accidents
Buses are one of the safest forms of transportation for their passengers. Still, many people are injured every year in bus accidents. According to The Journalist's Resource, "about 63,000 buses [of all kinds] are involved in an accident each year; about 14,000 result in an injured person, and 325 result in a fatal injury." There are a number of factors that could potentially contribute to a bus accident.
Driver intoxication
Driver fatigue
Inclement weather
Road conditions
Bus companies are considered "common carriers" under the law and their drivers are held to a high standard in terms of safety. They must operate with all the vigilance necessary for the safety of their passengers. Operating a bus is substantially more difficult than operating a passenger vehicle. Buses take much longer to stop and they are also more prone to rolling over given their high center of gravity. Bus drivers are often asked to work long hours at all times of the night and day. A substantial number of bus collisions involve driver fatigue.
All bus drivers must exercise due care in order to avoid collisions. Many bus accidents occur when bus drivers make unsafe lane changes. Pursuant to California Vehicle Code 22107, no person shall turn a vehicle from a direct course of action either right or left upon a roadway unless such a movement can be made with reasonable safety. If a bus driver leaves the roadway prior to an accident, the company that they work for could face liability through a civil claim. There are a number of steps that should be taken after any bus accident.
Surveillance footage from within the bus should be sought.
Eye witnesses should be interviewed.
The bus driver's logbook should be examined.
Medical records should be preserved.
The FMCSA requires commercial buses that can carry 16 or more people to have at least $5,000,000 worth of liability coverage. Any person that is injured in a bus accident may have legal recourse through a bodily injury claim. Damages in a civil claim can help cover lost wages, medical bills and pain and suffering. A bus accident attorney can examine all of the facts of your case and let you know what your legal options are.
Investigating A Tulare County Bus Accident
We at TorkLaw extend our best wishes to all of the people injured in this Tulare County Greyhound bus accident. Any person that may have more information about what happened should reach out to police. This was a highly preventable crash that should have never taken place. There needs to be some accountability for the sake of the victim.
Have you or someone that you care about been injured in a Tulare County bus accident? There are a number of laws designed to protect your rights. We care deeply that accident victims get the medical and financial support that they need in order to recover. Whether you just have legal questions or need a free, independent investigation into an accident we are here for you. You can reach out to us anytime at  (888) 441-4991.