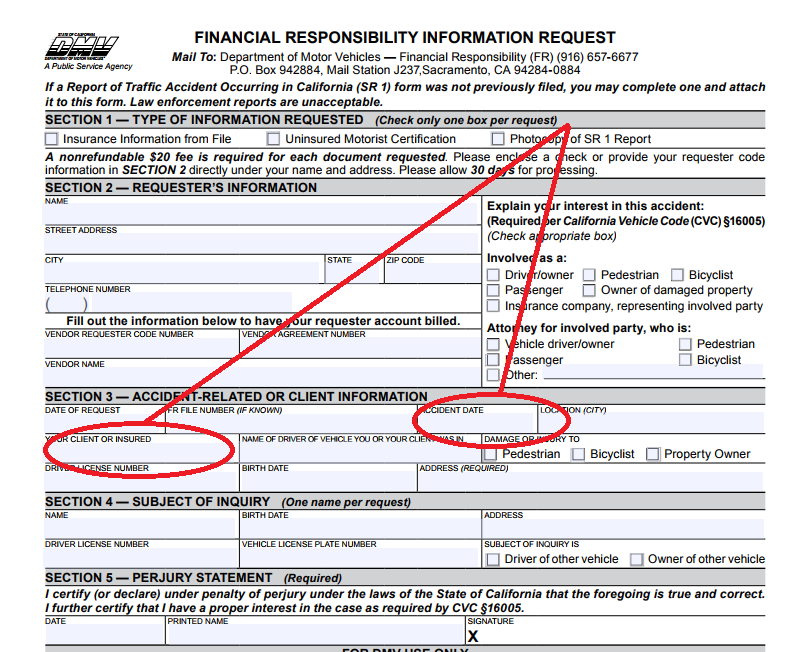 In our last article, we wrote about the SR-1 form, which every driver must file with the DMV after they have been in an accident in California leading to death, injury, or significant (over $1,000) property damage.
In this article, we're going to talk about another important DMV form: the SR-19C, also known as a Financial Responsibility Information Request, which must also be filed with the DMV in cases involving uninsured motorists.
You may file an SR-19C with the DMV after an accident, but only after the other party has filed their SR-1 form. (Recall that the SR-1 must typically be filed within ten days of an accident.)
What is the SR-19C, and does it apply to you? Read on to find out.
The Purpose of the SR-19C
The SR-19C, unlike the SR-1, does not need to be filed after every accident. It must only be filed in cases where the other party lacked proper insurance coverage.
You see, even though all drivers in California are required by law (and common sense) to have proper auto insurance, a significant number of California drivers still drive uninsured.
Uninsured motorists are more common than you might think. According to the Insurance Information Institute, nearly 15% of California drivers in 2012 were uninsured. (The numbers may have changed a bit since 2012, but they're probably not significantly different.) In some other states, it's even higher!
How to Fill Out The Sr-1
In fact, this is exactly why the SR-1 form exists: to establish proof of liability in the event of an accident, and let the DMV know when someone was driving uninsured.
The SR-19C form exists for the same reason, but its purpose is slightly different. It is meant to help you in case you get in a collision with an uninsured motorist.
The SR-19C is a form which allows you to request a copy of either the other driver's SR-1, the other driver's insurance information, or the other driver's Uninsured Motorist Certification (an official DMV certification that the other driver was uninsured).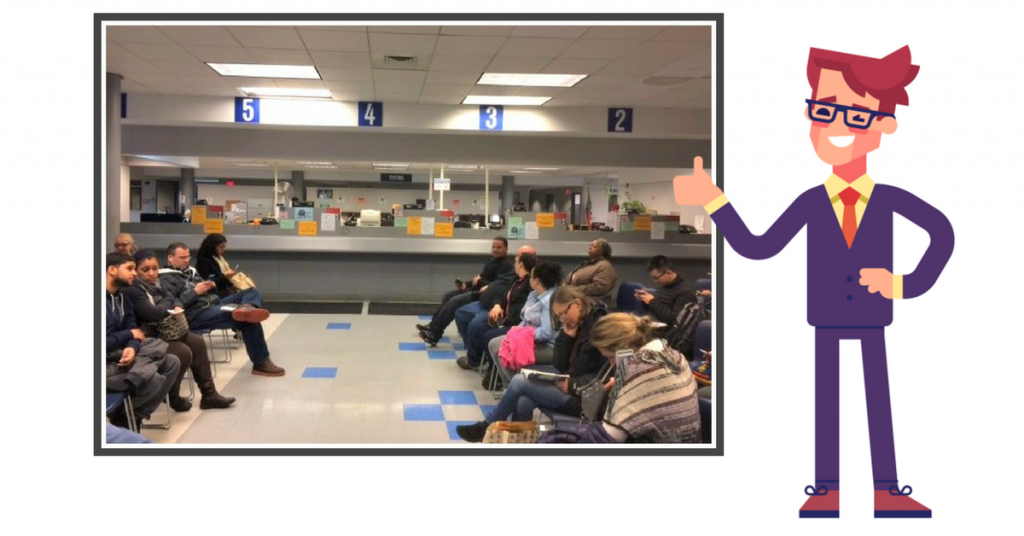 Why You Would Need to File an SR-19C
The SR-19C form allows you to provide evidence that you were in an accident with an uninsured motorist, so that you can file an uninsured motorist (UM) claim.
In case you haven't heard of UM coverage, here's the rundown of how it works:
Ordinarily, when you get in an accident with another driver, and that driver was at fault, you file a claim against their insurance company. But if the other driver is uninsured, you can't do this.
UM coverage allows you to file a claim with your own insurance company, and collect damages from them to make up for part or all the damages that you would have been eligible to collect from the other party's insurance if the other party had been insured.
UM insurance is optional in the state of California, so you don't have to buy it, but we can't recommend buying it enough. It doesn't cost a lot, and for many a client of ours, it's been a lifesaver in a situation where they might otherwise have recovered no damages at all.
Of course, filing a UM claim with your own insurance company isn't easy. In many cases, they will try to do everything they can to deny your claim, including questioning whether you were actually hit by an uninsured motorist.
This is where the SR-19C form comes in handy. Many insurance companies require their clients to file an SR-19C with the DMV before the company grants their UM claim, to provide proof that the other driver was, in fact, uninsured.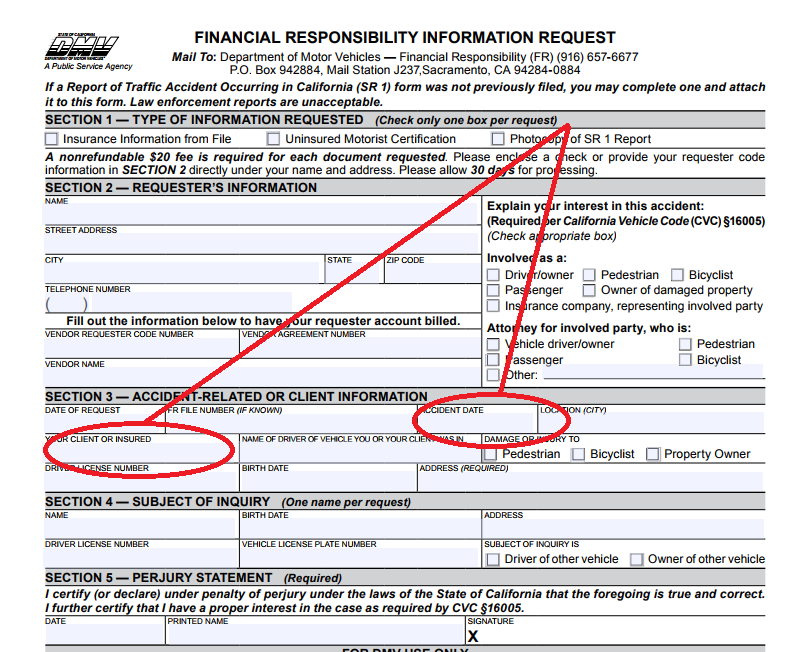 How to File an SR-19C
Like the SR-1, the SR-19C is a relatively simple document to fill out.
You must provide your own contact information, as well as information about the accident, including when and where it occurred, and how you were involved.
Not just anyone can file an SR-19C. To do so, you must have some direct involvement with the accident, either as a victim (or owner of damaged property), an insurance provider, or an attorney for someone involved.
Finally, you must provide information about the subject of inquiry, or the person on whom you are seeking insurance information.
To process each requested document, there is a $20 fee, and if you are making multiple requests, you must file separate SR-19C forms. The documents may also take up to 30 days to process.
For more information, click and fill out or print a copy of the SR-19C form.
In Summary
Fortunately, most drivers will not need to file an SR-19C after a car accident. In this respect, it is different from the SR-1, which must always be filed following an accident
However, the SR-19C is critically important in a small subset of car accidents: those where the other driver was at fault and uninsured. In these cases, the SR-19C is often the only difference between getting insurance coverage for your injuries, and getting no insurance coverage at all.
So, if you have been in an accident with an uninsured motorist, then you should file the SR-19C. Of course, as with the SR-1, you may still have some questions about the process, and this is where you can benefit from speaking to an experienced personal injury attorney.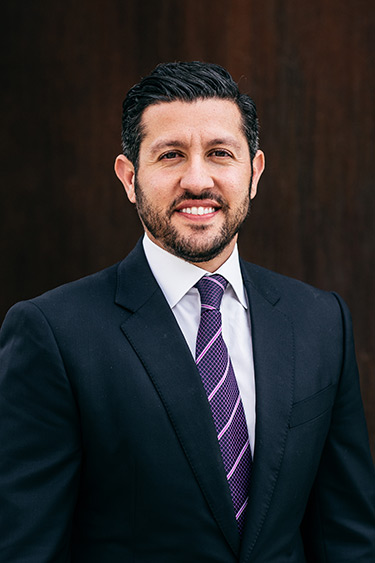 A highly regarded and well-respected trial lawyer, author and speaker, Reza Torkzadeh is the founder and managing attorney of TorkLaw – a premier plaintiff's personal injury law firm specializing in complex catastrophic injury and wrongful death cases.
Reza's performance in and out of the courtroom has earned him several of the industry's top awards and professional recognitions, and a reputation as an elite litigator. He has earned millions in settlements, verdicts, and judgments for his clients.
If you would like a free consultation, please contact us today.