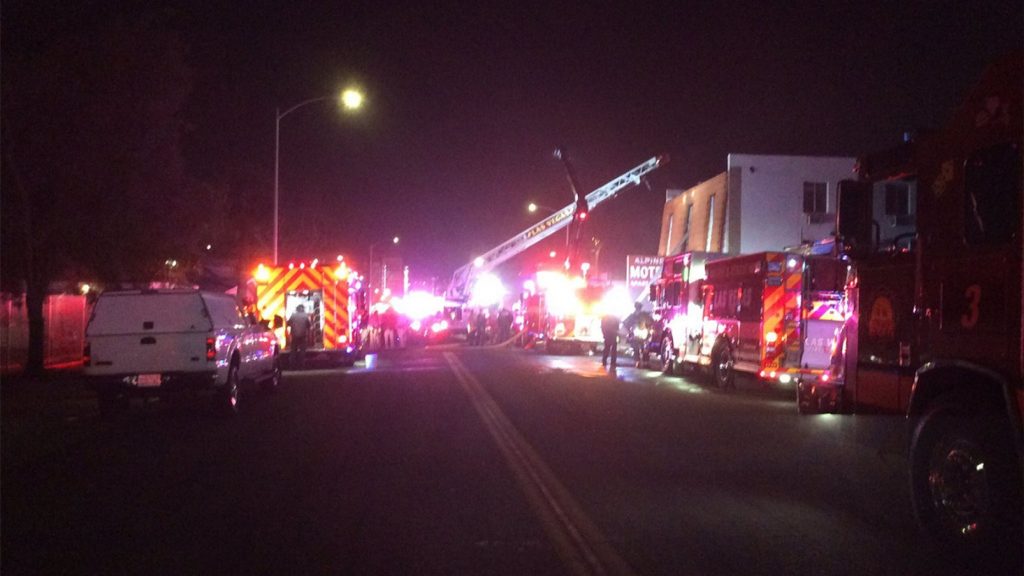 IF YOU HAVE BEEN INJURED OR A LOVED ONE HAS BEEN TRAGICALLY KILLED IN THE LAS VEGAS ALPINE MOTEL APARTMENT FIRE, CALL NOW FOR A FREE, NO OBLIGATION LEGAL CONSULTATION – 888.845.9696. OUR LAWYERS ARE STANDING BY TO HELP.
TorkLaw has been retained to represent victims of the Alpine Motel Apartments fire for the wrongful death and serious injuries caused by the tragic December 21 fire. At least six people died and dozens were injured and left homeless.
On December 24, Clark County District Attorney Steve Wolfson announced that a criminal investigation was being launched by the Metropolitan Police Department's homicide unit.
About the Alpine Motel Apartments Fire
What is being called the worst fatal fire in Las Vegas history began at 4:13 a.m. on Saturday, December 21, 2019. The tragic blaze occurred at the Alpine Motel Apartments in Las Vegas (213 N 9th Street, Las Vegas, Nevada, 89101), a three-story, wood-frame building built in 1972.  The Las Vegas Fire Marshal reported that the fire originated from a stove in a first-floor apartment before spreading to the rest of the 42 units. The fire killed six people and injured at least 13, some of who are currently in critical condition.
The people killed in the fire were: Francis Lombardo Jr., 72; Henry Lawrence Pinc, 70; Donald Keith Bennett, 63; Cynthia Mikell, 61; Tracy Ann Cihal, 57; and Kerry Baclaan, 46.
One of the critical patients is a pregnant woman. Additionally, at least 75 people were left without a home – the night before the start of Hanukkah and just days before Christmas. The City of Las Vegas put out this statement.
While the cause is being called an "accident," we believe there is evidence that criminal negligence contributed to the start of the fire, as well as the deaths of those who could not escape the building on time, and the injuries of the others.
Las Vegas Fire & Rescue have reported that because the complex lacked heating, some of the residents were using the stove to keep warm.
There have been several reported complaints to the city about Alpine Motel, including reports about code violations including the lack of fire safety equipment, smoke detectors, alarms, and extinguishers.
More than one person has reported that an exit door was bolted shut.
Alpine Motel Apartments are owned by Las Vegas Dragon Hotel LLC. It appears that the complex did not have a sprinkler system and that the building's fire alarm did not work when pulled. Tenants were awoken by the sound of pounding on doors and a voice yelling, "Fire!" That voice belonged to Donald Keith Bennett, a retired Marine who was disabled. He rushed through the building to warn tenants and struggled unsuccessfully to open the blocked exit door.
Tragically, he gave his life in the effort to save his neighbors, as did Henry Lawrence Pinc, who died of smoke inhalation while trying to help others escape.
Because that exit door was inaccessible, Cynthia Mikell, whose front door was only five steps away from that exit, was found dead in the hallway. Although she had suffered a stroke and needed a walker, she should have been able to make it out easily. However, it seems that she succumbed to smoke inhalation because she was unable to open the door.
The body of Tracy Ann Cihal was also found closeby. Cihal had recently sought help from a local legal aid center regarding her concerns that the apartments were inhabitable. These concerns included a lack of smoke detectors.
When Las Vegas Fire Department firefighters arrived at the call, they found residents jumping from the upper stories and hanging out of windows, crying for help. Fire officials reported that the first unit was so busy helping people escape and assisting the injured that they needed to call a second unit to extinguish the blaze. While the fire itself was put out in minutes, the thick black smoke remained, causing further smoke inhalation and hampering rescue efforts.
The Alpine Family Assistance Center opened on Monday, December 23, 2019, at 9:00 a.m. at the Dula Gym, 441 East Bonanza, Las Vegas, Nevada, 89101. Officials will be interviewing and assisting families. Residents affected by the fire can also call the American Red Cross of Southern Nevada at 702.369.3927 for assistance.
Residents can register online to let family members know they are safe. Family members can use the same site to search for loved ones. Residents of Nevada can also call 211 for information on family and friends who may have been affected.
If You've Been Affected, Call TorkLaw
While the investigation of this Las Vegas apartment fire is just starting, it is important for victims, and the families of those tragically killed, to have proper legal representation and help in navigating the complex laws and statutes that may apply to protect their rights.
TorkLaw is an award-winning, nationally recognized law firm that exclusively represents victims and families of negligence. Help is just one phone call away – 888.845.9696.