In 2005, motor vehicle crashes were the leading cause of death for United States teens, accounting for more than one in three deaths in this age group. In 2003, 12 teens ages 16 to 19 died every day from a motor vehicle accident. In the United States during 2005, 4,544 teens ages 16 to 19 years old died of injuries caused in motor vehicle crashes. Nearly 400,000 motor vehicle occupants (drivers and passengers) sustained nonfatal injuries that required a trip to the emergency department. Overall, in 2005, teenagers accounted for ten percent of the United States population and 12 percent of motor vehicle crash deaths. Young peole ages 15-24 account for about 10 percent of the U.S. population and 12 percent of motor vehicle crash deaths.
While deadly crashes involving teen drivers is down thanks to California's "Graduated Driving Law," (discussed below) teen drivers still kill approximately as many other occupants in another vehicle or pedestrians. According to AAA, the majority of people killed in teen driver crashes continue to be other than the teen drivers themselves. The analysis shows that about one-third of people killed in crashes involving drivers ages 15 to 17 are teen drivers themselves, while nearly two-thirds are passengers, occupants of other vehicles, cyclists, pedestrians, and other road users. According to AAA President and CEO Robert L. Darbelnet, "For every teen driver killed in a crash, almost twice as many other people die, which underscores the link between teen driver safety and the safety of everyone on the road."
Statistics don't lie: teenage drivers get into more automobile accidents than any other age group. According to the Insurance Institute for Highway Safety and government statistics, 62 percent of teenage passenger deaths in 2004 occurred in crashes in which another teenager was driving. Teen passengers tend to distract young drivers, as well as encourage risky driving behavior, such as excessive speeding, not wearing seat belts, and racing other cars.
Teen drivers are in a higher proportion of crashes than expected, given their relatively small percentage of the entire driving population. According to the Automobile Club of Southern California, teen fatal crashes occur far more frequently during late night hours than expected, given their relatively limited nighttime driving. Teen passengers are at a far greater risk of being injured or killed in vehicles driven by other teen drivers than in vehicles driven by older, more experienced drivers.
The traffic accident rates for 16- 19-year-old drivers are higher than those for any other age group. Causes include the inability to detect driving hazards; the tendency of young drivers to underestimate the crash risk in hazardous situations and overestimate their ability to avoid the threats they identify; risk taking, such as speeding, tailgating, running red lights, making illegal turns, passing dangerously; failure to yield to pedestrians; not wearing seat belts; and drinking.
In 2005, nearly three out of every ten teens reported that, in the previous month, they had ridden with a driver who had been drinking. One in ten reported having driven after drinking alcohol within the same one-month period. Despite these figures, according to a report of the Accident Analysis and Prevention, the number one cause of traffic crashes involving young drivers are caused by inexperience or distraction, not "thrill seeking" or deliberate risk taking.
Other causes of teen driver accidents are talking on the cell phone or texting. California prohibits the use of hand-held cell phones. However, studies have shown that talking on a hands-free cell phone is just as dangerous as talking into a hand-held cell phones, as it distracts the driver from the road ahead of him or her. As for texting, that involves considerable distraction from driving and has been banned in many states, including California.
The risk of getting into an automobile accident are particularly high during the first year that the teen is eligible to drive. Among teen drivers, the motor vehicle death rate for male drivers and passengers ages 16 to 19 was more than one and a half times that of their female counterpoints. The presence of teen passengers increases the crash risk of unsupervised drivers. This risk increases with the number of teen passengers.
In the first year of driving, one in every five 16-year-old drivers has an accident. One-third of all crashes are at intersections. Two-thirds of teen passenger deaths are in vehicles driven by other teens. Over one-third of teen fatal crashes are speed related. A 16-year-old is 20 times more likely to be killed in a crash than an adult. The risk of a fatal crash is three times greater at night, for every mile driven. Underage drinking and drug use is illegal and impairs the young driver. Among male drivers between 15 and 20 years of age who were involved in fatal crashes in 2005, 38 percent were speeding at the time of the crash and 24 percent had been drinking. In 2005, 23 percent of drivers ages 15 to 20 who died in motor vehicle crashes had a blood alcohol content (BAC) of .08 or higher.
Studies have show that, rather than give a 16-year-old an unlimited right to drive a car, it cuts the numbers of crashes, deaths, and injuries by using a "graduated driving license." ("GDL"). Effective January 1, 2006, California has a graduated driving license program. Research indicates that the most comprehensive graduated drivers licensing programs are associated with a reduction of 38 percent to 40 percent in fatal and injury crashes, respectively, among 16-year-old drivers.
Under California's GDL, a person aged 15 ½ to 17 ½ must take a course in driver's education, apply for a provisional permit for at least six months before getting a license, take a course in driver's training, and can then apply for an unlimited Class C driver's license when he or she turns 18. During the time the teen has a provisional permit, the teen must log 50 hours of adult-supervised driving practice by an adult at least 25 years old, ten hours of which must occur during darkness. The adult must sit close enough to the teen driver to take control of the vehicle if necessary. If a person is 18 or older, he or she can apply for a Class C driver's license any time he or she feels prepared to drive, without having to fulfill the requirements of taking a driver's education course, having a provisional permit, or taking a driver's training course. Of course, he or she will still have to take and pass the written exam and driving test.
For the first year after obtaining his or her provisional driver's license, or until he or she turns 18, whichever happens first, a person under the age of 18 must be accompanied by a parent/guardian or other person specified by law (generally a person at least 25 years old) when transporting passengers under 20 years of age at any time of the day or night. The fatality risk of drivers aged 16-17 years old is 3.6 times higher when they are driving with teen passengers than when driving alone. A teen driver with a provisional driver's license cannot drive between the hours of 11:00 p.m. and 5:00 a.m. The reason for the nighttime driving restriction is statistics show that citations/serious accidents involving provisional drivers during the 9:00 p.m. to 5:00 a.m. have dramatically increased over the past five years.
A teen with a job that requires him or her to drive between the hours of 11:00 p.m. and 5:00 a.m. may drive to get to and from work, providing reasonable transportation facilities are inadequate and the driver carries a statement signed by the employer verifying your employment and indicating the date your employment is expected to end. There are several other exceptions to the prohibitions on the hours the teen cannot drive, such as a medical necessity, schooling or school-related activities, necessity of a family member (including yourself), or if you are an emancipated minor (you have filed documents with the DMV to show that you are emancipated and have filed either an SR-1P or SR-22 as required by law). It is a good idea to carry proof of your emancipated status with you when you are driving.
The California Vehicle Code does not allow a provisional driver you to drive in the event of an emergency. It is left to the discretion of the law enforcement officer to determine if he or she will cite the teen driver for violating his or her provisional license requirements and limitations.
Because of the new laws, at-fault and injury collisions involving 16-year-old drivers declined a substantial 24 percent over the law's first two years. Teen passenger deaths and injuries from crashes of 16-year-old drivers dropped an astounding 40 percent over the law's first two years.
Just like adult drivers, teen drivers must carry proof of insurance. They are required to have insurance that provides at a minimum $15,000 for injury to or death of one person, to a total of $30,000 for all persons hurts, and $5,000 for property damage for each accident. The teen driver must carry proof of insurance (usually a card issued by the teen's insurance company) at all times while operating a motor vehicles.
One question you're probably asking youself is, how soon after you've been injured or a loved one killed by a teenage or young driver should you hire a law firm to represent you? If you have been seriously injured—or a loved one has been killed—in an accident involving a teen or young driver, you should retain a lawyer as soon as possible. The insurance company will assign an adjuster to the case as soon as it is reported to the insurance company and usually the adjuster will want to take your statement as soon as possible. Do not give the adjuster a statement until you have talked with—and preferably retained—an experienced personal injury lawyer. The adjuster is trained to ask questions that are biased in favor of the insurance company and designed to trip you up. You should never give a statement to an insurance company adjuster or other representative without the consent and presence of your attorney.
You should also contact an experienced personal injury law firm as soon as possible, as the law firm may want to send its own investigators to the scene of the accident to inspect and take pictures of the vehicles, the accident site, and any dangerous condition that caused or contributed to the accident, especially before there is a change in the condition of the area or vehicle. The attorney or his or her investigator will also want to talk to any witnesses to the accident as soon as possible while the facts are still fresh in their minds. Again, we cannot stress it too much: Do not speak to the other party's insurance adjuster until you have retained your own lawyer to advise you.
Call now for a free consultation with a lawyer (888) 845-9696.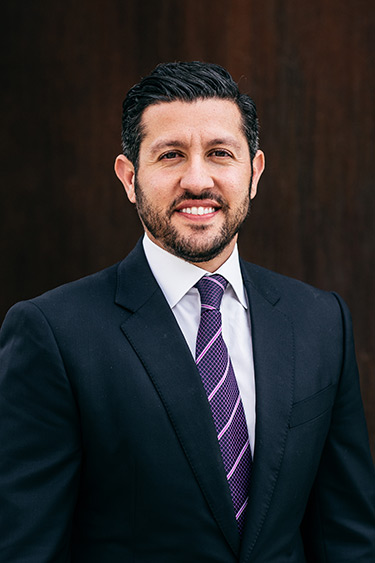 A highly regarded and well-respected trial lawyer, author and speaker, Reza Torkzadeh is the founder and managing attorney of TorkLaw – a premier plaintiff's personal injury law firm specializing in complex catastrophic injury and wrongful death cases.
Reza's performance in and out of the courtroom has earned him several of the industry's top awards and professional recognitions, and a reputation as an elite litigator. He has earned millions in settlements, verdicts, and judgments for his clients.
If you would like a free consultation, please contact us today.