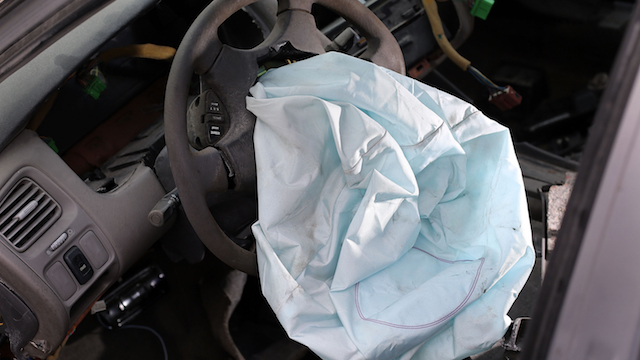 As if things couldn't have gotten scarier, the Takata airbag recall has now expanded even more, with 2.23 million Honda and Acura vehicles affected.
Recently, a Ford recall had widened the scope of the catastrophe, calling back 5 million vehicles. Now, with this newest recall, even more drivers are affected by the faulty design.
The design of the airbag uses a certain kind of material for the inflator, that over time can cause a reaction that pelts the driver's face with metallic shrapnel upon deployment. This has caused devastating injuries in a large number of people, and an unsettling number of deaths. While the affected models are eligible for replacement parts, people who have already been injured or lost loved ones are beginning to organize.
The following Honda and Acura models are affected:
2005-2012 Acura RL
2007-2011 Honda CR-V
2007-2016 Acura RDX
2007-2014 Honda Ridgeline
2009-2014 Honda Fit
2009-2014 Acura TL
2010-2014 Honda FCX Clarity
2010-2014 Honda Insight
2010-2013 Acura ZDX
2011-2015 Honda CR-Z
2013-2016 Acura ILX
This latest batch of recalls underscores the danger posed by the defective Takata airbags. Their widespread use has put a number of drivers in danger, and it's hard to comprehend how many more defective airbags are out there.
If you have been injured by a Takata airbag, or lost a loved one, it's important to speak with an attorney as soon as possible. Use our form below to schedule a free consultation with one of our attorneys, and learn about your rights.