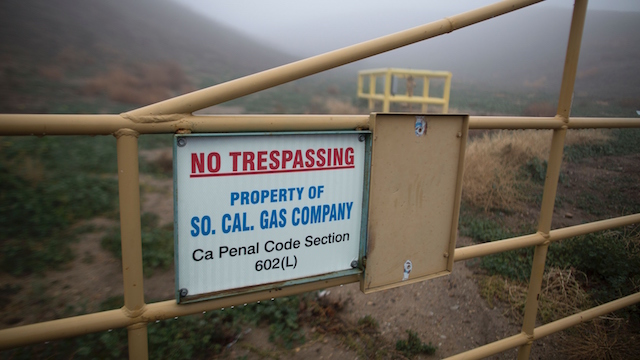 Negligence By Southern California Gas Co. Being Blamed For Porter Ranch Gas Leak
As the gas leak in Porter Ranch gets worse and worse by the day, residents might be one step closer to holding Southern California Gas Company responsible.
The South Coast Air Quality Management District has filed a complaint with the Los Angeles County Superior Court alleging the gas company was negligent in not only the design, maintenance, and operation of the well in Aliso Canyon — but also in their pedestrian response.
As the leak dumps more and more methane and benzene on residents, the efforts by SoCalGas to stop the leak have been symbolic at best.  Their latest estimate says the leak might be closed by March.  The leak was first reported in October.
Residents still complain of headaches, sickness, respiratory issues, and nausea. Should this complaint establish SoCalGas was negligent in protecting the people of Porter Ranch, this would be huge for the residents and their efforts to get the well shut down — and hold SoCalGas accountable.
Since October, the leak in the Aliso Canyon well has dumped over 40,000 lbs of poison gas on local residents — every day.
If you or your family have been affected by the Porter Ranch Gas Leak, it's important to speak with one of our attorneys as soon as possible.  Use our form below for your free consultation and learn your rights.
Get Your Free Consultation Now