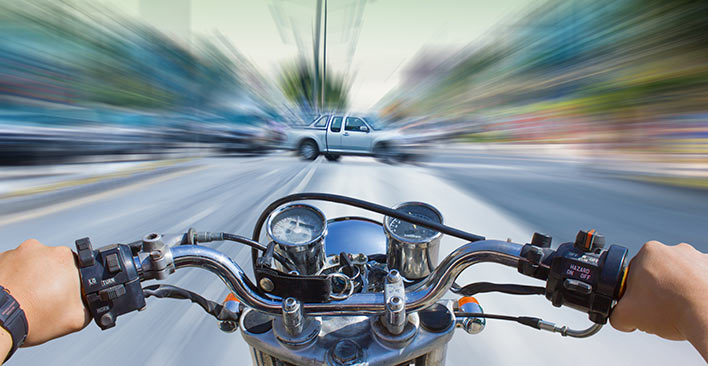 Not every motorcycle crash victim receives million-dollar settlements, but not every motorcycle crash victim contacts TorkLaw, either.
In September 2017, a Los Angeles man in his early thirties was driving his motorcycle westbound on Pacific Coast Highway in Lomita, California. Suddenly, a car made a left turn directly in front of him, blocking his right of way. Unable to stop in time, he struck the car's passenger side at almost full speed.
The at-fault driver remained at the scene and contacted the police. An ambulance rushed him to local Harbor-UCLA Medical Center with multiple serious injuries:
A CT scan of his right foot showed areas where the bone was shattered beyond repair, and would require synthetic parts to rebuild. While he had some feeling in his toes, he couldn't move them, so the medical staff was concerned about potential nerve damage.
His right ankle was broken and required surgery; however, because of the friction burns and blisters on his feet, the medical team was concerned about infection and decided to delay the surgery until his condition improved.
His right hand and wrist had multiple fractures.
He had lesions on both knees.
He was experiencing pain in his upper back, neck, shoulder, chest and abdomen.
The Aftermath
Motorcycle accidents are devastating even when not fatal. When a motorcycle collides with another vehicle, the motorcyclists, without a compartment surrounding them, or seat belts and airbags protecting them, suffer injuries that affect them for months or even a lifetime.
Knowing that he faced multiple surgeries and months of treatment, the Lomita motorcycle crash victim called TorkLaw shortly after his accident and spoke with a TorkLaw attorney.
"From day one, he made sure I knew he was on it," said the client. "TorkLaw continued to call during my hospital stay to check up on my progress."
Still, said our attorney, "Our client had many concerns. In addition to his own injuries, he was worried about how they would affect all the people in his life."
Because our client was unable to work, his wife was left to hold down her own job to maintain a steady source of income, while trying her best to care for her severely injured husband.
Further, he felt that he was letting down the employees at the plumbing business he owned, who depended on him to keep the company moving forward. His absence led to the loss of two employees, and left several responsibilities within the business unmet until he could return.
He worried about commitments he couldn't keep. The couple had to put their plans to start a family on hold because of the accident. He was scheduled to be a groomsman in his brother's wedding within a month, and was unsure if he could keep that commitment. While in the hospital, he missed his own anniversary celebration, a planned trip to the Grand Canyon, and other family celebrations.
He needed help — to pay his medical expenses, keep his business afloat, support his family, and put all the pieces of his life back together.
The doctors told him that he would experience some pain in his right leg for the rest of his life, due to the metal plates they had inserted to replace shattered bone. They said he would eventually be able to participate in activities he loved, like snowboarding, hiking, and off-roading, but they would be met with a measure of pain.
It was also humiliating for a dynamic, independent man to be unable to shower or perform basic self-care without help.
Still, after hearing that the at-fault driver had expressed extreme remorse, our client was forgiving. "I know I would be devastated if I were in that position," he said.
The Long Road to Recovery
As TorkLaw entered negotiations with the other driver's insurance company, the motorcycle crash victim was transferred to Kaiser Permanente Hospital, where he was insured. After his discharge, he continued treatment with multiple doctors and specialists, and began physical therapy. We assisted him with scheduling medical appointments, as well as paying and keeping track of the bills for various out-of-pocket expenses.
Six months after the accident, the client still had difficulty walking without support or standing for any length of time. He reported that he was "unable to perform a third of what I was able to do before the accident." He was considering additional surgery to remove the screws in his foot, which he felt would help with his ongoing pain. Unable to actively perform much of the plumbing work, his business was struggling.
[bctt tweet="41% of fatal crashes between a motorcycle and another vehicle were caused by other vehicles failing to yield to a motorcycle when making a left turn." username="torklaw"]
The Settlement
Despite his extensive injuries, our client was incredibly fortunate: Every year, thousands of motorcycle riders are killed in fatal accidents. The circumstances of our client's accident are frighteningly typical: The National Highway Traffic Safety Association reported that, in 2016, 41% of fatal crashes between a motorcycle and another vehicle were caused by other vehicles failing to yield to a motorcycle when making a left turn.
More good news: after the discouraging six-month point, we were able to tell our client that we had negotiated a settlement with the insurance company for $1,250,000.
The purpose of personal injury law, or tort law, as it is known in legal terminology, is to return the plaintiff or victim to his or her "original position" — where he or she would have been if not for the other person's negligence.
However, given the extent of our client's injuries, it was not possible to return him to his original position. "He will never have the same physical abilities, and will always suffer some level of pain," our attorney explained. "It will take time for his business and his relationships to return to normal, and to deal with the psychological repercussions of the accident. As personal injury attorneys, our goal is to help our client obtain the highest settlement possible and to help him recover from injuries to the greatest extent possible."
The $1,250,000 settlement TorkLaw was able to obtain for this motorcycle crash victim will go a long way to help our client continue his recovery and restore his life, so he and his wife can return to building their future together.