At Least 11 People Injured In Panorama City Apartment Fire on Tobias Avenue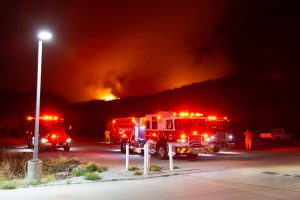 PANORAMA CITY, CALIFORNIA (March 26, 2023) – At least 11 people were injured in a Panorama City apartment fire at 9010 North Tobias Avenue, according to the LAFD.
Los Angeles Fire Department officials are saying that the fire took place around 7:00 a.m. on Monday. A fire broke out at the 200 apartment unit building.
The fire started on the second floor of the four story building. Firefighters were called to the scene and were eventually able to put out the blaze.
Eleven people were taken to the hospital in fair to moderate condition. A full investigation into the cause of the blaze remains ongoing at this time.
Liability For Panorama City Apartment Fires
Residential fires are much more common than many people realize. According to the National Fire Protection Association, "On average, a fire department responded to a fire somewhere in the US every 23 seconds in 2020. A home structure fire was reported every 89 seconds, a home fire death occurred every three hours and 24 minutes, and a home fire injury occurred every 46 minutes." There are a number of common causes of apartment fires.
Cooking accidents
Lit candles
Electrical malfunctions
Battery explosions
Pursuant to California Civil code 1714, everyone is responsible for maintaining their property in a reasonably safe condition. If an apartment owner fails to maintain their premises in a reasonably safe condition, this could form the basis of a negligence claim. Any person that is injured in an apartment fire may have legal recourse through a wrongful death claim.
Investigating A Los Angeles County Apartment Fire
We at TorkLaw extend our best wishes to all of the people injured in this Panorama City apartment fire. It is our sincere hope that all of the injured will be able to make a full recovery. There needs to be a thorough investigation into what happened. 
Have you or someone that you care about been injured in a Panorama City apartment fire? Our team of premises liability attorneys are here for you. We care deeply that accident victims are aware of their rights and that those rights are being protected. Whether you just have legal questions or need any type of support after an apartment fire we are here for you. You can reach out to us anytime at (888) 441-4991.