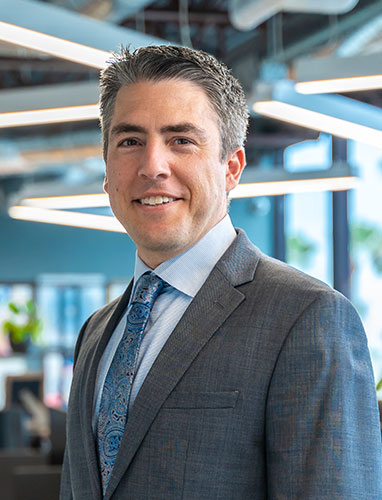 Fred Rispoli
Associate Attorney
Education
Arizona State University Sandra Day O'Connor College of Law
Bar Admission
Fred truly enjoy teaching and helping people. After college, he taught seventh grade science to children in a low-income area of Los Angeles – a difficult but incredibly satisfying job. He brought that same desire to help others into his legal career. Standing up to evil corporations that go to great lengths to deny or cover up their wrongs. For Fred, these daily battles are worth the effort when he sees the sense of justice his clients gain.
After law school, Fred worked as an associate at one of the largest law firms in the world (as ranked by The American Lawyer's Am Law 200). While there, his practice primarily focused on healthcare litigation. He had the opportunity to work for Fortune 500 companies, and individuals alike. Though gratifying, he believed that his career would be more rewarding if he focused his efforts on helping those that were seriously injured by the wrongdoing of others. This led him to a transition into a national plaintiff's firm. While there, he had several opportunities to help many clients who were grievously hurt or lost loved ones to a defendant's callous actions.
Eventually, Fred decided to fulfill a desire he had to open his own law firm – a place where he could provide the highest level of legal service and personal attention.
After successfully operating his own firm for a number of years, Fred was presented with an opportunity to have his firm acquired by TorkLaw, and assume a position the leads the Elder Abuse and Medical Malpractice division of the firm – a position he still holds to this day.
Fred believes that his ability to empathize with his clients over the often horrific losses they have suffered, is what allow him to effectively represent his clients so effectively. He recognizes how devastating it would be, if the actions of another led to great harm of his wife, son, daughter, brother, sister or parents. That thought motivates and strengthens him,  to make sure your voice will never be silenced.
Practice areas

Elder Abuse
Nursing Home Abuse
Birth Injury
Medical Malpractice
Wrongful Death

Professional associations

Awards