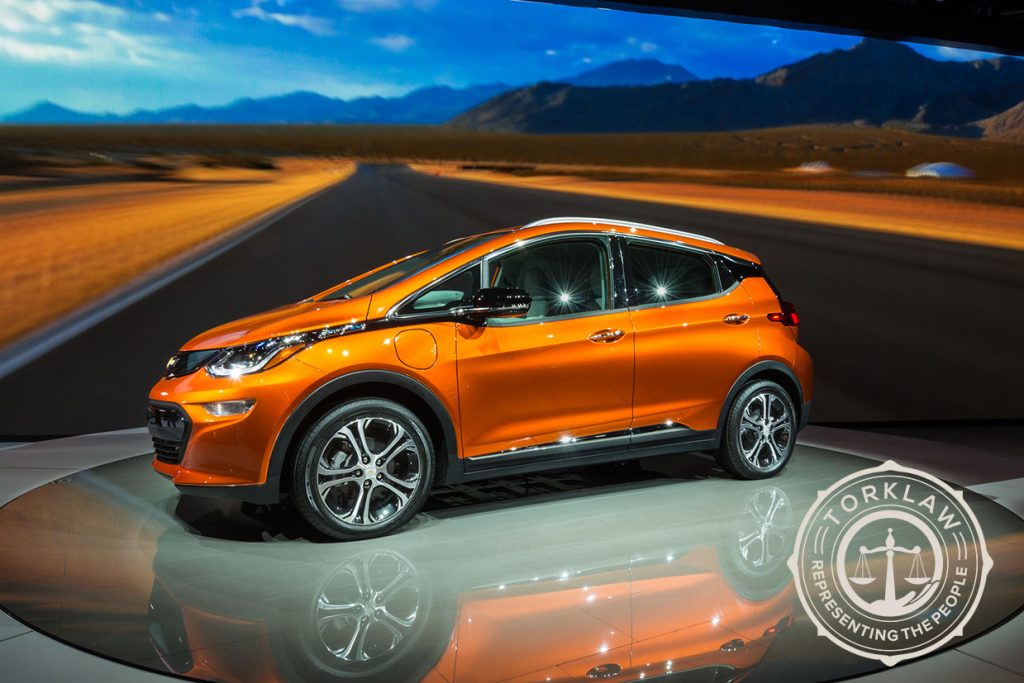 GM has made recent headlines with a widespread recall of its Chevy Bolt. Their electric vehicles can catch fire, and this risk has caused major safety concerns for Chevy owners. Learn more about which vehicles are affected – and what your legal rights are as the owner of a defective Chevy Bolt.
According to Consumer Reports, battery problems have created a serious fire hazard in the electric Chevy Bolt. Model years 2017 through 2022 have been affected. Owners should be sure to contact their dealer and get their vehicle inspected if they are subject to a recall. All batteries will be inspected for free by a dealer, and 2017 through 2019 models will have the affected modules replaced. 2020 through 2022 models will have the modules replaced if they are defective. The risk of fire led GM to initially advise its customers not to park affected Bolts inside or within fifty feet of a building. This recommendation has been withdrawn, and GM now says that customers can park and charge their Bolts as usual. Owners must still take the fire risk seriously and have their Bolts inspected by an authorized dealer or service provider as soon as possible.
What Should I Do If My Vehicle Has Been Recalled?
If you own an electric Chevy Bolt that is subject to this recall, you have important legal rights. Knowing what to do can both keep you safe and ensure that your consumer protection rights remain in place. What follows is our lemon lawyers' recommendation to Bolt owners.
Do not drive your vehicle unless you know it is safe to do so.
It is not always obvious that there is a problem with a vehicle. If your Bolt has normally been charging without any warning messages, you might feel that it is safe to drive. Use caution when making this decision. Remember, vehicle fires can occur spontaneously, and you might not have any prior warning of a problem with your car. Always err on the side of caution. If there is any chance of a safety problem, it is best to have your vehicle towed to a dealership.
Get your vehicle safely to a dealership to have the defect repaired.
The sooner you get your car inspected, the safer you will be. It is best to know any potential safety hazard as soon as possible. It is also best to put the dealer on notice of your problem as soon as possible. (Lemon laws require a vehicle owner to notify the manufacturer of the problem and give them the opportunity to fix it.) If you are not sure whether the vehicle is safe to drive, you should have it towed. Do not run the risk of your vehicle catching on fire even if the trip to your dealer is very short.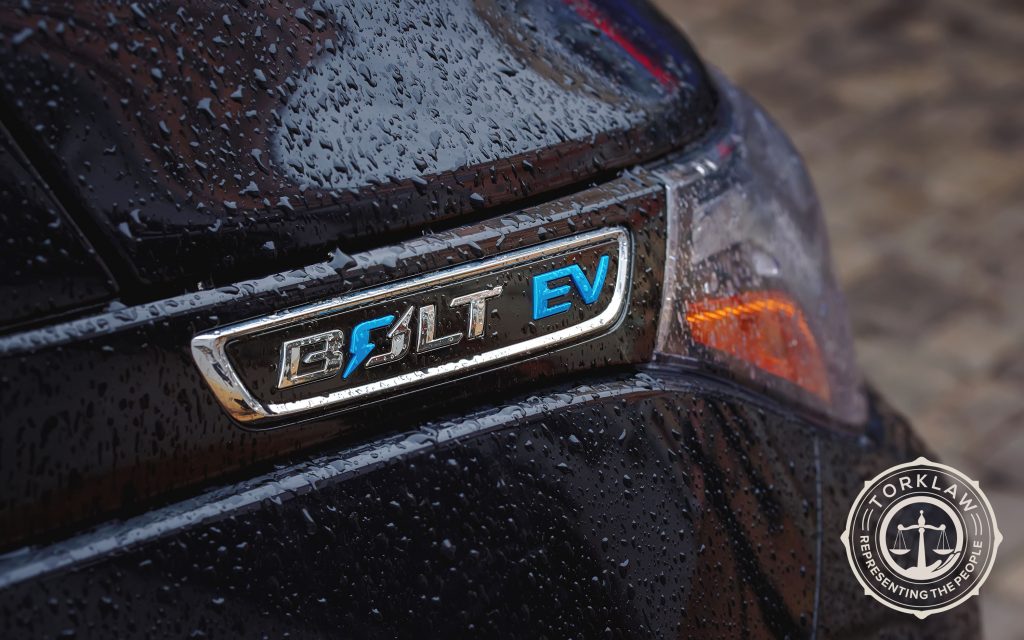 Consult with a lemon lawyer as soon as possible in the repair process.
Safety should always be your first priority when dealing with a lemon vehicle. Once you have gotten the defective vehicle to a dealer (or a service provider authorized by the manufacturer), you should take steps to protect your legal rights. The most important step you can take is to contact a lemon lawyer as soon as you suspect there is a problem with the vehicle. The experienced lemon lawyers at TorkLaw can confirm that the dealer received proper legal notice of your vehicle's defect. We will also strictly hold the manufacturer to the number of repair attempts and timelines for repair that are allowed by law. We can also help you get compensation for incidental expenses that were related to your defective vehicle.
Document all your expenses that are related to the defect.
Lemon laws also allow vehicle owners to be compensated for the costs they incur as a result of a defective vehicle. You might have to pay for a tow or even a hotel room if you get stuck out of town. If you have the right to return your vehicle for a full refund, you are entitled to your down payment and any installment payments you made on the car. You may also be entitled to compensation for title and registration fees. All of these costs are a consequence of the vehicle's defect. Different state laws allow for different incidental expenses, so be sure to consult with one of our attorneys as soon as possible. Our legal team will help you document all your expenses so that you get the reimbursement you are owed.
Call TorkLaw Today to Speak With a Lemon Law Attorney
If you have experienced a fire in your Chevy Bolt, be sure to contact the experienced lemon lawyers at TorkLaw. We know how to protect your legal rights as a consumer. Call (888) 845-9696 or visit our website to schedule your free case evaluation as soon as possible.