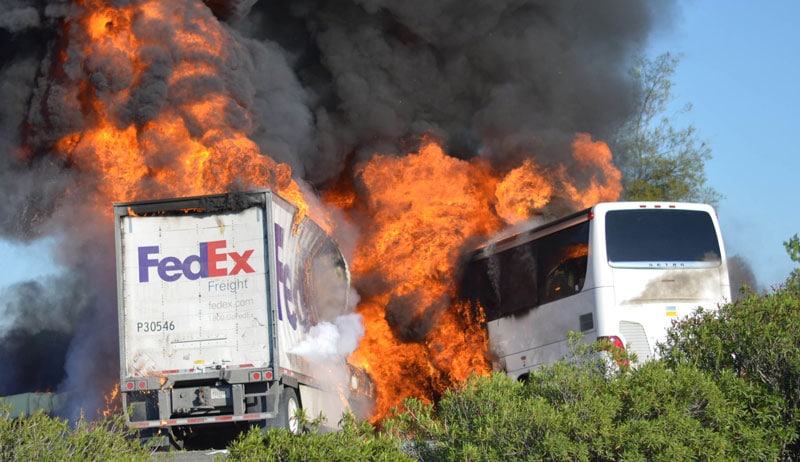 Senate Bill Introduces New Safety Standards for Charter Buses
On Monday, the California State Assembly approved new safety standards to be imposed on charter buses. This new standard came about as a reaction to a motor coach accident that killed eight Los Angeles-area students who were visiting colleges in Northern California in 2014.
The tragic 2014 incident occurred near Orland, when a FedEx tractor trailer crossed a median on Interstate 5 and collided with the bus. The impact of the collision rendered the door inoperable and caused diesel fuel to spill into the bus, which then ignited.
This new bill, introduced by Senator Ricardo Lara of Bell Gardens requires that charter buses manufactured after July 1, 2020, designed to carry 39 or more passengers must be equipped with emergency lighting that is triggered by a collision.
The bill also requires that instruction be provided to passengers about vehicle safety equipment and emergency exits by the driver. This measure has been approved previously, but will go back for a new vote on amendments.
Originally the bill also required buses to be equipped with a second door – a provision that was dropped after industry objections that cited the expense of such a measure would not be financially viable.
At The Torkzadeh Law Firm we handle mass-transit accidents and see firsthand how horrific bus accidents can be. Our San Francisco charter bus accident lawyers handle bus accident cases that have resulted in injury or death. If you or a loved one has been involved in a bus crash, don't face this time alone. The experienced bus accident attorneys at TorkLaw are here to help you obtain maximum financial recovery. Call today for a free, no-obligation case consultation at (888) 845-9696.