Handling Your Personal Injury Case – Do I Need a Lawyer?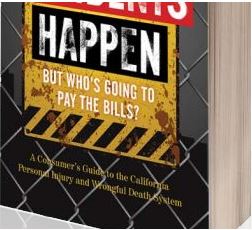 What is my case worth?
Do I really Need a lawyer?
How long is this going to take?
What is it going to cost me?
These are common questions that we get everyday from prospective clients who have been involved in an accident.  The short answer is, you should ALWAYS consult with an attorney who can examine your case (most lawyers including us give free no obligation consultations) and can explain to you your options.
A few years ago, our attorneys Reza Torkzadeh and Allen P. Wilkinson, wrote the book Accidents Happen But Who's Going to Pay the Bills? A Consumers Guide to the California Personal Injury & Wrongful Death System.  This book discussed not only the most commonly asked questions victims of accidents typically have, but also a guide on how the entire claims process works.
Retailing for $24.95 in stores like Amazon and iTunes, the book received very positive reviews and popular acclaim.  TorkLaw provided copies of Accidents Happen for Free for prospective clients in California.
Now, for the first time ever, TorkLaw is providing a free digital online version of Accidents Happen.
Get Your Free Consultation Now