Fast Food Play Structures: Fun or Flub?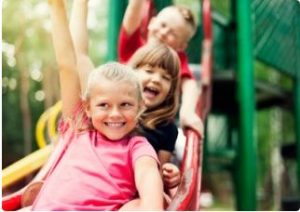 They're large, brightly colored and enticing. Kids like the play centers at fast food restaurants as much as they like the cheeseburgers, nuggets and fries offered inside. Padded play structures may seem safe, but experience demonstrates that some of them may put children at risk.
Injuries
Many factors contribute to play zone danger. Unpadded floors and lack of safety nets can lead to serious injuries if a child falls from a ladder, pole or slide. In 1999, the CPSC fined one national chain $4 million for safety violations related to its playgrounds.
Fast food chains rely on their individual franchisees to make sure playgrounds meet safety standards. The national chains say that franchisees must see that qualified inspectors examine the play structures for safety hazards and that the franchisees, not the parent company, are liable for injuries. Franchisees, in turn, blame parents for not watching their children more closely.
Crime
Newsday recently reported that a 14-year-old boy sexually assaulted a 4-year-old girl in a play structure at a fast food restaurant in Queens, NY. It's not known whether similar assaults have happened in California play zones. The victim's family may have a legal claim for Injuries the child sustained because of the sexual assault.
A traumatic incident, whether it's an injury or an assault, can change a child's life forever. If you know a child who's been injured in a play structure incident, let the lawyers at TorkLaw help you understand what your options are.