AT&T Worker James Suttles Died In Henry County Bucket Truck Electrocution Accident At Mobile Home Park On Clark Drive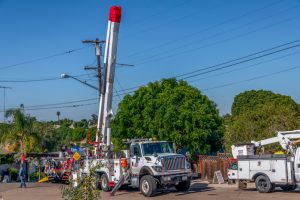 HENRY COUNTY, GEORGIA (August 6, 2022) – An AT&T worker identified as James Suttles died in a Henry County electrocution accident after his bucket truck hit power lines.
Henry County officials are saying that the accident took place on Tuesday. James Suttles was operating a bucket truck in the Ellenwood area when his vehicle came into contact with electrical lines.
Firefighters and paramedics were called to the scene of the accident in order to help the victim. The truck caught fire after it was electrocuted.
Despite the best efforts of first responders, James Suttles died as a result of his injuries. Neighbors said that it sounded as though a bomb went off.
A full investigation into the accident remains ongoing at this time.
Liability In Henry County Power Line Electrocution Accidents
Far from being freak occurrences, accidents with power lines are much more common than many people realize. Being a power lineman is one of the 10 most dangerous jobs in America. It has been estimated that there are nearly 21 lineman deaths per 100,000 workers. There are a number of steps that should be taken in order to prevent power line electrocution accidents.
Powerlines should be de-energized before they are worked on.
Power companies can also erect physical barriers to prevent contact with energized lines.
Boom lifts can be equipped with proximity warning devices that prevent contact with electrical lines.
When a worker is killed on the job, their family may be able to seek aid through worker's compensation. Worker's compensation in Georgia is a no-fault system. There is no need for a worker or their family to demonstrate negligence in order to receive benefits. The family of a deceased worker may also be able to seek aid through a third party liability claim. A third party liability claim may be possible if an entity separate from a worker's employer contributed to an accident. There could be numerous sources of third party liability for any power line electrocution accident.
The electrical company that owns a set of power lines could potentially be liable if a worker is electrocuted. Electrical companies typically receive work orders to de-energize lines before they are worked on. If a company fails to de-energize lines and a worker is electrocuted, this could form the basis of a negligence claim. It is important that all communication between an electrical company is properly analyzed after any accident.
The company that manufactured a bucket truck could also be liable for an electrocution accident through a product liability claim. Companies that manufacture vehicles have a legal obligation to make them reasonably safe.  Bucket trucks are required by law to have certain safety features. This includes them having an insulated boom to protect from contact with power lines. They must also have high-voltage proximity sensing and/or warning devices. These systems can stop the boom from even touching electrical lines. There are numerous steps that should be taken after any electrocution accident.
Surveillance footage should be sought.
Medical records should be preserved.
All equipment involved in the accident should be examined.
A thorough, independent investigation should be conducted.
The family of any victim that died in an electrocution accident may have legal recourse through a wrongful death claim. Damages in a civil claim can help cover many of the unexpected expenses that can come with the sudden loss of a loved one. Sadly, though, electrical companies and truck manufacturers will often fight hard to deny liability for any accident. In order to win any civil claim, plaintiffs will have to demonstrate negligence.
Investigating A Henry County Power Line Electrocution Accident
We at TorkLaw extend our deepest condolences to the family of James Suttles. Any person that may have more information about what happened should reach out to investigators. It is our sincere hope that measures will be taken to prevent other tragedies like this.
Do you need more information about a Henry County power line electrocution accident? Our team of workplace safety advocates are here to answer any questions that you may have. We care deeply that accident victims get the information and resources that they are entitled to under the law. Whether you just have legal questions or need a free, independent investigation into an accident we are here for you. You can reach out to us anytime at (888) 441-4991.